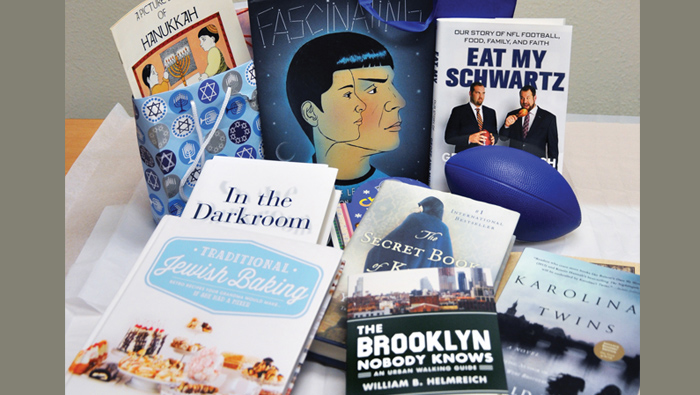 I remember years ago one of my sons telling his brother that the secret of reading was to "be in the book." It was a comment I wholeheartedly believe. Books have the power to transport us to different worlds, to help us understand others' struggles, to inspire us to explore.
For all of those reasons, books have long been at the top of my gift list – both to give and receive. If you are looking for a gift that opens windows to the world, check out some of these books that have crossed my desk over the past few months.
CHILDREN'S BOOKS
While there are plenty of classic Hanukkah books for children, I received two recently published children's books that would make a nice addition to a youngster's gift bag.
Fascinating: The Life of Leonard Nimoy, by Richard Michelson, illustrated by Edel Rodriguez, Alfred Knopf Books for Young Readers, hardcover, $17.99.
This picture-book biography of Leonard Nimoy, the late beloved Star Trek star, exemplifies the power of pursuing your dreams. Perfect for the legions of Star Trek fans, Fascinating is the incredible origin story of Leonard Nimoy from his little-known career as a photographer to his life-changing encounter with John F. Kennedy. This story of how a boy followed his dreams and became one of the most iconic figures of our times is, as Spock would say, "Fascinating."
A Hat for Mrs. Goldman: A Story about Knitting and Love, by Michelle Edwards, illustrated by G. Brian Karas, Schwartz & Wade Books, hardcover, $17.99.
Sophia likes to make big, beautiful pom-poms for the hats Mrs. Goldman makes for everyone in the neighborhood. But when Sophia finds out Mrs. Goldman is too busy knitting for everyone else to make herself a hat to keep her head warm, Sophia decides to make one herself. She wants it to be the most special hat in the world. For youngsters inspired to do the same, the book includes instructions to make "the Sophia hat."
FICTION
The Secret Book of Kings, by Yochi Brandes, translation by Yardenne Greenspan, St. Martin's Press, hardcover $26.99.
This sweeping biblical epic filled with court intrigue, romance and rebellion caught the attention of a friend who saw it on my desk. After she read it she told me, "As a 21st-century Jew, it can often feel difficult to connect to the stories of our tradition told in the Bible. This historical novel brings the Bible to life in a vivid, poignant way. It takes references and allusions found in the original text and expounds on them in exquisite detail. The reader will be transported to the days of the Biblical Israeli monarchy and feel connected to the rivalries and intrigues of our ancestors as if they were happening today. A compelling and relevant novel for those who want to learn about our history from all sides, not just the victors."
Karolina's Twins, by Ronald H. Balson, St. Martin's Press, hardcover, $25.99.
Inspired by true events, this novel is the story of a Holocaust survivor's quest to fulfill a promise she made to her friend long ago – to return to Poland and find two sisters lost during the war. Lena hires lawyer Catherine Lockhart and her private-investigator husband, Liam Taggert, who appeared in two earlier Balson novels, to find the girls she promised Karolina she would return for. The novel weaves between Lena's story and the couple's efforts to find Karolina's twins, while Lena's son threatens to sue them for taking advantage of a confused old lady. The dual story makes for a captivating and ultimately heartwarming read.
The Devil in Jerusalem, by Naomi Ragen, St. Martin's Griffin, paperback, $15.99.
Available in paperback just in time for Hanukkah, this novel continues Naomi Ragen's exploration of women in the ultra-Orthodox Jewish world. Detective Bina Tzedek travels a winding path through Jerusalem's Old City, kabbalists, mystical ancient texts and terrifying cult rituals to find out why a young mother refuses to talk about the horrific injuries that landed two of her children in Hadassah Hospital.
Death Steals a Holy Book, by Rosemary & Larry Mild, Magic Island Literary Works, trade paper, $14.95.
Reluctant sleuths Dan and Rivka Sherman yearn for a tranquil life as owners of The Olde Victorian Bookstore. But when they acquire a rare volume, they find themselves embroiled in a firestorm of deceit, thievery and violence. When a book restorer finishes his work on the Menorat ha-maor (The Candlestick of Light), he is brutally murdered and the book disappears. Dan and Rivka set out to find out why this rare text compelled someone to kill for it.
NONFICTION
The Brooklyn Nobody Knows: An Urban Walking Guide, by William B. Helmreich, Princeton University Press, paperback, $ 24.95.
Structured geographically, this easy-to-transport paperback takes readers through each of Brooklyn's 44 neighborhoods. The book features candid commentary from residents, off-the-beaten-track sites and historically significant buildings – the Carroll Gardens church where Al Capone was married and the Brooklyn Heights house where Carson McCullers and W.H. Auden lived (at different times). Historical context makes this informal, eye-opening walking companion a find for New Yorkers and tourists alike.
 100 Things To Do in Portland Oregon Before You Die, by Ann Smith with Allison Symonds, Reedy Press, paperback, $16.
From world-class dining and spectacular outdoor adventures to quirky pastimes and raucous sports fans, Portland has something for everyone. It is a city of hipsters, runners and foodies. Brewpubs, tattoos, underground tours, bike shops, coffee houses and gardens mix with official tourist sites such as the Oregon Zoo, Japanese Gardens, Rose Gardens, Schnitzer Concert Hall and the World Forestry Center.
Traditional Jewish Baking: Retro Recipes Your Grandma Would Make if She Had a Mixer, by Carine Gore, Page Street Publishing, hardcover, $24.99.
This cookbook recreates the best versions of timeless and traditional Jewish baked goods. A baking phenomenon on Israeli television, Carine teaches readers how to make more than 100 delicious treats straight from the homeland like Bubbe would, but using new and simple techniques and adaptations for today's appliances.
Eat My Schwartz: Our Story of NFL Football, Food, Family and Faith, by Geoff and Mitch Schwartz with Seth Kaufman, St. Martin's Press, hardcover, $26.99.
For the football fan on your gift list, check out this book by two Jewish brothers, who are star offensive linemen in the NFL. The pair explains how good kosher dishes and football are perfect companions.
In the Darkroom, by Susan Faludi, Metropolitan Books/Henry Holt and Company, hardcover, $32.
In this extraordinary inquiry into her family saga, Susan Faludi finds out her 76-year-old father, long estranged and living in Hungary, has undergone sex reassignment surgery. She explores how this new parent who identifies as a "complete woman" is connected to the silent, explosive and ultimately violent father. Her struggle to come to grips with her father's metamorphosis takes her across borders historical, political, religious and social as she faces the question "Is identity something you choose, or is it the very thing you can't escape?"