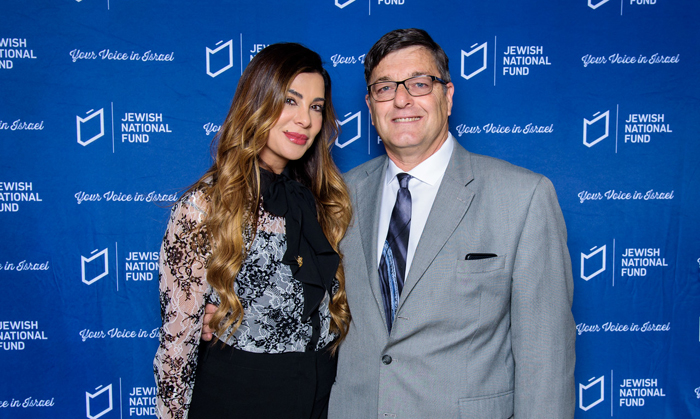 Photo: Boaz Meir with television personality and author, Siggy Flicker, at the Annual Women for Israel Luncheon 2019.
Boaz Meir is the executive director for the Mountain States and Pacific Northwest regions at Jewish National Fund. When he was growing up in Israel and attending The Hebrew University of Jerusalem, he planned to become a veterinarian.
"I have a beautiful college degree in animal sciences," says Boaz. "You know, you do a degree in one thing, and life takes you in another direction."
That direction led him to New York in 1991 and then to California, where he worked as the West Coast regional director for the Jewish Agency for Israel.
"In 2010, the Denver Jewish Federation had an opening for a major gifts director, and at the time my youngest son was just born, and I was always on the road, and we figured it would cut down on all the travel, and I could be home to raise my kids," says Boaz.
Then in 2013, Russell Robinson, CEO of JNF, called Boaz and told him that they were looking for a full-time person for their Denver office. "I took the JNF job, and it was a blessing." Says Boaz. "It's a wonderful organization."
When Boaz started in Colorado, the overall campaign was $700,000, and in 2019 it was $7 million.
And now that he is in charge of the Pacific Northwest, he wants to "restart the engines" there.
One of the challenges is creating leadership for the region. "We have Portland and Seattle as the anchors of the Pacific Northwest, and they are 180 miles apart," says Boaz. "So, you cannot have the same board the way it is in Colorado."
He would also like to bring speakers in from Israel to share their stories on the various projects they are working on from water resources to historical sites. "We have over 100 affiliates that we are working with," says Boaz. "There's always somebody from Israel in the U.S., and we are coordinating it."
Boaz had started planning these events before the pandemic hit. "We were supposed to have
Miss Israel from 2013, she was the first Ethiopian Miss Israel, and a gentleman from the IDF's Special in Uniform," he says. "All of that is not happening now."
He is hoping to be able to reschedule some of the speakers if things start to get back to normal this summer. "Where there's a will, there's a way, so we have to figure out a way."
Boaz's favorite part of his job is when he's able to "wow" people about JNF. When people think JNF is all about planting trees he likes to tell people about ALEH Negev-Nahalat Eran, a world-class rehabilitative village located in the heart of the Negev or the programs where they take non-Jewish university faculty and students on separate two-week fact-finding missions to Israel so that when they return they can fight BDS on their campuses.
Boaz is also proud of the infrastructure that JNF has in place to face the current crisis. "It's such a healthy organization; we put a lot of money into savings," he says. "As difficult as it is, we haven't fired anybody, and we haven't cut anyone's pay."
JNF also invested heavily in being able to work remotely. There are no desktops in the offices; everything is in the cloud. All this was done in preparation for a disaster or a recession.
"Everybody's asking me, 'Are you guys draining the endowment fund?' and I say, no, we are not. We have so much money in reserve, and leadership that is active," says Boaz.
As Russell Robinson says, "We have survived 2001 (9/11), and we survived 2008, and we are strong enough to survive anything else as long as we keep on working, and as long as we keep on making an effort."
"Hopefully, a year from now, the Pacific Northwest will have an active leadership and an active office that will be able to tell the story of what goes on with JNF in Israel to the communities of both Portland and Seattle." Says Boaz.
For more information, contact the Pacific Northwest office at 206-760-1188 or visit jnf.org.