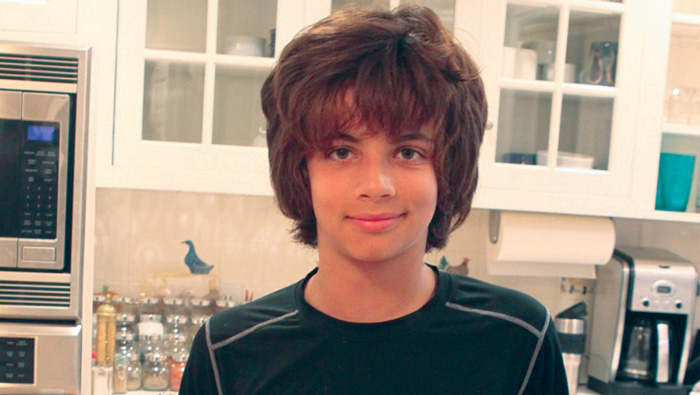 While becoming a bar mitzvah is as ancient as the Jews themselves, bar mitzvah projects are relatively new. Today many synagogues include tzedakah projects in their bar and bat mitzvah preparations. To them, mitzvot include both commandments and social action. In Portland, the projects are as varied as the multitude of synagogues and interesting people in the city. Here are two young men with wonderful ideas coupled with positive results.
CARING FOR ANIMALS
Elan Romero, a seventh-grader at Portland Jewish Academy, thought of animals when choosing the project for his October 2015 bar mitzvah. "Animals love me, and I love them," he says. Combining this interest with his cooking expertise (crepes are a specialty), he decided to bake and sell animal-shaped cookies. Proceeds will go to the Oregon Humane Society to help feed and care for homeless pets.
He makes cookies "shaped like the faces of dogs and cats … with M&Ms for eyes and icing for the nose, mouth and collar," he says. He also makes chocolate chip and oatmeal-raisin cookies. Elan sells his cookies at Congregation Beth Israel Hebrew school events.
Barbara Baugnon, the Oregon Humane Society's marketing and communications director, loves Elan's project. "I have been constantly impressed with the generosity of children in this community toward our shelter pets at OHS," she says. "It is so heartwarming to see them dedicate their birthdays and bar mitzvah projects to help homeless pets. It gives me a lot of hope for the future!"
MAKING PARKS SMOKE-FREE
While Elan chose to help our four-legged friends, Colter Decker focused on the human variety. His July 2014 Congregation Shir Tikvah mitzvah project helped pass a law banning smoking in Portland parks.
"We're proud of Colter for his work on his mitzvah project," says Shir Tikvah Education Director Katie Schneider. "As students approach bar and bat mitzvah age, it's so important for them to begin engaging with the wider world. They need to put Jewish values into practice."
Colter's project began with a Project Citizen competition at the Southwest Charter School. Co-sponsored by Oregon's Classroom Law Project and the Center for Civic Education, the national program encourages students to work together on a community issue and develop action plans for local government leaders.
"At Southwest Charter School, every year we do Project Citizen," Colter says. "We pick one of the problems in the community and try to fix it. Senator Mitch Greenlick came to our classroom and said he ran a similar campaign a couple years before trying to ban smoking completely in Oregon. He talked about important arguments and things we should look up."
The class won first prize at the 2014 Project Citizen competition in Salem and "Outstanding" at the national competition. The students spoke to the Portland Parks Commission citing health issues relating to secondhand smoke and the danger of exposing children to smoking behaviors.  When the school project ended, Colter continued researching the issue. He and a friend presented their findings to the Portland City Council. In February 2015, the council voted to pass a total smoking ban in city parks and nature areas effective July 1. The measure passed easily, with four ayes and only one nay.
"One person smoking in a public park can ruin it for everyone," Colter says, reflecting on the project. Now a ninth-grader at Cleveland High School, he hopes other young people will fight for what they believe. "At the beginning of the project, I thought it was way too big a problem to get anything done. Now I think if you have something you feel strongly about, go out there and make a difference!"