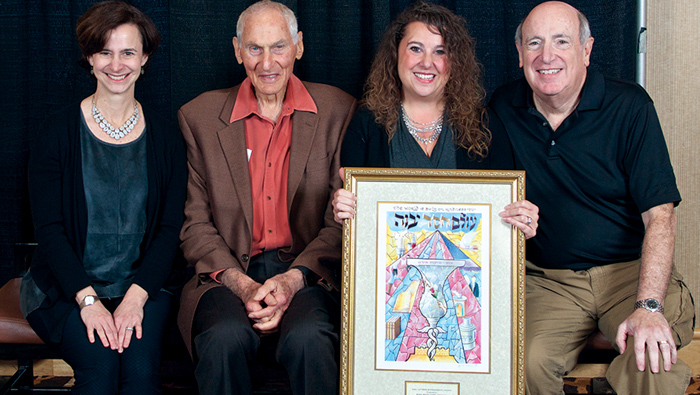 B'nai B'rith Camp in Oregon received the Gail Littman Memorial Legacy Stewardship Award for their excellence in stewardship of their Etz Chaim Society during the 12th annual conference of JCamp 180, a program of the Harold Grinspoon Foundation. The Etz Chaim Legacy Society honors and recognizes individuals who are committed to the future and sustainability of BB Camp. Etz Chaim Legacy Society members demonstrate their commitment and generosity through a bequest or planned gift to B'nai B'rith Camp.
Held the first weekend in November, the conference drew more than 450 leaders from nonprofit Jewish camps and other organizations. During the event, top individuals and camps were honored for their growth in managing their daily operations and for their collective efforts in raising $90 million through HGF's matching challenge grant campaigns to support Jewish children's camps across the country.
The Gail Littman Memorial Legacy Stewardship Award is named in memory of Gail Littman, who was the driving force behind the JCamp 180 Camp Legacy initiative. Since the initiative began, 56 participating camps have received legacy promises from more than 3,500 gifts, which are expected to result in nearly $80 million for those camps. Littman stressed the importance of stewarding each legacy donor to ensure follow-through on their promise; the team at BB Camp has embraced the challenge of stewarding their legacy donors.
By associating the legacy program closely to both their Men's Camp and "ReJewvenation" (women's camp) programs, and providing connections at invite-only events, BB Camp has integrated stewardship of Etz Chaim Legacy Society members into the daily operations of the camp and its alumni outreach programs.
"With this award, B'nai B'rith Camp joins a distinguished group of camps who have led the field of Jewish camp in developing a culture of stewardship in their legacy program," says JCamp 180 Director Mark Gold. "We are thrilled to have been able to recognize their contributions through this award."
BB Camp Executive Director Michelle Koplan and Board Chair Irving Potter accepted the award on behalf of the camp.
"Gail Littman was an incredible inspiration, and to be awarded this honor in her name is truly such a privilege," says Michelle. "To engage and steward our community towards our mission of lifelong Jewish engagement and building friendships for life is a pleasure and such an honor. We were thrilled to be acknowledged for the work we love."
"JCamp180, HGF and, most significantly, Harold have helped us change the lives of thousands of kids in the Pacific Northwest," adds Irv.
Located on a lakeside campus on the scenic Oregon coast, BB Camp is a Jewish premier camp and conference center in the Pacific Northwest. Since 1921, BB Camp has been dedicated to providing the finest Jewish summer overnight camp experience for today's campers while preparing them to be tomorrow's community leaders.