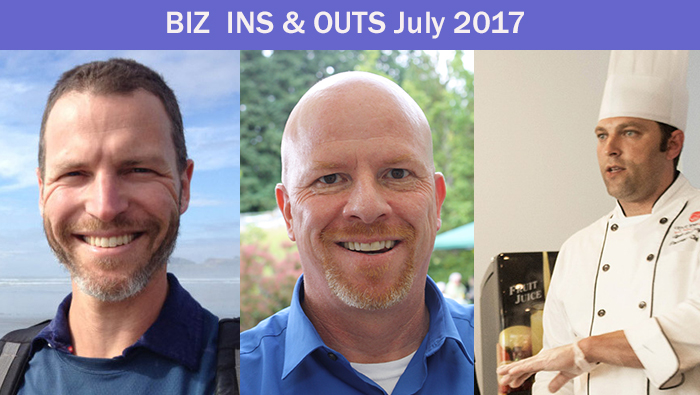 PHOTOS from left: Rabbi Benjamin Barnett, Mike Martynowicz and Chef Clyde Gregory

Rabbi Benjamin Barnett Leads Havurah Shalom
On Aug. 1 Rabbi Benjamin Barnett becomes the new rabbi of Portland's Havurah Shalom, replacing Rabbi Joey Wolf, who retired earlier this year after leading the Reconstructionist congregation for 30 years.
Rabbi Barnett previously served as rabbi of Beit Am in Corvallis from August 2006 until July 2017. Beit Am supports religious, educational, cultural, social and charitable activities of the Jewish community in the mid-Willamette Valley.
"I have been moved by the intentionality with which Havurah members engage with Jewish life and community," says Rabbi Barnett of his new congregation. "And at the core of Havurah's mission is clearly a dedication to creating a more just and compassionate world, which is something with which I deeply align. Throughout my meetings and conversations during the interview process, I felt the potential for meaningful leadership opportunities here, and that the community and I could grow and learn a lot together."
Originally from the Chicago area, Rabbi Barnett received his B.A. in English from the University of Michigan and his rabbinic ordination from the Reconstructionist Rabbinical College. Prior to entering rabbinical school, he worked with mentally ill adults, led wilderness expeditions for teenagers, and lived, worked and studied in Israel. He is devoted to the spiritual life, in particular prayer, meditation and the cycle of Jewish time, as a means of inspiring and guiding loving, conscious action in the world. He and his wife, Rachel, moved to Portland with their three children, Lev, Arava and Judah.
havurahshalom.org | 503-248-4662
CSP welcomes new Robison Administrator Mike Martynowicz
Cedar Sinai Park welcomes Mike Martynowicz to the role of administrator of the Robison Jewish Health Center and Harold Schnitzer Center for Living.
A native of Bend, Mike has spent his entire career in the role of nursing home administrator – longer if you count his experience in his parents' family-owned organization, where he's been helping since age 8. Expediting the completion of the sub-acute rehabilitation wing of the RJHC is Mike's top priority at CSP, where he will also focus on how best to combine institutional clinical systems with the residential greenhouse model of care. An avid outdoorsman and graduate of University of Portland, Mike says he is excited to be a part of an organization that is progressive and truly interested in quality care for residents. "Cedar Sinai Park reminds me of my family long term care facility as the focus is quality resident care above all else," says Mike. "From that standpoint, and with the warm welcome of everyone I've met, I feel like I have come home."
cedarsinaipark.org
CSP Names Clyde Gregory Executive Chef
Cedar Sinai Park has named Chef Clyde Gregory the executive chef for the senior living campus in Southwest Portland.
Clyde has been a valued member of the Cedar Sinai Park culinary team since 2007 and was the recent recipient of CSP's Employee of the Quarter Award. Clyde is a graduate of the Western Culinary Institute's famed Le Cordon Bleu Program, where he graduated with perfect attendance and a 4.0 GPA. Clyde has gained valuable experience in noteworthy kitchens around the Northwest including Gary Danko of San Francisco, Cia Vito in Portland and Baywolf in Northern California.
Clyde's extensive experience in Kosher style, Glatt Kosher and non-Kosher food preparation makes him a perfect fit as CSP Executive Chef.
cedarsinaipark.org
Israeli-inspired Vegan Eatery Aviv Adds Weekend Brunch
After a successful first two months of offering top-notch plant-based Israeli fare in the heart of the Hosford-Abernethy neighborhood, chef Tal Caspi is bringing brunch to Aviv on July 22. Although the popular breakfast dish shakshuka remains on the lunch and dinner menu, it is now available for breakfast alongside newly introduced challah French toast, savory falafel oatmeal, avocado harissa toast, carrot "lox" bagels and more. Aviv also offers an expanded brunch cocktail list, offering a Zhoug Bloody Mary.
Caspi is excited to provide Portland more opportunities to delve into his succulent Israeli-fare, as well as offer another brunch choice for the vegan community. "I'm really excited about taking classic brunch dishes and adapting them to Middle Eastern-fare," said Caspi of his new menu.
Brunch at Aviv will be available every Saturday and Sunday from 10 to 3pm. Happy Hour is available from 4-6 pm, Monday through Friday.
avivpdx.com | 503-206-6280