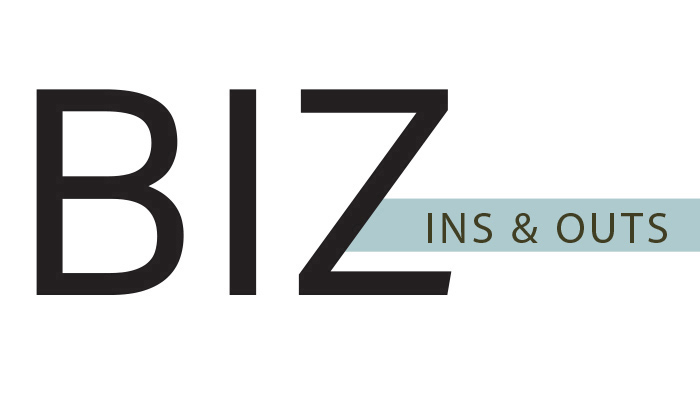 Regional security advisor hired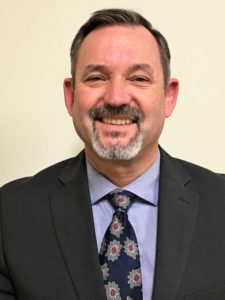 Gene Moss will officially begin his position as regional security advisor on May 13.
Moss will work under the direction of the Secure Community Network and the Jewish Federation of Greater Portland. The advisor will coordinate with federal, state and local law enforcement, nonprofit, public, private and other stakeholder organizations on community safety and security matters.
"Sadly, we live in times when upgrading community-wide security is a top priority," says JFGP President and CEO Marc N. Blattner. "The Jewish Federation, along with all our community partners, recognize the need to hire someone with experience and understanding of security today. Mr. Moss fills that role and we look forward to his starting on May 13. Together, we will work to strengthen and enhance our security throughout the community."
Moss earned the executive management certificate and served in law enforcement for more than 28 years, including two years as chief of police for the city of Cornelius. After retiring from a 28-year law enforcement career, he transitioned to leading professional unarmed security staff for Providence Health and Services in acute care environments.
The Regional Security Advisor will serve as a representative of SCN as an expert security advisor, liaison and training coordinator to provide direction and maintain oversight for the development, organization, implementation and monitoring of JFGP's security operations and program. Moss will also provide guidance and strategic direction to ensure the safety and security of all member institutions of the community.
Additionally, he will serve as a liaison during crisis response and mitigation efforts.
503-245-6219 | jewishportland.org
P'nai Or has new home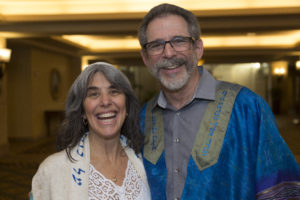 P'nai Or of Portland will move from its long-time home at St Mark Presbyterian Church at the end of April. This month, the congregation moves to its new home sharing space with the Hillsdale Community Church, United Church of Christ. Hillsdale UCC is located at 6948 SW Capitol Hwy., Portland.
P'nai Or had been meeting at St. Mark since 2004. St Mark closed about 18 months ago, but P'nai Or was able to use the full space while the Presbytery decided what they wanted to do with the building.  The building has been rented to Lewis & Clark as the new home for their art program.
P'nai Or (Faces of Light) is an egalitarian Jewish Renewal congregation that was founded by Rabbi Aryeh Hirschfield, z"l.
P'nai Or is now lead by Rabbi Hannah Laner and Hazzan Baruch Morris.
The congregation's first Shabbat service in their new home will be in the Hillsdale UCC social hall on Saturday, May 4, at 10 am.
503-248-4500 | pnaiorpdx.org
Bruce Baruch Morris received ordained as cantor
Hazzan Bruce Baruch Morris received his cantorial smicha from the ALEPH Ordination Program on Jan. 13, 2019. (See video: bit.ly/HazzanBaruchOrdinationVideo). The AOP is a 5-year program that grants smicha for rabbis, cantors, and rabbinic pastors (Jewish hospital chaplains). Having led religious services since his high school youth group days, Baruch decided to formalize his cantorial education after the death of Rabbi Aryeh Hirschfield z"l with the urging of his spiritual mentors, Rabbi Goldie Milgram and Rabbi David Zaslow.
Hazzan Baruch is a professionally trained vocalist, has been a conductor and occasional arranger for several choirs, and plays both the guitar and upright bass. He has served as an interim spiritual leader, led services, holiday events, musical shabbatons, and officiated at bar/bat mitzvahs and other life cycle events for congregations up and down the West Coast. He also served for two years as the High Holy Days Hazzan at Kol HaNeshama in Sarasota, FL.
Baruch serves as the hazzan for P'nai Or of Portland alongside Rabbi Hannah Laner, who joined the Renewal congregation just before High Holidays last year. Baruch is married to Cassandra Sagan, an ordained maggid (Jewish storyteller), artist, writer and educator. Between them they have five children and four grandchildren.
pnaiorpdx.org | aleph.org
BB Camp hires two full-time staffers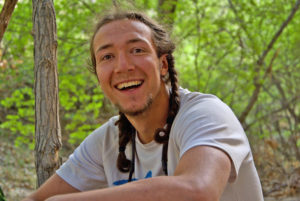 B'nai B'rith Camp announces Zach Rattray and Jacson Lee have joined the BB Camp office as full-time staff members. Zach and Jacson have been a part of BB's overnight summer camp for the last few years.
Zach is the new assistant director of teen engagement / BBYO city director of Portland. Zach "Purple" Rattray has served as a counselor, unit head, zip line and challenge course instructor, and outdoor director for seven summers at BB Camp.  His passion for youth development and creating a positive culture for children grew and developed at BB Camp. Zach took a brief intermission from camp life, and spent three years in Salt Lake City working in 14 different elementary schools, where he focused on creating positive school recess culture.  When Zach is not focusing on youth culture, he spends his time climbing the various rocks that this beautiful country has to offer, or you could find him in the park playing music.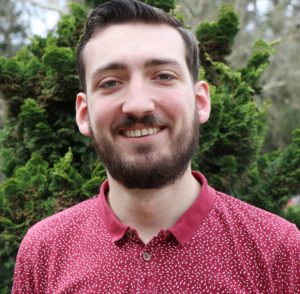 Jacson is BB Camp's new aquatics director. Jacson was born in Manchester, UK.  As a child, Jacson participated in the sea cadets, which is where his love for water sports first began. He graduated from Lancaster University with a degree in computer science in 2018. While studying, Jacson worked at aquatics facilities during the academic year and spent his summers at BB Camp as a lifeguard, aquatics manager and aquatics director for the summers of 2015-2018. It was his work with water sports and youth that led him to realize working with children in the aquatics field is how he wanted to start his career. Jacson now resides in Portland where he is embarking on a Practical Training Program in Nonprofit Management with BB Camp through the U.S. State Department.  In his free time, Jacson likes to catch up with friends and explore his new city.
zrattray@bbcamp.org | jlee@bbcamp.org | bbcamp.org
Adam Stockman joins Kesser Israel team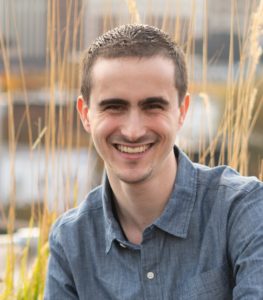 Adam Stockman joined Congregation Kesser Israel this year as a part-time office administrator, with an initial focus on electronic and digital communications, including the weekly newsletter, website and social media.
"We are very fortunate to have Adam join our team," said Aki Fleshler, Kesser's vice president (and immediate past president). "I am sure our community will benefit from his passion, skills and great work ethic."
Adam, 26, is a Las Vegas native who's lived in Portland for the past nine years. Currently a filmmaking/graphics student at Portland Community College, he recently completed his first film as writer/director. He is a 2013 graduate of Portland Actors Conservatory, a Lincoln High School alum, and a great-nephew of Dina and Yaac (z"l) Feuer. He and his fiancé, Lauren Silverstein, have been attending Kesser for the past several years. Adam says he's excited about the opportunities in his new job to be part of strengthening the shul community.
Located at 6698 SW Capitol Hwy., Portland,  Congregation Kesser Israel is the longest established Orthodox Shul in Oregon. Today Kesser is a diverse and close-knit community of approximately 120 families and singles in every age group. The congregation includes people from all backgrounds and levels of knowledge.
503-222-1239 |  admin@kesserisrael.org | kesserisrael.org
MJCC sports, aquatics staff hired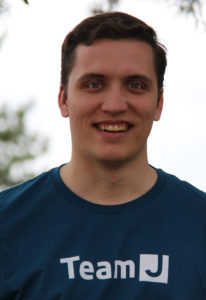 Mittleman Jewish Community Center has hired several staffers for sports and aquatics programs.
Jake Marr is the new sports, recreation and camp manager. Jake has an extensive background in both camps and sports and recreation. He completed his bachelor's in community development this June. He has worked with Tualatin Hills Park and Recreation District for the past two years as an assistant after school program director and summer camp director. Jake has also served as a recreation leader for the City of Tualatin, basketball league coordinator for the City of Lake Oswego, and student coordinator for Intramurals and Special Events at Portland State University. Jake is excited to have found a position where he can use his background and passion to the fullest potential.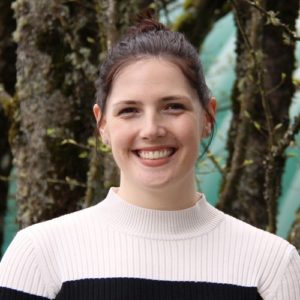 Carli Rosenthal is the new assistant sports, recreation and camp manager. Carli began at the MJCC Welcome Desk in November. She holds a bachelor's in communication from Saint Mary's College of California and a master's in sports management from Texas A&M. She has been a professional basketball athlete internationally. She has worked as a youth basketball coach and camp coordinator. She has had the opportunity to coach two youth Maccabi teams. Carli's educational background, combined with her history of coordinating programs and coaching youth, and, her excitement for sports and camps, makes her a great fit for this position.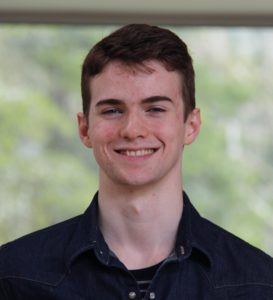 Mak Dempsey has been appointed the sports, recreation and camp lead. Mak has worked for the MJCC for the past three years in many capacities. In camp, he has served as both a counselor and a unit director. In the sports and rec realm, he has worked as a plex attendant, has taught classes, and has helped with transport. He also served as the j's soccer leagues coordinator in the past. He has extensive knowledge in all things sports, rec and camp at the JCC and is both dependable, organized and a wonderful team player.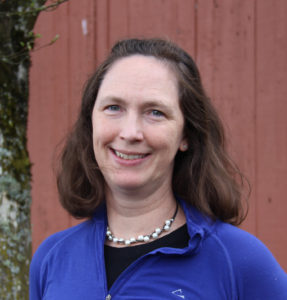 Amy Laing has been appointed as the new class lead, a full-time position that incorporates land and water group exercise classes, group and private swim lessons, lifeguarding, and sport and recreation classes.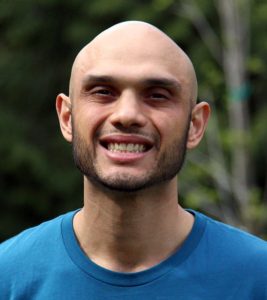 Shawn Montiel is the new assistant fitness manager/personal trainer. Shawn is currently attending school and working towards his degree in fitness and athletics. Most recently he has worked as a highly successful personal trainer at LA Fitness and has also worked as a youth assistant basketball coach. Shawn has a positive attitude, is motivated, organized, and is passionate about fitness and wellness.
oregonjcc.org
Temple Beth Sholom hires Baneinu director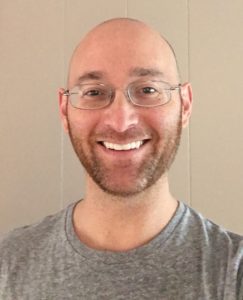 Temple Beth Sholom has implemented a new youth education curriculum and program called "Baneinu" (our children).  Following a search for a new director, the TBS board is pleased to announce that Darren Howard has accepted the position of Baneinu director for the next year. Darren has been serving as chair of the youth education committee, and is a parent of children participating in Baneinu. He has years of experience in education, and he brings a high level of energy and passion for improving children's Jewish education.
Cassidy Weisz, who has served as TBS's youth education director for the past five years had announced her plans to discontinue serving in the position after the end of this school year. April 28 was Cassidy's last day as youth education director.
TBS is a vibrant, diverse and inclusive center for Jewish life in Salem and surrounding areas.  As an affiliate of the Jewish Reconstructionist Federation, Temple Beth Sholom facilitates the search for meaning in Jewish heritage through the discovery and observance of Jewish values and practices within a contemporary setting.
503-362-5004 | tbsholom.org
Rivka Gevurtz new Welcoming Congregations executive director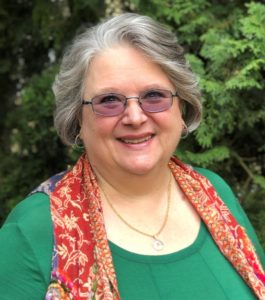 Theresa "Rivka" Gevurtz has become the new executive director of Community of Welcoming Congregations, taking over from long-time ED the Rev. Tara Wilkins.
Many of Oregon's synagogues have been long-standing members of CWC, which serves more than 110 welcoming and affirming congregations across the religious spectrum. The interfaith organization has served the Portland metro area for more than 25 years. The group was founded by six local congregations, including Congregation Neveh Shalom under the guidance of Cantor Linda Shivers.
Rivka has a long history with CWC, having served on the board and more recently worked as a seminary intern.
Rivka has worked in leadership roles in a variety of nonprofit organizations over the past 30 years, most recently as the director of finance and administration for Nehirim (a national LGBTQ Jewish organization). She is former executive director of Northwest Jewish Environmental Project, and served for several years as the religious school principal for P'nai Or. She currently is finishing her term as board president of As The Spirit Moves Us & Portland's UnShul.
Rivka is an interfaith minister, chaplain and spiritual director, ordained through The Chaplaincy Institute in 2018 and earning her MDiv at Starr King School for the Ministry in 2019.
Rivka has been in a covenantal relationship with her beloved for 26 years – for the first 16 years her partner presented as a woman and 10 years ago he began his gender transition to embody his male identity. They are now married as husband and wife, and have a non-binary child in college.
971-231-4240 | rivka@welcomingcongregations.org | welcomingcongregations.org
Former Polish diplomat new director of Polish Jewish heritage organization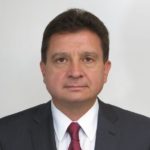 The Foundation for the Preservation of Jewish Heritage in Poland, a partnership of the World Jewish Restitution Organization and the Union of Jewish Communities in Poland, has appointed Piotr Puchta as director.
Puchta will spearhead FODZ's efforts to recover, preserve and commemorate physical sites of Jewish significance and cultural heritage throughout Poland and to educate Polish youth about the rich history of Jews in Poland. He will also lead FODZ's efforts in the handling of restitution claims pertaining to real estate owned by prewar Jewish religious communities, especially synagogues and cemeteries. FODZ was established in 2002.
Puchta comes to FODZ following more than 30 years of distinguished service at Poland's Ministry of Foreign Affairs, focusing on the Middle East. From January 2014 to March 2016, he chaired the Polish delegation to the International Holocaust Remembrance Alliance.
"We are looking forward to Mr. Puchta bringing his expertise to further FODZ's essential mission of restoring and commemorating Poland's vibrant prewar Jewish life," said Gideon Taylor, WJRO chair of operations and co-chair of the FODZ board. "We warmly welcome him to the organization and will be working closely with him."
"I believe preserving these meaningful memories will help connect both Jews and Poles and will have special significance for future generations," said Puchta.
Approximately 3,300,000 Jewish people lived in Poland prior to the war. About 90 % of Polish Jews were murdered during the Holocaust.  It is estimated that about 10,000 currently live in the country.
fodz.pl
Skin by Lovely offers game-changing wrinkle relaxer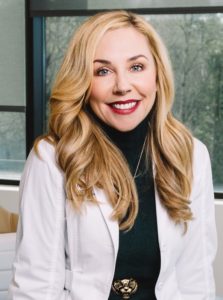 Skin by Lovely will be the first medical office in Oregon to offer their patients the first FDA-approved wrinkle relaxer to hit the market in nearly a decade. Jeuveau from Evolus is a performance beauty product that is creating a buzz in the beauty industry with promises of visible results in as little as two days, a long duration of effect and improved patient satisfaction.
"We are excited about the launch of Jeuveau," says Clinic Director and Co-founder Lovely Laban MSN, GNP-C. "Especially because in a head-to-head trial against other leading brands, patients who received Jeuveau treatment reported higher satisfaction in both the short and long-term."
While Jeuveau focuses on reducing the appearance of moderate to severe frown lines, it can also be used as a preventative treatment for younger patients in their 20s and 30s who are looking to reduce wrinkles before they form. Preventative treatment with Jeuveau works by relaxing the muscles responsible for the formation of wrinkles, which prevents the appearance of lines on the skin from forming.
Skin by Lovely is the only medical practice in the Pacific NW dedicated solely to aesthetic facial injectables. Jeuveau will be available at all Skin by Lovely locations in May.
skinbylovely.com