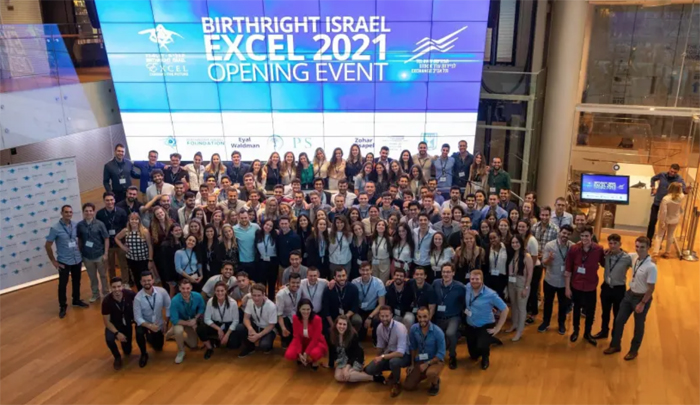 Photo courtesy Birthright Israel Excel
Business leadership fellowship program "Birthright Israel Excel" officially opened June 6 at a festive event held at the Tel Aviv Stock Exchange building. Marking the 10-year anniversary of the prestigious program. This year's cohort includes participants from all over the world: Argentina, Australia, Brazil, England, France and the UK, in addition to those from Canada, Mexico, the United States and Israel. The event marks the resumption of in-person programming after a long period when students could not gather together.
Founded in 2011, Birthright Israel Excel is a highly selective fellowship that builds leadership skills and relationships among tomorrow's global business leaders to propel the future success of the global Jewish community. Fifty-six students are selected each year from thousands of applicants studying at leading universities around the world. They come to Israel for a 10-week summer internship at the best companies in the global and Israeli tech and business sectors, some of which have included: aMoon, Check Point Software Technologies, CyberArk, Deloitte, Ernst & Young, Evercore, Fortissimo Capital, Mercedes-Benz and ViolaVentures. Each participant is paired with an Israeli peer who is either an outstanding undergraduate student or officer from leading units in the IDF.
The timing of this year's program presents an opportunity for Jewish college students across the world to better understand Israel, beyond what the global news media presents. Excel participants will see Israel up close for themselves and become better informed, hearing from a diverse range of speakers, among them: Yuval Bdolah, CEO and Founder of Tozeret Ha'aretz, an organization that builds housing solutions for communities in the social and geographic periphery of Israel; Dana Weiss, Journalist and Anchor for Channel12 and a leading figure in Israel working towards women's empowerment and gender equality; and a representative from Israeli and Palestinian Bereaved Families for Peace, an organization of over 600 people, all of whom have lost an immediate family member in past conflicts.
At the end of the summer program, all Excel Fellows join an active community that creates a variety of opportunities in North America and Israel from professional development and networking, to social impact initiatives to Jewish identity events. Many Excel alumni (called Fellows) are now notable young business executives – some already serving as CEOs – while others are successful entrepreneurs, investors and professionals in the technology industry or business sectors, in both Israel and across North America. Already in the first decade of Excel, 14 Excel Fellows have been selected for Forbes 30 Under 30.
"This project is considered to be the most prestigious program in the Jewish world today, with only a few dozen young people accepted each year from thousands of applicants," says Gidi Mark, CEO of Birthright Israel to the participants. "Members of the community prove themselves every day as leaders of both the business and Jewish worlds. By participating in Birthright Israel Excel, these future business leaders are further strengthening the bonds between diaspora Jews all around the world."
Despite the difficulties posed by COVID-19, the pandemic did not stop the program from taking place last summer. While many summer internships and programs were canceled, Birthright Israel Excel and all of the program's business mentors and Israeli companies that were set to participate, all agreed to switch to an online format, hosting programming via Zoom, resulting in a first of its kind online summer internship program.
"While COVID-19 has certainly presented challenges for our organization, we've actually found that the pandemic has been a catalyst for growth and expansion," says Idit Rubin, executive director of Birthright Israel Excel. "The increased use of video conferencing tools accelerated our ability to connect with talented young individuals around the globe and actually helped drive additional international interest in our program. As a result, we are delighted to have participants in Israel this summer from Australia, South America, and Europe for the first time."
Birthright Israel also recently resumed its traditional programming, with the first groups arriving in Israel in May after a hiatus of more than a year. Dozens of more groups are expected to arrive this summer.
"I am extremely excited that we are renewing the connection between the Diaspora and the State of Israel," adds Mark."We've developed the best plan to safely and efficiently resume our trips, which play such a critical part in strengthening the Jewish identity of hundreds of thousands of young people around the world and connect them with the State of Israel. Following the rise of antisemitism over the past weeks, this is now more important than ever before," Mark concludes.