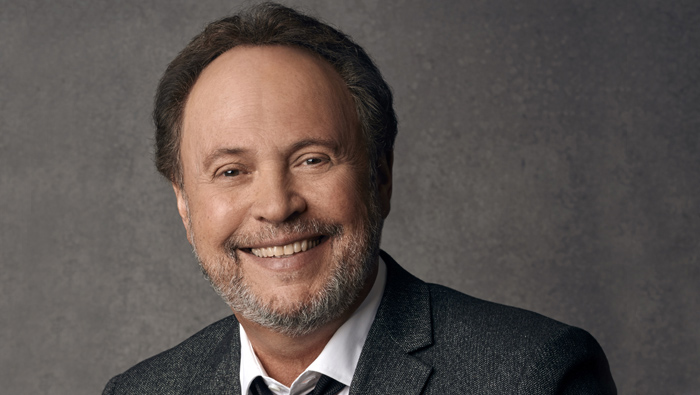 Billy Crystal invites Portlanders to sit down for an informal after-dinner conversation at the Arlene Schnitzer Concert Hall March 3 as he spins stories from his multi-faceted life and career.
The evening is part of the comedian/actor/director/author's "Spend the Night with Billy Crystal" U.S. tour. Calling it a sit-down show, Billy says the audience will feel like they are part of an informal conversation, though he'll be standing and moving 90% of the evening.
In a phone interview before the U.S. tour began, Billy said that when he debuted the format in Australia for seven weeks, "People seem to like that atmosphere. … People loved the fact that it was intimate and they felt like they were talking to me."
"It's a performance from beginning to end," he says. "It's so much fun. This show is storytelling."
Billy has plenty of stories to share from his family, his career on stage and screen, the fulfillment of his dream to be a Yankee with a one-day contract and his relationships with other celebrities from all walks of life. He'll share tales of growing up in a Jewish family and the close friendships they had with African-American jazz musicians they met through the family's Commodore Records. He credits those early friendships with his comfort in portraying black celebrities in a friendly light, including in the routine that caused Muhammad Ali to call him "my Jewish little brother."
The friendship with Ali played a role in the creation of an intercultural program Billy says he is very proud of. Ali served as the dinner chairman when Hebrew University presented the prestigious National Scopus Award to Billy for his outstanding achievement as an entertainer and philanthropist. The evening raised $1 million, which endowed the Billy Crystal Peace through Performing Arts program at Hebrew University. The program brings Jewish and Arab artists together for theater workshops and performances designed to build bridges and enhance understanding.
"It is such a great metaphor for what should be happening in the Middle East," says Billy. "Arab, Palestinian and Israeli artists working together to do something good."
He hopes to finally get to Jerusalem this summer to see the program in person. He says it's very satisfying to hear reports and see videos of participants performing at children's hospitals and participating in workshops to enhance understanding.
Another stop he hopes to make this summer is his first visit to Wrigley Field, one of only two of the old ballparks remaining. "I love going to Fenway Park in Boston; it's still the original structure," says Billy.
Billy attended his first game at Yankee Stadium in 1956, and received a program signed by Mickey Mantle, who signed the same program for him again 21 years later when they both appeared on Dinah Shore's show.
"Nothing will replace old Yankee Stadium because of what it meant to me," he says, adding that seeing his first game there "developed me as a fan, player and student of the game."
"It's a very patient game and so is life and so is a career," he says, noting the game involves a lot of waiting. "Once in a while you hit a home run, and a couple doubles … sometimes you strike out. You just try to make sure you are ahead in the ninth inning. At 68, I still think about that."
A lifelong baseball fan, Billy has called the old Yankee stadium "my synagogue." Since that field's demolition after the 2008 season, he says he hasn't found that feeling anywhere else. When I mentioned growing up attending baseball games at the old Tiger Stadium in Detroit, he fondly recalled using Tiger Stadium to film most of the baseball scenes for his HBO movie 61*, the story of Mickey Mantle's and Roger Maris' attempts during the 1961 season to break Babe Ruth's single season home run record of 60.
"Tiger Stadium was the very last triple-deck stadium," Billy said with perhaps a touch of melancholy. "Since it was empty we were able to make it Yankee Stadium in 1961 and Tiger Stadium in 1961. … When we did the baseball scenes, I would get there early and enjoy seeing the big Michigan mashed potato clouds over the stadium … and the way the sun hit the field. It was quiet and I could think about my favorite season – 1961. … It was magical."
In addition to being a magical baseball year, 1961 was also the year Billy became a bar mitzvah.
"I was a pretty reverent bar mitzvah boy," he says.
He doesn't recall making any baseball references in his bar mitzvah speech, but he did speak strongly for a ban on fossil fuels and for marriage equality. Billy went on to play one of the first openly gay characters on television with his role as Jodie on the series "Soap" from 1977-85.
Happily married to his wife Janice for 45 years, he has continued to support marriage equality. He laments the new vice president "doesn't believe in it … he believes in conversion therapy. We are going into scary times."
He's also still a proponent of environmental stewardship, despite a tongue in cheek comment in the introduction to his latest book Still Foolin' 'Em: Where I've Been, Where I'm Going and Where the Hell are My Car Keys? "At 65 you're always a little cold… You start to think global warming isn't such a bad thing," he wrote in this entertaining look at aging.
He says the decline of fossil fuel has come a long way. "I pray the Paris (climate) agreement will not be overturned," he says. "The fact is the earth is dying and we have to do our best to regenerate it and heal it."
Acknowledging oil, gas and coal have historically provided many jobs, he adds, "We need to create other jobs" and train people for "jobs that will sustain the earth."
His environmentalism is not the only one of his values and traditions sprinkled throughout Still Foolin' 'Em.
"I'm still the pro-gay marriage, pro-civil rights, anti-war, feed-the-hungry-and-house-the homeless, it's-okay-to-have-red-wine-with-fish, liberal-thinking guy I always have been," he writes in a chapter called Conservative. The chapter details his slow drift to the right in terms of "conservative rage" against "things you can live with but that annoy the crap out of you" – things like people using cell phones in restaurants, a Congress that brags about not passing anything and Super PACs.
Reading his memoir to prepare for this interview, I thought I'd found common ground again on the baseball front when I read that he and Janice bought a minority interest in the Arizona Diamondbacks. Having written a story about D-backs President Derrick Hall, I hoped we  could talk about our shared interest in that baseball team. But Billy told me his foray into baseball ownership, though it was fun, ended six or seven years ago.
He did share one story from his Diamondback days. In 2001 when his beloved Yankees team was again in the World Series, he and Janice watched the Diamondbacks win the first two games in Phoenix. He recalls Janice saying, "Honey, we're beating us." When Arizona won the series, Billy describes it as "awkward."
Another baseball story in his memoir that I didn't get a chance to ask him about was his one-day contract as a New York Yankee. But Still Foolin' 'Em recounts the joyous experience. When Yankees shortstop Derek Jeter asked Billy what would make his 60th birthday special, Billy knew he wanted to fulfill his childhood dream of playing with the Yankees.
"I came up with a plan where I would get one at bat in a spring training game," he wrote. "Whatever happens, happens, and I then announce my retirement and throw the team a party. Jeter loved the idea and a few weeks before my 60th birthday, he and George Steinbrenner, Lonn Trost, Randy Levine, Brian Cashman, Bud Selig and Major League Baseball gave me the greatest birthday gift ever."
On March 13, 2008, the day before he turned 60, Billy stepped to the plate as the leadoff batter against the Pittsburgh Pirates. He saw six pitches before striking out, but he was warmly cheered by the team and fans and presented with the ball. His mother had always told him to do something special on his birthday.
Five years later, he had another unparalleled birthday surprise. His fourth grandchild, Griffin, was born on his 65th birthday – "the greatest gift of all," as he wrote in the epilogue to his memoir.
Family and passing on traditions from generation to generation was another quintessential Jewish value I flagged while reading the memoir.
At a time when many couples downsize, Billy and Janice decided to expand their home to create a family center for their two daughters and four grandchildren to visit.
"We wanted them to have the memories of going to Grandma and Grandpa's house, like we did," he writes. "Every time I left their house, I better understood my lineage and where I stood in the world."
So I asked Billy what he most wanted to pass on to his grandchildren, who are now 13, 10, 7 and almost 4.
"We talk about the past, we share pictures of who came before … we honor the holidays and we explain why it's important to celebrate with family," he told me.
Most important, he wants them to know the joy, wisdom and good feelings of being part of a happy family and a rich heritage.
The current show brings Billy's career full circle. He graduated from New York University, having majored in film and television directing with Martin Scorsese as one of his instructors. But initially he turned his attention to stand-up comedy in coffee houses and on TV. After appearing as Rob Reiner's best friend in an episode of "All in the Family," the two became friends in real life, launching his fruitful film career.
He appeared briefly in Reiner's "This is Spinal Tap," then accepted a short but very memorable role as Miracle Max in "The Princess Bride" when Reiner promised he could ad lib. His oft-quoted line, "Have fun storming the castle," has become a catch phrase for saying goodbye. His most famous starring role opposite Meg Ryan in "When Harry Met Sally" was also directed by Reiner. Billy went on to write, direct and star in several movies (see box, page 33). He played a reluctant psychiatrist to mafia boss Robert De Niro in "Analyze This," which won an American Comedy Award as funniest motion picture, and its sequel "Analyze That."
In 2004 he turned his attention back to the stage, taking his one-man show "700 Sundays" to a successful Broadway run, winning a Tony. Named for the approximately "700 Sundays" he had with his father before he died when Billy was 15, the play was also well received on its U.S. and Australian tours. While he performed the play based on an eight-page outline, he later turned the material into a book of the same name.
He says his new tour gives him the opportunity to share his diverse career with his fans.
"This show is unique. There's stand up and 'sit down,' which gives me great freedom to tell stories, show film clips and talk about my life and career and the world as I see it," says Billy.  "It's loose, unpredictable and intimate. The most fun I've had on stage in a long time."