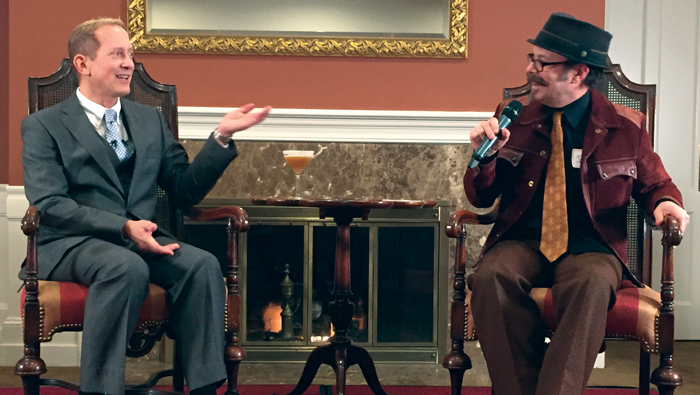 By Jenn Director Knudsen
Aaron Kirk Douglas recalls the moment a 12-year-old boy named Kevin outed him, which happened a mere six months into their mentor-mentee relationship.
In his memoir, Growing Up Twice, Shaping a Future by Reliving my Past (Newsworthy Book, $14.95), Aaron writes of the exchange:
"Can I – can I – can I ask you a question?" he stuttered.
"Of course."
"Are you married?"
I gripped the steering wheel. My stomach churned with uncertainty. Seconds later, the clouds burst open; red brake lights flooded across the heavy traffic in all four lanes. I reached over to the radio and turned off his rap music. Though I was barely able to see out the window through the rain, I took my eyes off the road long enough to glance at him.
"Yes. I'm married."
"Oh," he said, "What's your wife's name?"
Now he wants to know my wife's name?
Aaron didn't quite know what to say; he didn't have a guidebook on being a mentor, so he did the best he could. He told the truth.
"Yes I'm married but I'm not married to a woman I'm married to a man. His name is David. We had a big Reform Jewish wedding and then a few months later we got married legally in Canada, and then after that we got married in California." I took a deep breath, "Any questions?"
Learning to be a mentor via Big Brothers Big Sisters of America's Portland affiliate, on top of the challenge of being gay, culminates in Aaron's memoir about mentoring at-risk youth.
Growing Up Twice is the intimate, personal manual he'd once sought – and that didn't exist until he wrote it. The book is available exclusively on Amazon.com.
"I thought of my story: Here's this gay guy mentoring a Latino boy," Aaron recalls in an interview in his HFO Investment Real Estate offices. "There could eventually be a story written on mentoring, but there is no story like mine."
A 1983 graduate of University of Oregon's School of Journalism and Communications, a documentary filmmaker, and now a marketing and communications professional, Aaron decided to create the story – his own.
In January, after a four-year writing process, he published Growing Up Twice, whose launch coincided with National Mentoring Month.
"Aaron has humanized a mission we've all heard about but don't always have a context for," said Andy Nelson, chief executive officer of Big Brothers Big Sisters Columbia Northwest, who spoke at the sold-out mid-January book launch at the University Club.
"I hope that the book offers the public a more full appreciation of the power of mentoring for the child and the mentor," said Nelson, himself a Big Brother.
Aaron has done so via humor, compelling anecdotes and testimonials, many quoted word-for-word, by some of the story's key players, including a social worker, Aaron's mother, Kevin's family members and Kevin himself.
BBBS requires its "Bigs" to sign a contract with their "Littles" guaranteeing a one-year relationship. Aaron was at first uncertain he and Kevin would make it through their first six months, let alone 12.
"I just couldn't walk away," Aaron says of his match.
Aaron credits patience for allowing him to stick out that crucial first year, and, a decade later, for becoming a true Big Brother/Little Brother pair.
Kevin, now 22, credits Aaron for his high school diploma. Indeed, Aaron is behind the local affiliate of BBBS' push to increase high school graduation rates among its "Littles." (It currently has nearly 800 adults matched with kids; however, there are 1,800 kids, ages 6 to 18, identified as at-risk and in need of "Bigs," according to the BBBS' Nelson.)
Kevin is currently a naval officer aboard the USS Harry S. Truman in the Middle East. He writes in a recent email, "I can always thank Aaron for, first, graduating high school. I didn't fully think I'd make it all the way through, and much less on time, if Aaron hadn't been in my corner, always helping to motivate me and keep on trucking."
He continues, "I credit him with always being an inner voice in my head, even now, when I go out or am with friends, something triggers and in his calm voice… and it could be anything, from 'Call your mom,' or 'It's so-and-so's birthday.' … Even now, while on the other side of the world, he always makes my day less stressful. … I will always in my heart know he's my Big Brother."
A Jew-by-choice since 2002 – one year before he married Dr. David Douglas – Aaron says he was drawn from his conservative Southern Baptist upbringing to Judaism mainly because of its social action emphasis.
During his remarks at the University Club event, Aaron quoted 20th century Rabbi Abraham Isaac Kook, who'd famously said, "I don't speak because I have the power to speak; I speak because I don't have the power to remain silent."
Aaron had that quote in mind when ruminating over writing Growing Up Twice.
"If I don't write this book, who would share this message?" Aaron used to say to himself. "I want to help gay people and let all people know that gay people can be mentors."
He continues, "Mentoring is so important to give a child a voice, because they have no voice, and to get them through high school and maybe into college."
Aaron and husband David both now mentor two younger boys in Kevin's family.
The author's story – and ongoing commitment – is inspiring others.
Launch event attendee Liza Milliner says, "I was moved by his reading/experience, and it motivated me to look into becoming a Big Sister."
Perhaps no better testimony exists than that of Aaron's mentee himself. Says Kevin from the other side of the planet: "In my life no one could replace him. He's been there for me at my hardest moments in life and now, while 'leaving the nest,' he is still there for me."
(In the book, Kevin is known as "Rico." In this article, Kevin's last name was omitted intentionally out of respect for his family's anonymity.)