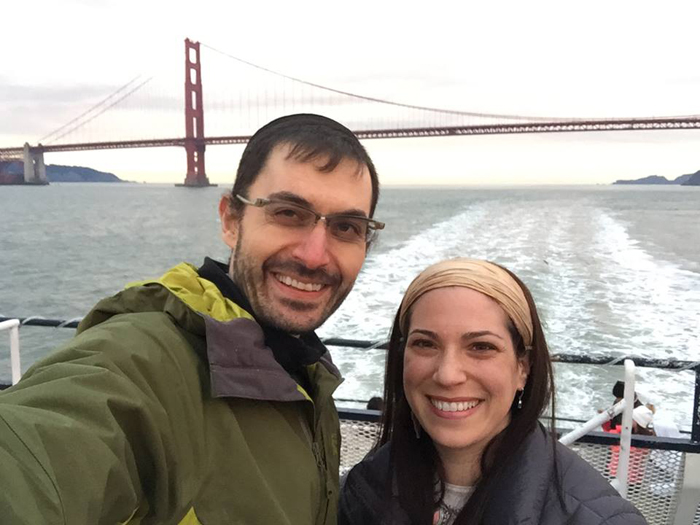 Eve and Gadi Levy are the rabissa and rabbi, respectively, at Congregation Ahavath Achim, Portland's Sephardic Synagogue. Eve is also the executive director at Inspired Jewish Women and the former director of Women's Programming at Portland Kollel.
Eve and Gadi have been such an asset to the Jewish community of Portland, while we will miss them, we wish them the best of luck on their new adventure!
Eve wrote this on her Facebook page on Jan. 14:
In 2014, Gadi and I were offered the opportunity to move to Portland and to work for and within the Jewish community. To be honest, my first thought was to check the map, to determine whether it was Portland, Oregon and not Portland, Maine. Wow, we thought, that's pretty much as far west as one can go. Were Jews actually living a stone's throw from the Pacific Ocean? The answer was a resounding 'Yes!'
We approached our Rabbi for his opinion, and he encouraged us to take the job. He said, "try it for two years and you'll see, you will be successful!" We were well aware that in just a few short years, our older kids would be starting in Jewish high schools. But it didn't take long, and we soon became hooked on the place. The two years flew by like 2 months and it became increasingly hard to leave. We became attached to the people, the work, the community, and strangely enough, even to the weather. We loved it all!
And although it involved considerable sacrifice, our family stayed on for a third year, fourth, fifth, sixth and seventh year. Portland had become a part of our soul and we had become infatuated with the community and its people. It unlocked our hearts in ways that we never thought were imaginable.
We naively thought that we had come here to teach others, but the opposite happened. We learned so much from so many who have become an integral part of our lives. Friends soon became as close as family. Community members, bosses, board members, students and neighbors… you all became our greatest teachers and we learned so much! We will never forget the kindness, the sincerity and straightforwardness that was shown to us here. We can honestly say that we are not the same people we were when we arrived 7 years ago. Portland has transformed us in the most unique ways. We will forever cherish our years in Portland and the relationships that we have forged. We may be moving on, moving to another city, but we will always remain connected.
We are excited to share with you some news of an amazing opportunity that has been presented to us. The L'Chaim Center is a beautiful and vibrant outreach organization that is located in Deerfield, Illinois, a suburb of Chicago. It has been running for over a decade under the incredible leadership of dear friends of ours, Rabbi David and Ali Begoun. The Begouns are making their life-long dream of Aliyah come true for themselves and their family. They will be leaving us with their precious baby, their outreach organization, to be nurtured and nourished, so that it continues to grow.
It's always humbling to start over from scratch but on top of that, to step into such big shoes. The challenge may be daunting but with G-d by our side and with all our passion and experience that we bring to the table, we feel ready to step up for the Jewish people and to continue to make amazing things happen. When we look back on the paths that our lives have taken, we can clearly see how this has been part of a Master plan and how everything has brought us to this exact place and moment in time. G-d knows that our greatest desire is to be His servants. He has provided us with opportunity after opportunity in order to serve the Jewish people. It has been a beautiful journey thus far and we have utmost confidence that the best is yet to come.
With hearts brimming with gratitude and excitement,
Eve and Gadi Levy