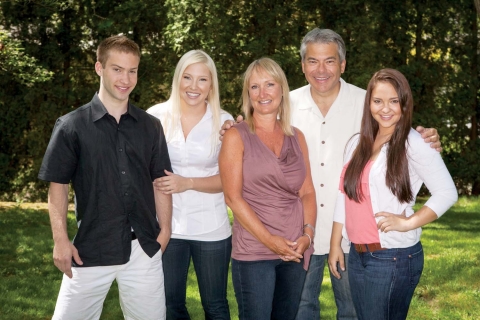 As a child, Elana Stone spent her free time playing among the mattresses at BedMart and watching her father, Steve Stone, quietly perform mitzvot as he built his dream – a business of his own. She couldn't understand why her classmates at Portland Jewish Academy didn't know about her father's store or all the people and organizations he helped in the community.
She decided the only thing missing at BedMart was an effective marketing plan. So she started dreaming herself. She decided to major in marketing at Oregon State University. Then she worked for two marketing agencies before returning to the family business.
Steve said he opened BedMart because "being in business, doing what I do, is my dream. You have to do something that makes you happy. I told my kids they shouldn't have to follow in my footsteps. "
All three of Steve and Sherry Stone's children attended PJA, and all have worked at BedMart during school breaks. Adam is a pre-law student at OSU, and Leah just graduated from Lincoln High School. Elana is now director of marketing for Sleep Smart NW, fulfilling her dream to "fill the biggest need at BedMart" – more effective outreach.
Now 20 years old, BedMart opens its 20th location this month in Salem. Sleep Smart NW is the parent company of BedMart and also operates nine America's Mattress locations in the Portland area. Elana is the on-air spokesperson for the America's Mattress stores, which sell Tempur-pedic and Serta mattresses. On July 1, they will open The Outlet to sell discontinued and closeout items from both store lines, as well as some upholstered furniture.
Elana, 25, sits at the management table with many of the same people who watched her run around the original BedMart store at 56th and Foster. She likes the family feel of the company, something she credits her mother with cultivating.
Steve is proud of the fact that 50% of his employees have been with the company five years or longer.
He attributes the growth of BedMart, now the second-largest mattress chain in Oregon, to the fact that "we surrounded ourselves with great people" and "we sell one mattress at a time, and it adds up."
Steve started BedMart with $10,000 and an agreement with Sherry that if he lost that, he would "go get a real job." The name BedMart arose out of that limited budget. "I was literally paying the sign guy by the letter. I wanted people to be able to say the name and know what we did with very few letters."
While some people might think mattresses are boring white rectangles, Elana says, "I think of it as selling sleep. You really can impact people's lives."
For many years, BedMart donated mattresses to various women's shelters. For the past year, the company has supported the Sunshine Division of the Portland Police, which has provided emergency food and clothing relief to those in need for 90 years.
Elana says her father's charitable acts are always discreetly performed "behind the scenes." "I'm happy to talk about it for him," she says. "He does it because it's the right thing to do, because it's a mitzvah."
The Stones are longtime members of Congregation Neveh Shalom.