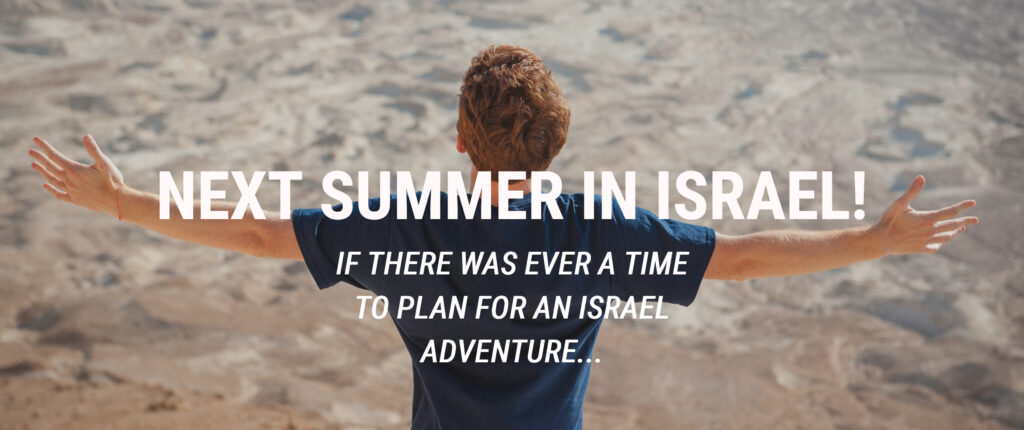 New vouchers, enhanced program offerings, flexible dates, and risk-free registration make summer travel to Israel with BBYO more accessible than ever before.
For teens considering a summer program in Israel, 2021 is the year to embark and BBYO is here to make it happen. BBYO is thrilled to announce a limited number of $3,000 travel vouchers open to Jewish teens in North America regardless of need. With a 60+ year track record of delivering one-of-a-kind program options and experiences in Israel, BBYO is excited to provide even more teens with the opportunity to experience Israel next summer with the availability of $3,000 RootOne travel vouchers. There has never been a better time to make the dream of exploring Israel a reality for Jewish teens.
Beyond increasing the affordability of summer travel to Israel, BBYO has enhanced and expanded its offerings for 2021, with programs, flexibility, and dates to fit any interest and schedule. Whether teens want to hike through desert canyons, swim in the Mediterranean, explore Israeli society and culture, or build their own electives-based experience, BBYO offers something for everyone with a rich and varied summer 2021 program lineup. And to allay any concerns families might have about planning ahead for next summer in an uncertain environment, registration for BBYO summer programs is totally risk-free, with deposits fully refundable through March 2, 2021.
"Now more than ever, teens need programs that allow them to unwind, explore, get outdoors, have fun, and recharge," said Robyn Judelsohn, Senior Vice President of Immersive Experiences at BBYO. "Israel as a backdrop not only offers all of this, but also allows teens to connect with their heritage and their peers—things so needed amid the current upheaval in their lives. With the variety of programs we offer, the availability of $3,000 vouchers, and risk-free refundable, we expect our Israel travel programs to fill up very quickly for next summer."
The RootOne Initiative is seeded through the generosity of The Marcus Foundation, and is powered by The Jewish Education Project. RootOne travel vouchers may also be applied to opportunities that connect a BBYO program in Israel with other BBYO travel and leadership experiences in Europe and North America, for an even fuller summer of exploration. Furthermore, vouchers may be combined with need-based scholarships and community funds to help defray the cost of travel even further for families.
A complete overview of BBYO's 2021 Israel travel programs and voucher information can be found at bbyopassport.org/israel-2021/.