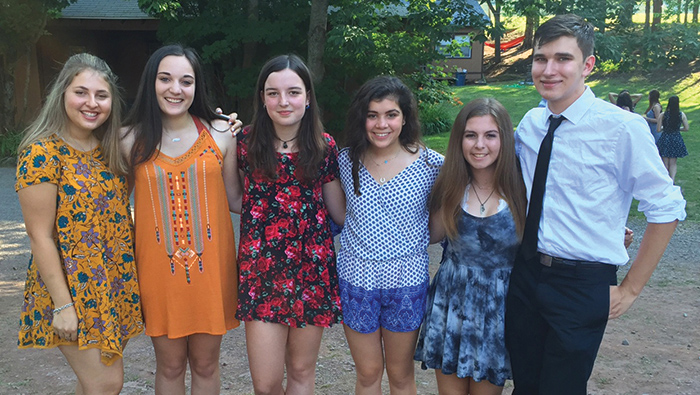 B'nai B'rith Camp has assumed management of the BBYO program in the Portland metropolitan area. This expands a three-year-old partnership of a shared BB Camp/BBYO staff position.
"With PJ Library and now BBYO, along with our year round in-city programs, summer, family, and adult camping as all part of our portfolio, we're really serving the full spectrum of individuals' lives through the lens of building friendships for life in lifelong Jewish experiences," says BB Camp Executive Director Michelle Koplan. It's "exciting and rewarding work."
The new partnership will include supervision of all local programming, finances and fundraising. The goal of this partnership is to strengthen programs for local Jewish teens and increase the number of chapters, the number of members and the reach of BBYO to include the entire metro area. As both organizations approach 100-year anniversaries, this partnership expands the impact of this important teen program and helps BB Camp to fulfill its core mission of "building friendships for life." The partnership fits perfectly in BB Camp's five-year strategic plan to become a year-round and lifelong agency.
Historically, BBYO has functioned as a centralized model. The only other non-BBYO entities running their own programs across the country are Tucson JCC and Atlanta JCC. BB Camp is the first camp in the country to operate BBYO chapters.
B'nai B'rith Camp and BBYO share common goals: to involve more Jewish teens in meaningful Jewish experiences and enrich their Jewish identity with a focus on personal and leadership development. BB Camp is seeking to expand teen leadership opportunities locally and will be partnering with BBYO to promote its national and international summer teen leadership programs.
Currently, Portland has two Aleph Zadik Aleph, or boys' chapters – Sol Stern AZA #65 and Chaim Weizmann AZA #360 – and one B'nai B'rith Girls chapter – Portland BBG #313. Current membership is about 90 teens. A primary goal of this partnership is to substantially expand membership and programming for the community's teens.
There has long been a synergy where BBYO leaders become counselors and leadership staff at BB Camp, giving back to the next generation of our campers, notes Michelle.
"Several of my professional staff and board members are BBYO alum, so we have some knowledge of the program," says Michelle. "We are very excited by this opportunity to engage our Jewish community's teens throughout the school year."
BBYO leaders, though, come from many backgrounds and attend a variety of Jewish camps, and Michelle says she envisions this partnership will provide strong leaders for Jewish camps across the Northwest and for the future of Northwest Jewish communities.
BBYO is a pluralistic Jewish teen movement aspiring to involve more Jewish teens in more meaningful Jewish experiences. BBYO's leadership programs have provided exceptional leadership programs and identity-enrichment experiences, shaping the confidence and character of more than 400,000 alumni, who are prominent figures in business, politics, academia, the arts and Jewish communal life.
Located on a lakeside campus on the scenic Oregon coast, BB Camp has been dedicated to providing the best summer experience for today's campers while preparing them to be tomorrow's community leaders since 1921. BB Camp strives to teach the values and ethics of Jewish living by example, experience and creative expression.
BB Camp is developing a job description for the Portland BBYO Director position; for information, contact Michelle at mkoplan@bbcamp.org. An alumni fundraising committee is being formed to help support local BBYO programming and scholarships for teen leadership programs. If you are interested in joining this committee, contact Aaron Pearlman at apearlman@bbcamp.org.
BB Camp and BBYO have signed an agreement with the Mittleman Jewish Community Center to continue a partnership where the MJCC provides spaces for BBYO meetings and programs. As has been the tradition for decades, BBYO chapters meet every Tuesday during the school year at 7 pm at the MJCC (6651 SW Capitol Hwy., Portland). Teens who want to get involved in a Portland chapter or who are interested in starting a new chapter in their community should email mkoplan@bbcamp.org.