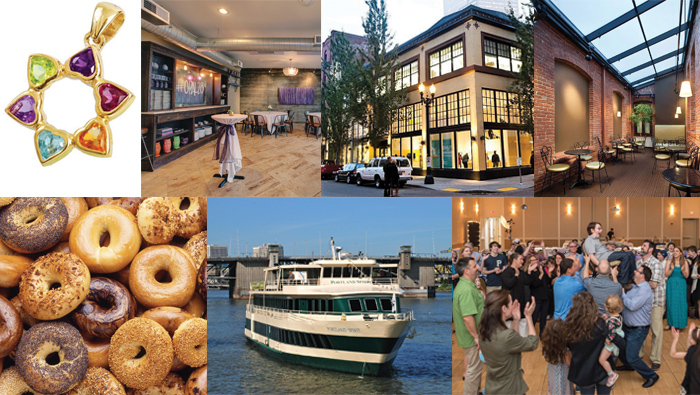 EVERYTHING JEWISH
6684 SW Capitol Hwy.
Portland, OR
503-246-5437
EverythingJewish.biz
Store and Information Center. Not just a retail store, Everything Jewish is Portland's Jewish resource and welcome center. With an onsite rabbi available to answer questions and discuss Jewish perspectives, people are welcome to come and browse as an opportunity to learn more about Judaism and Judaic items.
KORNBLATT'S NEW YORK STYLE DELICATESSEN
628 NW 23rd Ave.
Portland, OR
503-242-0055
kornblattsdelipdx.com
Kornblatt's has fresh deli meats and fish flown in from the east coast every week. We offer catering with a variety of platters such as the NY Experience sandwich platter and the Long Island Sound platter with a selection of smoked fish on greens with red onions, tomatoes and capers.
MARK SPENCER HOTEL
409 SW 11th Ave.
Portland, OR 97205
503-224-3293
markspencer.com
The Mark Spencer's desirable downtown location can accommodate up to 200 guests in the Nortonia Ballroom. Catering is provided by the hotel's preferred caterer, though offsite catering is permitted for a fee. Room blocks can also be arranged for out-of-town guests in their newly renovated guest rooms and suites.
MITTLEMAN JEWISH COMMUNITY CENTER
6651 SW Capitol Hwy.
Portland, OR 97219
503-244-0111
oregonjcc.org
"The living room of the Jewish community" is a popular venue for bar and bat mitzvah celebrations. From services to pool parties and dance parties, the MJCC provides a versatile space, catering and access to everything necessary to create an amazingly memorable experience for your bar/bat mitzvah.
OPAL 28
510 NE 28th Ave.
Portland, OR 97232
971-544-7324
opal28.com
Opal 28 is an intimate space, an extension of your living room with an elegant, vintage ambiance. The 2,600-square-foot space includes two great rooms, a built-in bar and private patio. Flexible in-house catering, vacation rentals, decor and full bar available for your next big event!
OREGON JEWISH MUSEUM AND CENTER FOR HOLOCAUST EDUCATION
724 NW Davis St.
Portland, OR 97209
503-226-3600
ojmche.org
Oregon Jewish Museum and Center for Holocaust Education offers a special setting for Bar/Bat Mitzvahs with rental of OJMCHE's auditorium or rental of the entire museum. Rentals include use of the catering kitchen, audio visual equipment, as well as tables and chairs. Rental information is available at ojmche.org.
PORTLAND SPIRIT CRUISES AND EVENTS
110 SE Caruthers
Portland, OR 97214
503-224-3900
800-224-3901
PortlandSpirit.com
Portland Spirit vessels are a uniquely impressive venue to celebrate a bar/bat mitzvah. We can host from 1 to 400 guests. All our vessels have an onboard galley with an executive chef who sources local NW cuisine.  We have a variety of menu options to choose from.