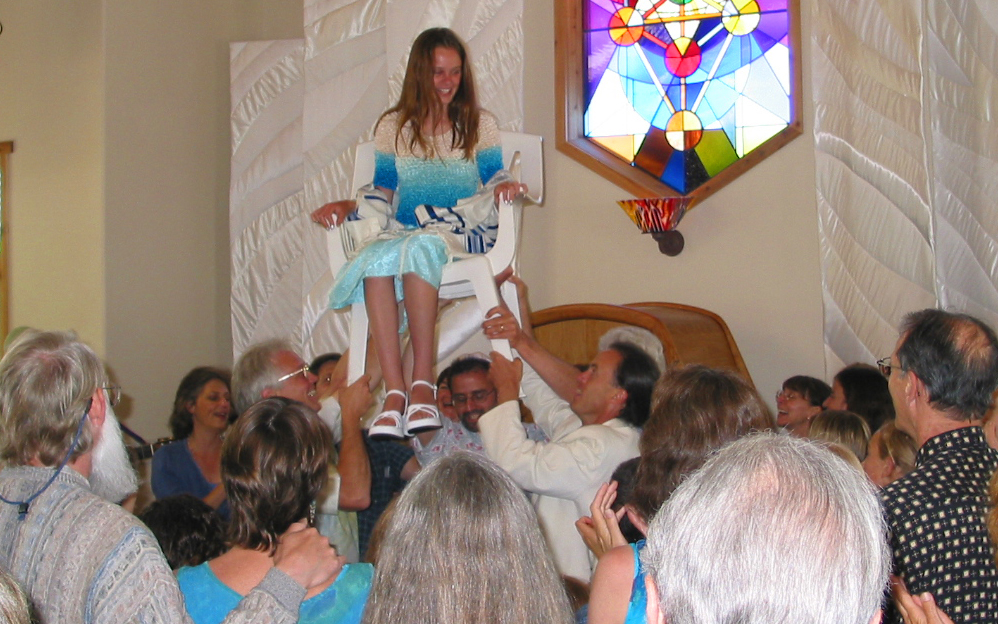 Photo: A bat mitzvah party in Ashland.
PARTY PLANNERS
BLC Events
02380 SW Military Road
Portland, OR 97219
503-310-4467
blcevents.com
BLC Events is an event concierge and planning company. We handle all sorts of events including weddings, bar/bat mitzvahs and corporate parties. We are best known for our creative ideas, unique touches and attention to every last detail. It's the details that set your event apart from the rest.
Jr. NCSY 's Bar/Bat Mitzvah Enhancement
6688 SW Capitol Hwy.
Portland, OR 97219
503-504-6430
portland.ncsy.org
NCSY staff will enhance your bar/bat mitzvah by leading interactive games with Jewish twists, creating Jewish art projects (kippah decorating, mezuzah making), helping with a community service art project (jewelry boxes for orphanages) as well as leading a brief discussion on the importance of these projects. Contact aviva@ncsy.org for details.
VENUES
The Benson Hotel
309 SW Broadway
Portland, OR 97205
503-219-6708
bensonhotel.com
The Benson Hotel's special event spaces are perfect for bar/bat mitzvahs, meetings and celebrations of all kinds for up to 400. On the National Register of Historic Places, named The Oregonian's 2012 Best Hotel-Staff Pick and awarded TripAdvisor 2014 Certificate of Excellence, this is the ideal setting for your next event.
Grand Central Restaurant and Bowling Lounge
808 SE Morrison St.
Portland, OR 97214
503-236-2695
thegrandcentralbowl.com/
grand_central
Grand Central is the perfect place for your child's bar/bat mitzvah. With two floors of entertainment options ranging from bowling to arcade games, karaoke to dancing, guests will never get bored and your child will never forget. We offer an extensive event menu for parties of 20 to 500 people.
Mark Spencer Hotel
409 SW 11th Ave.
Portland, OR 97205
503-224-3293
markspencer.com
The Mark Spencer's desirable downtown location on the streetcar line can accommodate up to 200 guests in the new Nortonia Ballroom. Catering is provided by the hotel's preferred caterer, though offsite catering is permitted for a fee. You also can arrange a block of guest rooms for out-of-town guests.
Mittleman Jewish Community Center
6651 SW Capitol Hwy.
Portland, OR 97219
503-244-0111
oregonjcc.org
From services to sports parties, pool parties, video dance parties, and more, the MJCC offers versatile spaces for parties of all sizes, Kosher catering, and access to everything necessary to create a memorable Bar/Bat Mitzvah experience.
Opal 28
510 NE 28th Ave.
Portland, OR 97232
971-544-7324
opal28.com
This intimate venue featuring modern charm inside a vintage building has a 125-person capacity with two main rooms, bar, outside patio and guestrooms. Catering, rentals and décor; outside vendors welcome. Party options include DJ dances, popcorn bars, photo booths, food carts, seated or buffet dinners, sushi rolling and dessert stations.
Portland Spirit Cruises & Events
110 SE Caruthers
Portland, OR 97214
503-224-3900 | 800-224-3901
PortlandSpirit.com
Portland Spirit vessels are a uniquely impressive venue to celebrate a bar/bat mitzvah. We can host from 1 to 400 guests. All our vessels have an onboard galley with an executive chef who sources local NW cuisine. We have a variety of menu options to choose from.
Providence Park
1844 SW Morrison
Portland, OR 97205
503-553-5429
providenceparkpdx.com
Providence Park offers a unique and exciting venue to host your next private event! Don't let the Oregon weather deter you; the stadium is an indoor and outdoor facility for events throughout the year. We offer professional and experienced event managers to help make your event special and memorable!
ScienceWorks Hands-on Museum
1500 E Main St.
Ashland OR 97520
541-482-6767
scienceworksmuseum.org
An unforgettable departure from the usual event setting, ScienceWorks offers a unique venue guaranteed to excite and delight. The museum can easily accommodate groups of 250 and more. We welcome offsite caterers and invite you to make your ScienceWorks event a truly memorable experience for both you and your guests!