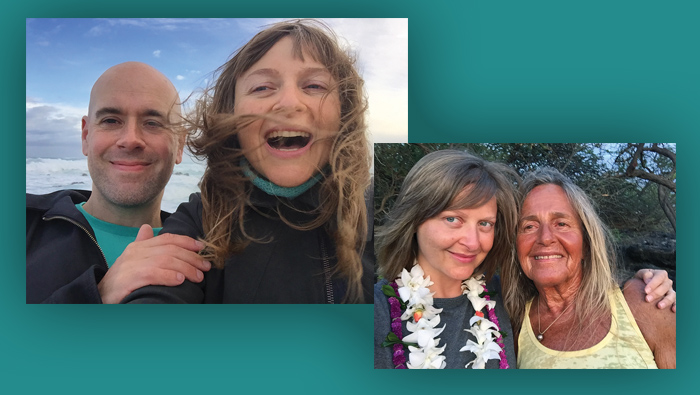 Life has thrown two major curveballs at Teva Harrison in her adult life. The first – being stranded in Canada on 9/11 – she slammed for a home run. With the second – metastatic breast cancer – she has hit a sacrifice fly to deep center field.
In May Teva was in Portland for the book launch of In-Between Days, her stunning memoir on living with cancer. While she was in town, she met to discuss her journey and her book – a mix of the drawings she created to help herself move forward and the short essays written to help others do the same.
The third of three daughters, Teva was born in rural Oregon on a small "hippie homestead." When her father committed suicide two years later, her mom stayed on the farm near Williams, raising the three girls alone. Perhaps the strength she now relies on is something she learned from that early tragedy. She writes in her memoir, "We pushed forward into living. … Because tragedy is something we move through."
So Teva kept moving as 9/11 turned the world on its head. She was on the other side of the continent from her Oregon home at a film festival in Toronto. She was ready to fly to Manhattan for a meeting when the planes struck the Twin Towers. After a day of alternately walking and watching the news, she returned to her friend Scott's home where she had been staying during the festival. He introduced her to David.
David and Teva married in 2002 and began a happy life together in Canada. Teva found a job she loved – marketing director for the Nature Conservancy of Canada. She was 37 and training for her second half-marathon when she started feeling severe pain in her back and hips. In October she went to the emergency room and was sent home with pain pills. In December, she felt a lump in her breast. Ten days later she learned she had stage IV metastatic breast cancer. On New Year's Eve, she started chemotherapy to try and control the spread of her incurable cancer.
"I was lost," Teva explains. "I'd had a sense of who I was and my purpose, and it was all gone."
She began drawing her experiences, frustrations and feelings. "It pulled me from my depression."
When she showed her drawings to two friends in a breast cancer support group, they each told her "These can help people feel less alone."
Initially Teva wasn't sure she wanted to go public with her disease. "But the idea it could be helpful made me get over my shyness," she says. "I felt if it was helpful – maybe that is why I am here now."
So she created a website and posted her drawings along with comments.
Within a month, Walrus magazine asked if they could host the drawings on their website. A month later House of Anansi Press told her she had the beginnings of a book.
"The publisher let me tell my story my way … half comic, half essay," says Teva. "It opened a lot of doors. I didn't know what I was going to do with my life, or how much was left. I wanted to do the most with it."
She has already received many letters from people who tell her they feel less alone looking at her drawings. "The purpose of why I made the book has happened. That feels like an enormous gift."
Though Teva has tested negative for the BRCA genetic mutations that commonly increase the cancer risk for Ashkenazi Jews, her doctors agree it is likely hereditary. Her great-grandfather died of cancer at age 43; her Aunt Janet died at 34 from breast cancer; and her Great Aunt Jean died of metastatic breast cancer. Her grandmother, Ruth Levin March, survived three battles with cancer before dying in her 60s.
Teva has undergone extensive genetic screening because, she says, "I want to figure this out for my nieces and family."
Cancer is not the only thing Teva has inherited from her family, which she calls "extremely culturally Jewish. … They were eastern European socialists and communists. That doesn't leave a lot of room for religiousness."
She says her mom "cherry-picked" what parts of Judaism she shared with her daughters. "She enjoyed all the feasting. … I didn't learn until later there is also fasting."
But among the things her mom did share were the importance of mitzvah, of being kind and questioning, which Teva considers "basic life lessons" that have helped her as she faces all the curves life has thrown her way.
What to say to a sick friend
"I like it when people treat me normally," says Teva Harrison, who has spent the last three years of her life coping with metastatic breast cancer. "But also if they offer to help – I've never needed so much help."
Concrete offers of help and fellowship are best:
Can we go for a walk?
Can I help you in your garden?
I'm available Friday, do you need a ride?
One friend gave me credit for a house cleaner.
"So many people say give me a call; I'm not going to call; I'm embarrassed I can't do things for myself."