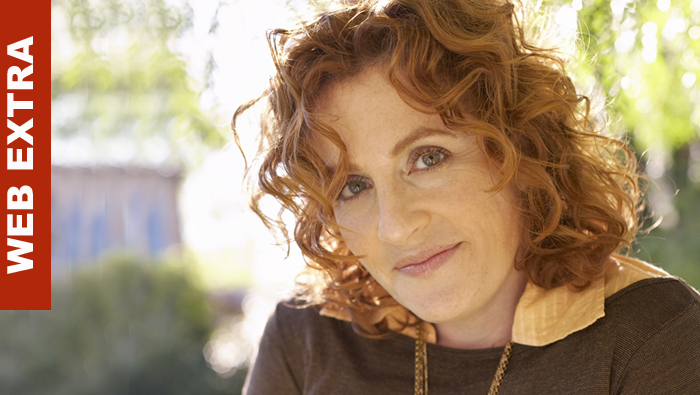 The Harold Schnitzer Family Program in Judaic Studies at Portland State University welcomes Ayelet Waldman to campus for its 2016 Sara Glasgow Cogan Memorial Lecture. This is the renowned author and journalist's only Portland appearance; she last came to town in 2009.
For the Ninth Cogan Lecture, Waldman presents "There's No Business Like Shoah Business: Why Would a Typical Jewish American Princess Be So Obsessed with Her People's Greatest Tragedy?" Her remarks relate to her latest book, Love and Treasure (Random House, 2014), which the author will sign and be available for purchase at the event. Shoah is the Hebrew word for the Holocaust.
Waldman presents the free lecture Thursday, May 26, 7 pm, in Lincoln Performance Hall on PSU's campus, at 1620 SW Park Ave.
Waldman is also author of Red Hook Road and The New York Times  bestseller, Bad Mother: A Chronicle of Maternal Crimes, Minor Calamities and Occasional Moments of Grace. Her novel Love and Other Impossible Pursuits was adapted into the film, "The Other Woman," starring Natalie Portman.
"The theme of the annual Cogan event, 'Reflecting on American-Jewish Life,' is one that Ayelet Waldman is eminently qualified to speak on," says Professor Natan Meir, chair of Judaic studies at PSU. "I'm eager to hear the thoughts of a writer and public figure of Ayelet's stature on the role the Holocaust plays for American Jews today."
In 2007 PSU Professor Emeritus Nathan Cogan created the Sara Glasgow Cogan Memorial Scholarship and Lecture in his late-wife's memory. The scholarship provides Judaic studies students the opportunity to intern for a local Jewish communal organization; this year the participating organization is the Oregon Jewish Museum and Center for Holocaust Education. The lecture highlights Judaic studies' students of merit and, in the past, has brought to Portland noted guests like Professor Samantha Baskind, novelist Dara Horn and the late Jewish musician Debbie Friedman.
"It's a joy to have speakers who represent the arts, and, in particular, novelist Ayelet Waldman this year at PSU," says Cogan. "As a native of Maine, I was happily struck with the imaginary village of Red Hook, which appears in one of her best-known works, Love and Treasure.
"Equally important," Cogan continues, "I'm personally moved that members of the committee that selected this year's lecture guest included Danielle Cogan, my daughter-law; Judy Margles, director of the OJMCHE; and David Fuks, newly retired CEO of Cedar Sinai Park.
Waldman's personal essays and profiles of such public figures as Hillary Clinton have been widely published, including in "The New York Times," "Vogue," "The Washington Post" and "The Wall Street Journal." Her radio commentaries have appeared on "All Things Considered" and "This American Life." Known worldwide, Waldman's books are read in England, Thailand, the Netherlands, China, Russia, Israel, South Korea and Italy.
The Harold Schnitzer Family Program in Judaic Studies at PSU explores a global civilization and its fascinating journey through history from antiquity and the medieval world to modern-day Europe, Israel, America and beyond. It engages students of all backgrounds through a rich and flexible curriculum, including a major degree in Judaic Studies, and serve the greater Portland area through a range of community partnerships and events.
For more information, contact Meir at 503-725-4038 or meir@pdx.edu.