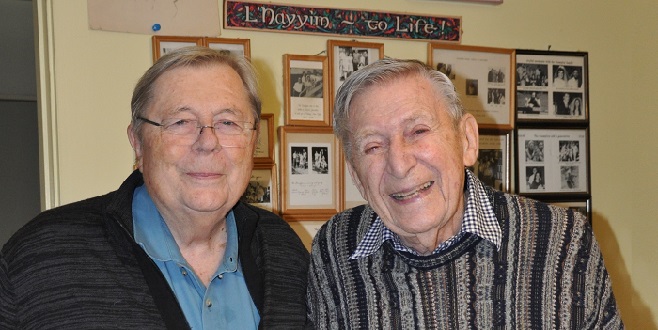 ABOVE: Rabbi Joshua Stampfer, right, and Rodney Page, former executive director of Ecumenical Ministries of Oregon, are planning a new interfaith effort to combat hatred, poverty and other injustices. Photo by Deborah Moon
BELOW: Rabbi Joshua Stampfer at Congregation Neveh Shalom c. 1960. Courtesy of Oregon Jewish Museum and Center for Holocaust Education: OJM09392
Shortly after he arrived in Portland in 1953, Rabbi Joshua Stampfer founded a synagogue nursery school; the next year he cofounded a Jewish summer camp. He's been creating organizations that foster formal or informal education ever since.
Next month Congregation Neveh Shalom will honor their 97-year-old rabbi emeritus (see information below). A panel discussion on what it means to be a rabbi will feature three rabbis from the range of religious traditions – Rabbi Michael Cahana of Congregation Beth Israel, current Neveh Shalom Senior Rabbi David Kosak and Rabbi Tzvi Fischer of the Portland Kollel.
"I have been thinking a lot about what has been my role as a rabbi," says Rabbi Stampfer. "Every rabbi starts with a mission to teach. The only issue is, how he is going to do his teaching."
For the Conservative rabbi, that has meant not only teaching directly but also creating teaching institutions.
"I don't have to be a teacher anymore," says Rabbi Stampfer, though this year his yearlong Bible Class is his largest ever with 81 students. But he has also "created the tools by which teaching happens."
The nursery school he created when he arrived has grown into the popular Foundation School, serving children from 12 months to pre-kindergarten. Camp Solomon Schechter, founded in 1954, has grown steadily, last year serving 460 campers (see related story).
"Early on I started a USY chapter, Rishonim, which means the first," he says. "It was the first Conservative youth movement in the whole Northwest."
Like summer camp, the youth movement provides "informal education, which is very important to Jewish identity," he says.
Other programs he has created include Weekend in Quest, which still brings together about 60 people every year for an intensive study and experiential weekend with a scholar in residence; the Portland Jewish Film Festival, still showing more than a dozen films at the NW Film Center every June; and a Writers and Scholars Lecture series, which for many years brought prominent scholars such as Rabbi Harold Kushner to Portland.
Major institutions he helped create include the Oregon Jewish Museum and Center for Holocaust Education, the Institute for Judaic Studies, the Oregon Board of Rabbis and Neveh Shalom's Library, which now houses the largest Judaica collection in the Pacific Northwest.
He also cofounded two international organizations – the Society for Crypto-Judaic Studies and the Sino Judaic Institute. He founded the first after a visit to Portugal, where he visited a hidden synagogue. His interest in Chinese Jews began when he was researching his book First Rabbi of the West about Rabbi Julius Eckman, who in the mid-1800s studied that population while serving as a Beth Israel rabbi. Rabbi Stampfer visited Kaifeng in 1983 and worked with several international scholars to launch the Sino Judaic Institute at Stanford University.
Universities are another area where he has had a strong impact. In addition to teaching Judaic studies for nearly 40 years at Portland State University, he was also instrumental in the formation of Judaic studies programs at three Portland universities – PSU, Reed College and Lewis & Clark College. The programs arose out of a meeting he held with the presidents of the three colleges, as well as Pacific University.
"Not a bad batting average," says Rabbi Stampfer of having three of the four adopt programs.
The rabbi also has focused on peace and interfaith programs.
"The advance of peace is really a process of education," he says.
He was instrumental in the creation of the Interfaith Committee for Peace in the Middle East and Educating for Peace. Rabbi Stampfer and the Ecumenical Ministries of Oregon former Executive Director Rodney Page teamed up to create ICPME and lead interfaith trips to Israel. Now the two, along with EMO's current director, are spearheading an effort to create Common Table, "a group for Jews, Christians, Muslims, Buddhists and 'others of good will' to address problems such as racism, homophobia, poverty and hate crimes," says Page.
Of his long-time friend and colleague, Page says, "His sense of justice and compassion have so enriched and enhanced the quality of life in Oregon and around the world."
SEVEN DECADES OF RABBINIC IMPACT
WHAT: Honoring Rabbi Joshua Stampfer: His Life and Legacy – Mincha service, sermon, panel discussion, reception
WHEN: 3 pm, April 6
WHERE: Congregation Neveh Shalom, 2900 SW Peaceful Lane, Portland
RSVP: Free but RSVP for reception to 503-246-8831 or programs@nevehshalom.org
MEMORY BOOK: To contribute to the memory book for rabbi, send 200 words or fewer by March 20 to Membership Director Lindsay von Colditz at Neveh Shalom, 2900 SW Peaceful Lane, Portland, OR 97239 or programs@nevehshalom.org.