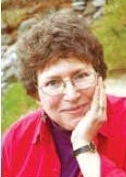 Dear Helen:
My life is stuck. I need 2013 advice that's more than just join a gym and change your job. I need those but I also need a deeper makeover!
Ready
Dear Ready:
Virtually no big change is linear, consistent or fast. Most folks start with some simple prayers: Make it easy. Make it not hurt. Make me successful. Am I done yet? It's my "wake up thin" fantasy, and it just isn't that easy. Your outer and inner worlds both have to work in sync. But the right mix of intention and action can focus your energy and get you going. Start here:
Commandment 1: Update your resume.
This will give you perspective on your past. It's also the two-dimensional window folks look through to see you. Update your accomplishments, skills and references. This'll boost your confidence as well as highlight areas where you need additional experience or training.
Commandment 2: Do a reality check.
See what's fulfilling and what's lacking in your life. Be honest and realistic. Make two lists: what you like and what you want different by next Dec. 31. See where motivation and commitment intersect. Identify what you'd sacrifice to make change happen. Naming the trade-offs will help make them real. Open your mind first; your body will follow.
Commandment 3: Set specific goals.
Name them and plant them in the center of your psychic bulls-eye. Visualize yourself in the new situation, whether job or relationship. Imagine yourself vibrant and strong. Start every day with the mantra: I deserve (your personal goals here). Action follows intention. Decide where you want to go and you'll start taking steps to get there.
Commandment 4: Take better care of your body.
Feeling sick, tired or just plain uncomfortable is lousy. Get a checkup. Start a food and exercise program that is appropriate for your health/age. Keep a food journal. Find an exercise buddy. Pat yourself on the back when you make progress. Kick yourself in the butt when you slack off.
Commandment 5: Enlist your allies.
Your family and friends are probably sick of hearing you kvetch. The good news: They'll be motivated to support your efforts. The bad news: They'll keep you accountable to your goals. Ask for help in various ways, from (gently) being food police to networking job leads. Thank them often and tell them when things go well.
Commandment 6: Do for others.
Take every chance to help someone, from a neighbor to a co-worker. Acts of kindness and usefulness will make you feel good. Don't be concerned with getting credit or about the time it takes from your own life. Do it because it feels good and is the right thing, not because you hope for a future reward. Network with a smile – it will enhance your reputation and the way you're perceived and valued.
Commandment 7: Let others do for you.
You don't always have to be the hero. When you're offered helping hands, take them – assuming they're competent and care about your welfare. If it's a choice between trying to do it all on your own or graciously saying yes, don't waste time wondering what's OK. Ask for help when you need it, and take it when it's offered. Say thank you often, graciously and with chocolate. Say  thank  you  often,  graciously  and   with  chocolate.
Commandment 8: Balance work and life.
Think about what makes you happy and what you want more of and less of in your 24/7. If you're at work, work. If you're off- duty, enjoy the ones you're with. Without people who care about you, money and success can feel emptier than you would expect. Nourish your heart as well as your wallet.
Commandment 9: Have daily and weekly practices.
Body: Join a gym or a team, and dance or walk around the block each day. Use your body as more than transport from Point A to Point B. Heart: Whether it's Facebook or a goodnight kiss, communicate your caring to those you love and those who love you. Soul: Make time for meditation, prayer or whatever feeds your knowledge the world is bigger than you.
Commandment 10: Choose happiness.
For 30 minutes a day, do whatever you most want in that moment, without any guilt. Pick up your book or pet the cat. The more often you choose to be happy, the more likely you will be. Lighten up. Play more often. Whatever makes you feel like you're having fun, give yourself more of it each week. The glow will show, and people will be more drawn to you. People include potential new bosses, as well as friends and family.
If you're really ready, this can be a great time to change. A holiday card said: Hope. Faith. Inspiration. Use them all.
A resident of Eugene since 1981, Helen is a member of Temple Beth Israel, where she studies and speaks on Torah. She claims to have black belts in schmoozing, problem- solving and chutzpah. She's a writer and an artist (www.kabbalahglass.com). Please email your questions to helen@ yourjewishfairygodmother.com.