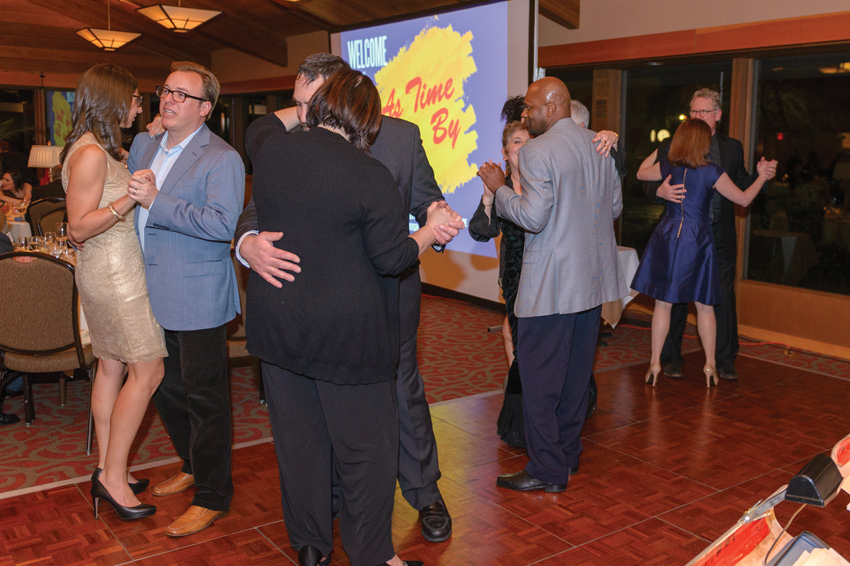 Photos by Andie Petkus
Cedar Sinai Park's annual gala to benefit the residents of the Robison Jewish Health Center drew 220 attendees who pledged nearly $125,000. Sharon Weil and Avrel Nudelman co-chaired this year's event with the theme As Time Goes By, inspiring many attendees to dress as if they were visiting Rick's Café in the classic film "Casablanca."
As the live band played "As Time Goes By," Sharon and Avrel donned trenchcoats and welcomed attendees to the March 14 gala at the Tualatin Country Club.
"You know, time really does go by," said Avrel. "It's just so hard to believe that the Robison Home is in its 95th year. And for those 95 years, the Robison Home has continued to serve our Jewish elderly."
Sharon added, "I am proud to be a trustee of CSP … it is available to those who need a place to rehab or live out their days with family and new friends to share it with. Everyone is welcome at the Robison Home."
Looking back on the event later, Avrel said, "The money we raised helps offset the cost of over half our residents who are on Medicaid. When residents spend all their resources, they are never asked to leave the home. But Medicaid does not cover the entire cost of care and keeping a resident comfortable and living as full a life as possible. That is where the funds we raised at our event come into play, and that is why they are so important."
"The reason we have this annual event is to focus on the residents in the Robison Home," added Sharon, noting two of the 23 tables at the event were for seniors from Robison. "Each year our goal is the same – to keep these residents living with dignity in a place they call home."
The gala also featured an update on the groundbreaking for the new phase of the Robison Home with the addition of household models to enable seniors to feel more at home as they live out life in dignity.