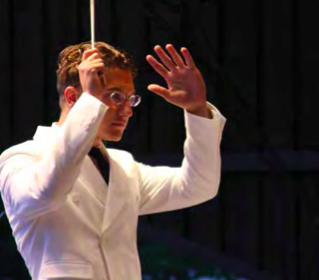 The Arts and Judaism have been intrinsically linked since the beginning of time. There are an overwhelming number of Jews creating or performing in the areas of music, visual arts, creative writing, dance and theater. And if they're not performing, they are attending and supporting! Culture has always been one of the pillars of Judaism that helps to weave together the colorful tapestry of Jewish life and bring communities together.
Arts & Culture:
Artists Repertory Theatre
1515 SW Morrison Portland, OR 97205
503-241-1278
boxoffice@artistsrep.org, www.artistsrep.org
Artists Rep – for the culturally adventurous person who values the thrill of theatrical discovery! As Portland's longest-running professional theatre company for the past three decades, Artists Rep has made a name for itself offering adventurous plays – comedies, dramas and musicals alike – that are supremely entertaining, thoughtful and provocative. Next season includes outrageous comedies and nail-biting dramas and stage realism alongside theatrically heightened parables or satires, plus the deceptively simple followed by the psychologically complex.
Jewish Theatre Collaborative
Performances: Milagro Theatre, 525 SE Stark Mail: PO Box 42022 Portland, OR 97242
503-512-0582
info@jewishtheatrecollaborative.org, www.jewishtheatrecollaborative.org
JTC is in residence at Miracle Theatre in inner SE Portland but brings performances to satellite venues around town. Touring shows travel the state. This year, JTC's signature Page2Stage programming spotlights Nathan Englander's novel The Ministry of Special Cases, set in Argentina during the "Dirty War." Performances of the world-premiere adaptation of the novel will be March 14-April 11, 2015, at Milagro Theatre but we hope you
will join us for the entire Page2Stage journey!
Oregon Jewish Museum and Center for Holocaust Education
Judith Margles, Director Anne LeVant Prahl, Curator of Collections Sandra Preston, Program and Education Manager
1953 NW Kearney St. Portland, OR 97209-3925
503-226-3600 Fax: 503-226-1800
info@ojm.org, www.ojmche.org
The Oregon Jewish Museum and Center for Holocaust Education interprets the experience of Oregon Jews, explores the lessons of the Holocaust and fosters intercultural conversation. At our home on NW Kearney Street, we cover a wide range of topics relating to Jewish art, culture and heritage through programs, exhibits, films, lectures and concerts. We are proud stewards of the Oregon Holocaust Memorial and of the Archives and Artifact Collection.
Oregon Holocaust Memorial
Washington Park; SW Washington Way and Wright Avenue
503-226-3600
Triangle Productions!
Donald Horn, Executive Director/Founder Jen Waters, Marketing Manager Lenny Borer, Board President The Sanctuary @ Sandy Plaza
1785 NE Sandy Blvd. Portland, OR 97232
503-239-5919
info@trianglepro.org, www.trianglepro.org
For 25 years triangle productions! has brought thought-provoking theater to the Portland area. Our mission, is "to entertain and educate through the celebration and presentationof contemporary live theater, and to promote diversity and tolerance through the presentation of accessible, high-quality productions addressing a broad range of social and political issues." This year's season is full of laughter, music, Portland history, sex advice, life lessons and a little quiche thrown in for good measure.