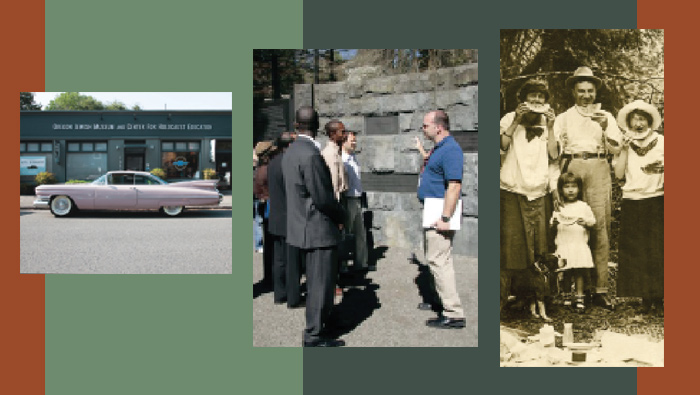 The Arts and Judaism have been intrinsically linked since the beginning of time. There are an overwhelming number of Jews creating or performing in the areas of music, visual arts, creative writing, dance and theater. And if they're not performing, they are attending and supporting! Culture has always been one of the pillars of Judaism that helps to weave together the colorful tapestry of Jewish life and bring communities together.
Artists Repertory Theatre
1515 SW Morrison
Portland, OR 97205
503-241-1278
boxoffice@artistsrep.org
www.artistsrep.org
Artists Rep – for the culturally adventurous person who values the thrill of theatrical discovery! As Portland's longest-running professional theater company for the past three decades, Artists Rep has made a name for itself offering adventurous plays – comedies, dramas and musicals alike – that are supremely entertaining, thoughtful and provocative. We are proud to have built a reputation for presenting world, national and regional premieres alongside fresh takes on classics and rarely produced theatrical treasures.
Jewish Community Orchestra

Performances: MJCC, 6680 SW Capitol Hwy.
Rhearsals: Rose Schnitzer Manor
Portland, OR 97242
503-297-6767
Jewish Theatre Collaborative
Performances: Milagro Theatre, 525 SE Stark
Mail: PO Box 42022
Portland, OR 97242
503-512-0582
info@jewishtheatrecollaborative.org
www.jewishtheatrecollaborative.org
This year, JTC's signature Page2Stage programming spotlights Chaim Potok's novel, Davita's Harp. Performances of the world-premiere adaptation of the novel will be March 19-April 9, 2016, at Milagro Theatre but we hope you will join us for the entire Page2Stage journey. JTC is in residence at Miracle Theatre in inner SE Portland. Touring productions travel the state.
ORA: Northwest Jewish Artists
oraartists@gmail.com
503-244-0794
Oregon Jewish Museum AND CENTER FOR HOLOCAUST EDUCATION
Judith Margles, Director
Anne LeVant Prahl, Curator of Collections
Sandra Oberdorfer, Program and Education Manager
1953 NW Kearney St.
Portland, OR 97209-3925
503-226-3600
Fax: 503-226-1800
info@ojmche.org
www.ojmche.org
The Oregon Jewish Museum and Center for Holocaust Education interprets the experience of Oregon Jews, explores the lessons of the Holocaust and fosters intercultural conversation. At our home on NW Kearney Street, we cover a wide range of topics relating to Jewish art, culture and heritage through programs, exhibits, films, lectures and concerts. We are proud stewards of the Oregon Holocaust Memorial and of the Archives and Artifact Collection. April Slabosheski is our Holocaust Educator.
OREGON HOLOCAUST MEMORIAL
Washington Park
SW Washington Way and Wright Avenue
503-226-3600