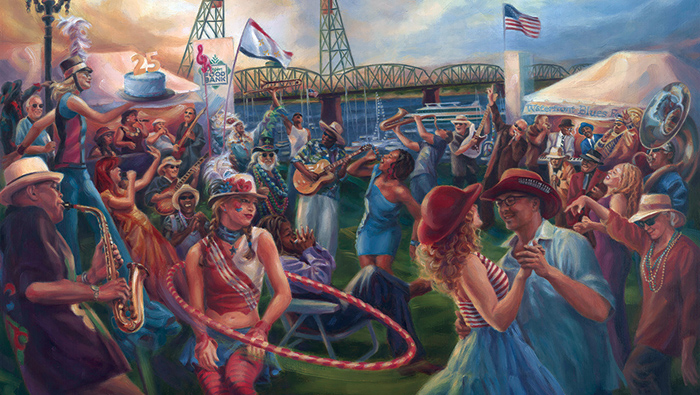 The Arts and Judaism have been intrinsically linked since the beginning of time. There are an overwhelming number of Jews creating or performing in the areas of music, visual arts, creative writing, dance and theater. And if they're not performing, they are attending and supporting! Culture has always been one of the pillars of Judaism that helps to weave together the colorful tapestry of Jewish life and bring communities together.
ARTISTS REPERTORY THEATRE
1515 SW Morrison
Portland, OR
503-241-1278
boxoffice@artistsrep.org
artistsrep.org
Where culturally engaged Portlanders come to experience stylistically diverse plays that entertain, challenge and inspire! As Portland's longest-running professional theater company, Artists Rep has made a name for itself offering adventurous plays – comedies, dramas and musicals alike – that are supremely entertaining, thoughtful and provocative. We are proud to have built a reputation for presenting world, national and regional premieres alongside fresh takes on classics and rarely produced theatrical masterpieces.
BUTTERFLY WONDERLAND
Amram Knishinsky, Ph.D., Founder & CEO
Ran Knishinsky, Chief Marketing Officer
9500 E Via de Ventura
Scottsdale, AZ
480-800-3000
info@butterflywonderland.com
butterflywonderland.com
More than 3,000 butterflies fly daily at this world-class attraction that's worth a stop on your next vacation to the Southwest. The largest butterfly pavilion in America, visitors of all ages enjoy a 3D theater, an Emergence Gallery, a lush rainforest atrium where exotic butterflies fly freely, live nature and honeybee exhibits, and a stingray touch pool at the "Rivers of the Amazon."
ISRAELI FOLK DANCING
Portland
503-313-4552
JEWISH COMMUNITY ORCHESTRA
Performances: MJCC, 6680 SW Capitol Hwy.
Rhearsals: Rose Schnitzer Manor
Portland, OR
503-297-6767
ODYSEA AQUARIUM
Amram Knishinsky, Ph.D., Founder & CEO
Ran Knishinsky, Chief Marketing Officer
9500 E Via de Ventura
Scottsdale, AZ
480-291-8000
info@odyseaaquarium.com
odyseaaquarium.com
The largest aquarium in the southwest, OdySea takes you on an entertaining and educational adventure including a 3D movie, SeaTrek underwater ocean walking, a giant submerged escalator and a one-of-a-kind voyage through the Living Sea.
ORA: NORTHWEST JEWISH ARTISTS
oraartists@gmail.com
503-244-0794
ORA is a guild of Northwest Jewish artists, centered in the Portland area. ORA is the Hebrew word for 'light.' Our activities are geared toward encouraging the growth of Jewish artists, and educating the community about art appreciation. We welcome all Jewish artists to join our group. All hand-made media are acceptable. We hold two major juried art shows a year, plus numerous exhibit opportunities, and quarterly educational events for artist members.
OREGON JEWISH MUSEUM AND CENTER FOR HOLOCAUST EDUCATION
Judith Margles, Director
Anne LeVant Prahl,
Curator of Collections
April Slabosheski,
Holocaust Educator
2016: 1953 NW Kearney St.
New in 2017: 724 NW Davis St.
Portland, OR
503-226-3600
info@ojmche.org
ojmche.org
The Oregon Jewish Museum and Center for Holocaust Education interprets the experience of Oregon Jews, explores the lessons of the Holocaust and fosters intercultural conversation.We cover a wide range of topics relating to Jewish art, culture and heritage through programs, exhibits, films, lectures and concerts. We are proud stewards of the Oregon Holocaust Memorial and of the Archives and Artifact Collection.The museum will open in its new permanent home in the North Park Blocks in late spring 2017.
OREGON HOLOCAUST MEMORIAL
Washington Park
SW Washington Way and Wright Avenue
Portland, OR
503-226-3600
THE PORTLAND BALLET
6250 SW Capitol Hwy.
Portland, OR
503-452-8448
info@theportlandballet.org
theportlandballet.org
The Portland Ballet is a Ballet Academy and Youth Company offering an exemplary faculty, a men's ballet program, and access to works by renowned choreographers. On a mission to impart the lineage of ballet to young dancers, TPB teaches from a foundation of Russian technique in an environment that is safe and nurturing. The company presents three professionally produced performances annually, including the beloved Holiday Performance, danced to live music by the PSU Orchestra.