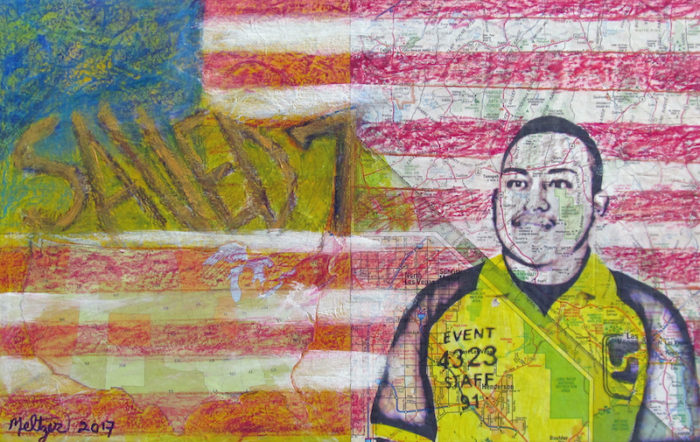 IMAGE: Erick Silva, a young security guard who saved seven lives before he was shot. Collage by Bonnie Meltzer
"The Beautiful Lives Lost Portrait Project" honors the 58 Las Vegas shooting victims who were invisible to the perpetrator but who we clearly see, recognize, remember and honor as victims of senseless violence.  The portraits will be gifted to the families of the "Beautiful Lives Lost."
"Beautiful Lives Lost" will be exhibited at the Art Institute of Portland, Marcia Policar Gallery, 1122 NW Davis, Portland, OR 97209. The exhibit will be open July 5-27, with an opening reception from 5 to 8 pm, July 5. Exhibit hours are:8 am-8 pm Monday–Friday; 8 am-5 pm Saturday; and 10 am-2 pm Sunday.
"After the 2017 mass shooting in Las Vegas that left 58 people dead, my friend Quin Sweetman felt helpless in the face of yet another national tragedy of senseless gun violence," says Portland Jewish artist Bonnie Meltzer. "But she wasn't helpless. She had a brilliant idea to help us all grieve. Quin gathered 55 artists together, including me, to make portraits of the 58 people murdered."
Following the exhibition all portraits will be given to the families. Bonnie created a collage of Erick Silva, a young security guard at the concert who saved seven lives before he was shot.
"The idea of tikkun olam has always been part of my life," says Bonnie. " How can I repair the shattering world? I do my part by making artworks about environmental and social justice. 'Beautiful Lives Lost' attempts to heal the shattering world through art."
Other Jewish participating in the exhibit include Suzy Kitman and Naomi Segal Deitz.
Quin organized the project "to show that love is stronger than hate. There is so much negativity/ugliness in this world. This project aims to spread beauty and Kindness. Kindness often begets kindness. We aim to continue this cycle rather than violence."
"We really don't like referring to the people who lost their lives that day as victims," notes Quin. "All of them were people, not statistics, living rich, rewarding and beautiful lives. The artists recognize, remember and honor those lost lives with their artworks. They volunteered their time, materials, and talents as a loving gesture to bring some comfort to the families, loved-ones and communities by showing that people care about their loss."
"The portraits serve as tangible proof that these 58 people will continue to be remembered in the most positive light," she adds. "Art helps us all heal."
See all the portraits.