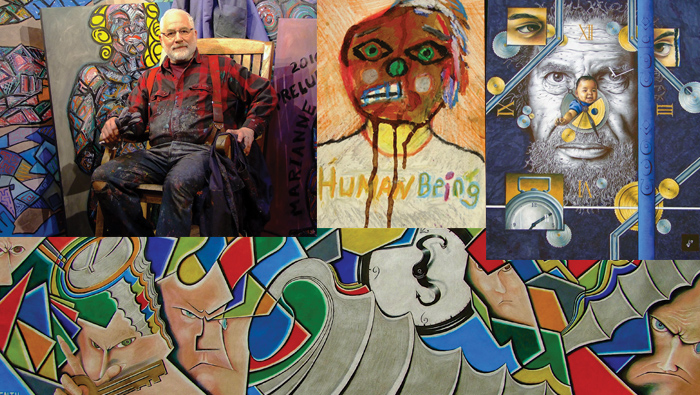 July 6 is a red-letter day for David Slader – in both his former life as an attorney and his current life as an artist.
On July 6, 2004, the Portland Archdiocese filed for bankruptcy protection after settling dozens of claims by victims of sexually abusive priests; attorney David Slader represented those victims. Thirteen years to the day later, artist David Slader opens his show featuring his own portraits of strong women along with intense art by three men living in Oregon prisons.
The name of the July show at Gallery 114 arose from a portrait David saw depicting an anguished prisoner as a human being. Gallery 114 is a cooperative of 14 artists; David says each artist gets a monthlong show, and most invite a guest artist to join them. David wanted to do something different and googled Oregon prison art. On the website oregonprisonart.org, he says he saw "some of the most intense, brutal, from the soul art that I have ever seen." He contacted the curator, artist Victoria Tierney, and arranged to include some of the works at his show in July.
David's July show at Gallery 114 will include the works of three guest artists – "Human Being" and "Poet" by B. Pat, who has since been released, and colored pencil drawings by two current prisoners, Jerome Sloan and David Drenth. The latter uses colored pencils to created intricate scrolls using 18-inch-wide paper from the prison laundry.
"From the comfort of my life, I could not create art with this much intensity," says David. "I would not want to have the experiences you need to do it."
Yet David has had experiences that influenced his own work. The decade he spent filing personal injury claims on behalf of victims who had suffered sexual abuse as children was a grueling, draining experience.
During junior high and high school, David had taken weekend art classes at the School of Art in Chicago. But when he was in high school, he says, "My father made it clear he wanted me to be a lawyer. … I got the message art was a great hobby, but I needed to think of a career – that was the Jewish script."
"I put down my paintbrush and didn't pick it up again until I retired," he says.
In the early 1970s, David worked as a public defender representing child abuse victims in juvenile court. Then he spent much of his law career doing commercial litigation. But he continued to take on pro bono work representing kids. He began getting many referrals and asked his firm if could add those to his formal case load. When the firm told him to just do those he could do pro bono, he left.
"I was wanting to do something with law that made giving up art worthwhile," he says. What he found was both "very satisfying and emotionally exhausting."
"I went out on my own to represent child abuse victims," David says. He soon received a call from a man who said he had been molested as a child by his priest, who was retired.
"We put in a phone call to him (the priest), and he talked about how this guy was just one of them," says David. "In his mind he was the innocent partner. He described how boys would throw themselves at him."
David asked the priest what happened when the archdiocese found out about the incidents, and says the priest told him, "They would move me to another small town."
David soon discovered a string of victims in those towns. For the next 10 years, he was immersed in child sex abuse cases, many of which involved Catholic priests. "I grew up in a Jewish/Catholic neighborhood," he says. "These were my buddies."
The work was so arduous that his wife, Cantor Barbara Slader, penned a prayer he could say when days got especially rough: "Blessed is the flow of the River of Truth, which helps us to wash away filth."
Barbara says, "The dark issues and stories he was immersed in for years were so overwhelming. I hoped to give him a small beam of light to shine on the big picture, the hopeful purpose of his efforts."
In 2008 David decided it was time to give it up. He started taking drawing lessons with Philip Sylvester. Then he rented studio space and started making art. Most of his paintings are portraits created with bright geometric patterns.
"Initially it was all portraits of men," he says. "I was clearly working through my legal work."
Last year he shifted to painting women – "thoughtful, powerful, strong personalities; pretty is not my goal."
Pretty was also not the prison art he wanted to include in the exhibit.
"David (Drenth) has done "pretty stuff, not from the soul," says the artist. "I told him I want what comes from your heart."
Just as in his law career, where he wanted to do something with meaning, David Slader also wants art to be meaningful.
"As a society we don't ever want to know these people (prisoners) are there," he says. "But we need to understand they are human beings with creative needs. If we look at their art, we realize they are human beings."
JULY EXHIBIT
WHAT:
Human Beings: Portraits of women by David Slader and the work of three guest artists working from Oregon prisons
OPENING RECEPTION:
6-9 pm, July 6, First Thursday
WHERE:
Gallery 114, 11th and Glisan
in the Pearl
GALLERY HOURS:
noon-6pm, Thursday-Sunday
gallery114pdx.com
503-243-3356