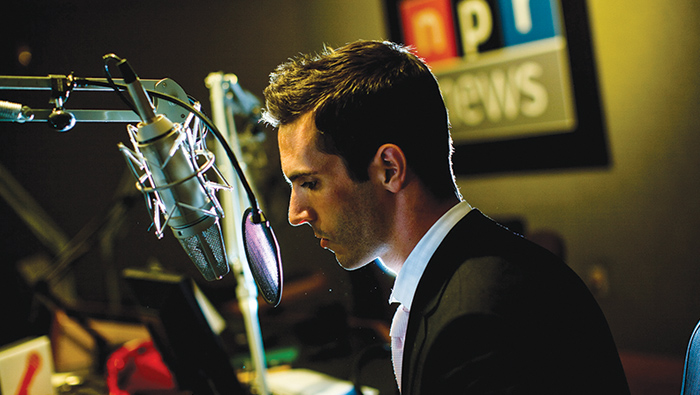 Journalist and singer brings understanding home to Portland
Ari Shapiro has traveled the world as a journalist with NPR and a guest singer with Pink Martini. Now he wants to share the world he's experienced with the city where he grew up – Portland.
"Between songs I talk about places I've been, people I've met and things I've seen," says Ari of his one-man show "Homeward" (see details below). "The songs string the stories together."
"The show includes stories from Ukraine, Iraq, Scotland and other parts of the word, but it's not about a specific place," says Ari. "It's about realizing that as far away as places seem geographically, there is much more we share in common with people than not."
While he says he "uses different muscles" when he sings than when he is reporting, the two are quite similar.
"Both are about connecting with an audience and helping people understand something in a way that cuts through the noise," says Ari. "Both are about storytelling."
THE JOURNALIST
Ari is now one of four weekday cohosts of NPR's award-winning afternoon news magazine, "All Things Considered." The show debuted in 1971 and Ari joined the show in September 2015. NPR's website says the two-hour show "consists of the biggest stories of the day, thoughtful commentaries, insightful features on the quirky and the mainstream in arts and life, music and entertainment, all brought alive through sound."
Ari describes the creation of the show as a collaborative process in which the hosts create stories based on what they are curious about, what is in the news and what others are reporting on. Who will cover a disaster or major news event often depends on scheduling. "As hosts we have such a wide range of interests," he says. "There are so many stories to tell there is room for everyone."
Ari's NPR career began when he was still a student at Yale. He started as an intern for NPR Legal Affairs Correspondent Nina Totenberg. After graduating magna cum laude, he joined NPR full time and has since reported from above the Arctic Circle and from five continents. He has covered wars in Iraq, Ukraine and Israel.
He was NPR's correspondent at the Justice Department during the George W. Bush Administration and NPR's White House correspondent for part of each of President Obama's terms. He was embedded with the presidential campaign of Republican Mitt Romney during the 2012 election. Prior to joining "All Things Considered," Ari was an international correspondent based in London, traveling the world to cover a range of topics for various NPR programs.
"I'm glad I had the opportunity to cover the White House and presidential campaign," says Ari. "But I am glad to have moved on to cast a wider net."
With so many diverse assignments, Ari is often asked about his favorite story.
"I've never been able to answer that question," he says. "Partly because it is impossible to compare a small intimate story to a big national event and partly because every few months I am working on new stories I am excited about."
He has been recognized frequently for his reporting, beginning at age 25 when he won the Daniel Schorr Journalism Prize for an investigation of methamphetamine use and HIV transmission. His coverage of disability benefits for injured American veterans earned him a laurel from The Columbia Journalism Review. The American Bar Association and the American Judges' Association honored him for, respectively, exposing the failures of Louisiana's detention system after Hurricane Katrina, and his work on U.S. courts and the American justice system.
"All Things Considered" seems an ideal platform for a man with so many interests and so many questions.
Has Judaism contributed to his career?
"As a journalist, you try not to be the focus, but you bring everything you are to the conversation," says Ari. "Being raised in a tradition of questioning prepared me for a role where I now question everything every day."
THE PERFORMER
"Ari's singing career began with 'Adon Olam' on the bimah at the Fargo Hebrew Congregation when he was 2," says his mother, Elayne Shapiro.
After the family moved from North Dakota to Portland, Ari took voice lessons and performed in musical theater.
Now he is a frequent guest performer with Portland's Pink Martini, appearing on four of their albums, sometimes singing with China Forbes or Cantor Ida Rae Cahana. The little orchestra was founded in 1994 by Harvard graduate and pianist Thomas Lauderdale to perform at fundraisers for progressive causes.
Ari has appeared with Pink Martini in such respected venues as Carnegie Hall in New York, L'Olympia in Paris, Mount Lycabettus in Athens and the Hollywood Bowl in LA.
Asked how he connected with Pink Martini, Ari confirmed an account from a 2013 Pink Martini blog post (pinkmartini.com/ari-shapiro-gets-happy): "I grew up in Portland and have been a fan of the band since high school. I knew them when they were a teeny band playing in now-defunct bars around Portland. After finishing college I became friends with them and would throw parties for them any time they were in town.
"One year I threw a barbecue that turned into an all-night sing-along around the piano. The next day Thomas called me and asked if I wanted to record a song on their next album. I hesitantly agreed, we recorded it at Kung Fu Bakery and I thought it would be a one-off type of thing. It wasn't."
Ari frequently sings that first song, "But Now I'm Back," when he appears with the band. "It is the one (song) that shows up most on YouTube videos. But I've sung many other songs since."
He is featured on four of the orchestra's albums, singing in several languages. On Pink Martini's 2010 album, Joy to the World, Ari sings the Ladino Hanukkah song "Ocho Kandelikas" (Eight Little Candles) and the Hebrew prayer "Elohai N'tzor." On the band's most recent album, Je Dis Oui! (2016), he sings a new Arabic version of "La Soledad."
His parents (Leonard and Elayne) are frequently in the audience when he performs with Pink Martini in Portland and elsewhere in the United States.
"No matter how many times we have seen Pink Martini, their exuberant and sensitive response to music under the leadership of Thomas Lauderdale fills the soul," says Elayne. Speaking of Ari's singing, she adds, "His singing fills our hearts."
Over the years many people have asked Ari to consider performing a solo show, and he always said no, in part because he wasn't sure he had anything to say and in part because of logistics such as financing, venues, etc. Then his friend,
Septime Webre, former artistic director of the Washington Ballet, asked Ari to do a cabaret show for an arts series he was creating. Septime told Ari he would handle all the logistics; all Ari had to do was prepare a show.
Ari says he realized, "If I can't say yes under those circumstances, I will never be able to do it."
Still hesitant, Ari stayed low key and didn't tell friends about the show. "Homeward" sold out for the April show in Washington, D.C., and he agreed to reprise it in August at Joe's Pub in New York City.
"So I thought I would do some more," says Ari. "Where would I want to do it? Portland was near the top of the list."
THE PERSON
Ari says he loves Portland's people, food and outdoors.
"I feel very much like a Portlander, though with no tattoos or piercings," says Ari. "I ride a bike everywhere; I don't even have a car. I relate to the pre-Portlandia aesthetic I grew up with."
The Shapiro family moved from North Dakota to Portland when Ari was 8. Along with older brother, Daniel, and younger brother, Joseph, Ari was active at Congregation Neveh Shalom and in United Synagogue Youth. He graduated from Beaverton High School in 1996. He attended afternoon Hebrew School at Portland Jewish Academy and became a bar mitzvah at Neveh Shalom.
"Growing up we attended services almost every weekend," says Ari. "Judaism was a real part of my childhood. My parents had a kosher home, and we often led services at Robison Home."
Now members of Havurah Shalom, Leonard and Elayne still lead services on the Cedar Sinai Park campus as well as for the North Coast Shabbat Group.
Though he no longer attends services every week, Ari and his husband, Michael Gottlieb, celebrate the holidays, have a seder every year and host or attend a Shabbat dinner on a semi-regular basis.
Ari and Michael met at Yale. In 2004 when San Francisco issued marriage licenses to same sex couples, Ari and Michael married in city hall. The following year they planned a wedding for family and friends officiated by Portland Rabbi Daniel Isaak and San Francisco Rabbi Martin Weiner.
"Although officiating at a gay marriage is not particularly controversial today, Ari's wedding was my first," says Rabbi Isaak, now emeritus rabbi of the Conservative congregation Neveh Shalom. "Rabbi Weiner, Michael's rabbi, had been a Reform rabbi from San Francisco. I was sure I could lean on him a little and told him in our phone conversation that I had never officiated at a gay wedding. I was a bit surprised when he told me that neither had he.
"I was also glad that the ceremony would take place in California, since I had no idea as to what kind of criticism I might get from my congregants. Little did I realize how many of my congregants would be guests at the wedding, all dear friends of the Shapiros. Elayne and Leonard were active Neveh Shalom members and … I had the privilege of officiating at many of the Shapiro life-cycle events."
Elayne says she and Leonard are proud of the work Ari does and the music he creates.
"Nothing about Ari's life seems natural to us. Hiking with him from Multnomah Falls to Wakeena Falls seems natural," says Elayne. "His singing fills our hearts. Ari's journalism career generates a variety of feelings: gratitude that he has work he loves; fear because journalism is a dangerous career in these times; happiness because we know where he is most days. …He brought Mike Gottlieb into our lives and that is a joy."
Ari returns to Portland a couple of times a year to report or perform with Pink Martini. "I get to see my family and spend time in a city I would love to visit – even if I didn't have family there."
ARI SHAPIRO LOOKS HOMEWARD
WHO: Ari Shapiro
WHAT: "Homeward," Ari's new one-man show with music
WHEN: 7:30 pm, Nov. 16 & 17; 7 & 9 pm, Nov. 18
WHERE: World Trade Center #2, 121 SW Salmon, Portland
MUSIC: Music direction by noted musical artist Gabriel Mangiante and a band featuring some of Portland's finest musicians
COST: $60 (plus service charge) at brownpapertickets.com/event/3059439;
800-838-3006; $65 door