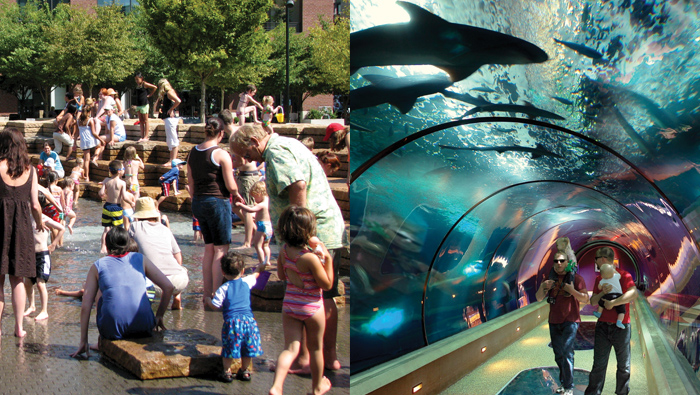 Now that the snows of winter and the rains of spring have abated, an Oregonian's thoughts naturally turn to … more water! Yes, it's time for summer water fun! In the Beaver State you can splish-splash your way from Memorial Day straight on through to Labor Day. But don't worry about getting wet; after all, you're mostly water yourself.
1) Jamison Square: A great place to start our Oregon aqua journey is at the shallow end of the pool. If you need to cool off on a summer day, Portland's Jamison Square in the Pearl District is just the ticket. Featuring an urban tidal pool in a city park, the ebb and flow of the park's fountain periodically creates and drains a small pond of treated water that serves as a children's wading pool. Get there early as it's a neighborhood favorite on a sunny day. Close access to the Portland Streetcar is a plus. Jamison Square, 810 NW 11th Ave., Portland.
2) North Clackamas Aquatic Center: If you want to wade a little deeper into the pool, you can pay a visit to the North Clackamas Aquatic Center. Boasting multiple pools and slides, along with a 29-foot rock wall, adventure awaits as your splash your way toward fun! This is a great place for birthdays and get-togethers. Don't worry if your child is new to swimming – they also offer lessons. There is a wave pool, a lap pool and a kiddie pool. Throw in terrific food on premise, and you've got the making of a super fun summer day. 7300 Harmony Road, Milwaukie; 503-557-7873, ncprd.com.
3) Wings & Waves Waterpark: If you're ready to go for broke, ascend new heights at the Wings & Waves Waterpark as you speed toward splashdown! Topped by a real Boeing 747-100 airplane, the waterslide actually begins in the belly of this enormous bird. At this hybrid museum/water park, your kids will learn by doing as they explore the "Water Needs Life" Hands-On Science Center. Prepare to have your mind blown as you swim in a 91,000-gallon wave pool sandwiched by two massive Apollo rockets and dominated by a 20-foot HD screen featuring archival footage of real NASA splashdowns. Sporting no less than four waterslides, this waterpark is out of this world! 460 NE Captain Michael King Smith Way, McMinnville; evergreenmuseum.org, 503-687-3390.
4) Bonneville Dam: Forty miles east of Portland lies the mighty Bonneville Dam. Spanning the width of the Columbia River, this massive structure has been providing the region with electricity since the 1930s. See the visitors' center, watch the fish swim past the viewing windows or take the guided tour to really get a sense of the history and engineering behind the dam. Finish your day with a visit to their fantastic Discover Your Northwest bookstore and gift shop. Cascade Locks.
541-374-8820 or 541-374-8344
5) Wahclella Falls: Located not far from Bonneville Dam, this hike is only two miles round-trip, yet it provides awe-inspiring vistas of the Gorge. The trail can be steep in spots and there are precipitous drop-offs on the side of the trail at times, so use caution and make sure your children are safe and understand the risk. Hold their hands while hiking the steepest spots. This hike rewards richly as you emerge from the trees and witness the falls plunging into the punch bowl below. Misty air, moss-covered rocks, conifers and the sound of rushing water all combine for an epic view and a memory your children will treasure forever. Bridal Veil, Exit 40 off I-84.
6) Multnomah Falls: Right off I-84 in the Gorge is a spectacular sight your kids will never forget. Multnomah Falls, cascading down over the Larch Mountain Lookout and dropping down a total of 620 feet, will wow the little ones as they cross the Benson foot bridge and take in the spectacular views of both the upper and lower tiers of the falls. The cool spray of the falls is a delight, especially on a warm, sunny day. Bridal Veil, Exit 35 off I-84.
7) Tanner Springs Park: This park in northwest Portland was formerly a wetlands, with the spring-fed Tanner Creek flowing into Couch Lake, which in turn flowed into the Willamette River. As the city grew and land became scarce, the wetlands and lake were filled in to accommodate the needs of industry. Tanner Creek itself is named for the tannery built on its banks in the 1860s. In the 1990s things came full circle as a need for open space in the city became evident. The current park sits above what was once Couch Lake. Walking paths, green grass and art make this park a welcome respite from the city streets. Sneak in a quick history lesson, too. Your kids will be fascinated to know they are running and playing about 20 feet above what was once the surface of a lake. Northwest 10th Avenue and Marshall Street, Portland.
8) Powers Marine Park: Explore the abundant local wildlife that share the city with us. American Beaver, Northern River Otter, numerous waterfowl, native salmon, steelhead and lamprey all call this place home. Explore the banks of the Willamette River and discover the wild heart of the city. Southwest Macadam Avenue south of Sellwood Bridge, Portland.
9) Governor Tom McCall Waterfront Park: Formerly a freeway, this park is the very embodiment of the '60s legacy – asphalt transformed into green space. Named for the governor who was instrumental in its creation, the park is often referred to as Portland's backyard.
Walk through the Japanese American Historical Plaza and bear witness to the Japanese-American wartime experience.
In summer, take them to splash in the Salmon Street Springs Fountains. Walk the Eastbank Esplanade any time of year with your kids, and watch the river flow and the boats go by. Later, as you pass the Battleship Oregon Memorial, take a moment to read the dedication plaque and remember the brave men who served and sacrificed on that ship. Naito Parkway between Southwest Harrison and Northwest Glisan streets, Portland.
10) Oregon Maritime Museum:  Take a tour of the sternwheeler Portland, the last steam-powered sternwheel tugboat still in operating in the United States, and show your kids an important part of Portland's nautical past. The friendly docent will give your kids an informative tour of the ship. Touch and play with actual 20th century artifacts and even blow a ship's whistle in the Children's Corner. Visit the library to see some wonderful books on the Pacific Northwest's rich and colorful nautical history. Afterward, stop at the gift shop for a souvenir. Tom McCall Waterfront Park Portland, OR; 503-224-7724, oregonmaritimemuseum.org.
11) Surf and Turf: With the right timing, it's possible to ski and windsurf in the same day in Oregon. Timberline Lodge and Ski Resort is the only ski resort open throughout the summer, with ski season running up to around Labor Day. It is just over an hour's drive from downtown Portland. Timberline Ski Resort offers skiing to intermediate and advanced skiers only in the summer months. With epic views of the Cascades, warm sunny days and soft, forgiving snow, get here early for an adventure that is truly unique! Timberline is only an hour and a half drive from Hood River, the nation's premiere windsurfing destination. One can ski or snowboard in the morning and windsurf or kayak or kiteboard in the afternoon; the possibilities are endless in a sports Mecca like this. Throw in a picnic lunch and let 'em nap in car. Your kids will have a summer day like no other.
12) Oregon Coast Aquarium: Former home of Keiko of "Free Willy" fame, the Oregon Coast Aquarium is a great way to spend a day with your child. You'll walk through transparent acrylic tubes surrounded by water as sharks and other fish dart all around you. Other exhibits feature marine mammals and birds. 2820 SE Ferry Slip Road, Newport; 541-867-3474, aquarium.org.