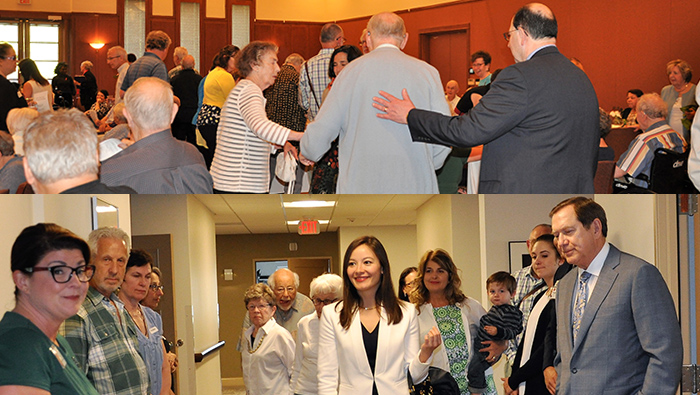 Photos: TOP: Interim CEO David Fuks welcomes attendees to the Cedar Sinai Park Annual Meeting on June 6. BOTTOM: Before the meeting, visitors (including Jordan Schnitzer, far right, and family) toured one of four new households of the Harold Schnitzer Center for Living.   For additional photos from the annual meeting and tours of the Green House households, visit our Facebook page @ojlife.
At the 97th annual meeting of Cedar Sinai Park June 6, Interim CEO David Fuks explained he returned to the agency because of his passion for the organization and people CSP serves, and CSP President Liz Rabiner Lippoff addressed the historic need for the senior services and how the agency is moving to meet needs into the future.
Before the meeting began, attendees were treated to tours of one of the four Green House households that make up CSP's Harold Schnitzer Center for Living and a spread of sweet and savory treats.
Other highlights included honoring volunteers and a performance by the Rose Schnitzer Manor Choir. Toinette Menashe and Eddy Shuldman were honored for their direct volunteer service to residents of CSP (see photos on Facebook @ojlife).
"I came back to Cedar Sinai Park as interim CEO because, as a member of this community, I care deeply about this organization and the people we serve," said David at the meeting. "I was honored to be asked to help during these trying times … and I take this mitzvah very seriously.
"A few years ago, we made a promise to build a new future for our community's most fragile members. The dream we had still can and will become a reality," he added. "I want to share my initial perceptions … and to share our organization's plan of action with you. I know CSP can meet the new goals we have set. I expect that in six months we will be in a much better position and that in one year we will be celebrating our successes together!"
He detailed the following positive changes already under way:
There has been too much turnover among caregivers. NEW ACTION: We are now rebuilding the spirit and values among our employees. We are investing in additional staff training to be sure that our employees are fully capable of rising to the level of care that residents and patients in our beautiful new buildings and in the updated Rose Schnitzer Manor deserve.
• The Rose Schnitzer Manor census is too low. NEW ACTION: Active marketing is currently under way to turn this completely around. And thanks to the generosity of several community leaders, additional resources are being dedicated to building improvements and other amenities that will increase RSM's appeal to new residents.
Contrary to what we originally believed, it is now clear that a wing-by-wing renovation of Robison is not possible without compromising quality care and risking our reputation. NEW ACTION: As a result, the Robison building is now closed until the construction is complete. This is costly, but necessary, if we are to preserve our reputation for excellence. The newer version of Robison will allow us to provide state-of-the art post-hospital care and rehab so our families and friends can return to their own homes. As this will be many people's first exposure to CSP, their positive experience at Robison will help create confidence in the spectrum of quality services we provide.
David added that a new executive chef and a new nursing home administrator have been hired and strong candidates for the CEO position have been identified.
In her state of CSP address, Liz opened by saying: "On behalf of the board of trustees, I want to first thank all of you for coming to this, the annual meeting of your Cedar Sinai Park. And I say 'your' because if there's one thing I've learned in my first year as your president, it is that our community feels very deeply that this IS their Cedar Sinai Park."
She said the community recognizes how essential CSP is to the community's elders.
She noted CSP provides a "wonderful home, perhaps a temporary home where they can heal and then go back home …  a vital place where they can live and thrive, as my father-in-law did at the Rose Schnitzer Manor … and perhaps a calm, loving place where one day they may pass away peacefully, as my grandmothers did at Robison."
CSP and its partners also provide Kehillah Housing for adults with special needs, Sinai In-Home Care and affordable housing downtown. CSP's Jewish Family and Child Service provides in-home care and social activities for Holocaust survivors; high quality, culturally sensitive social work; and adult day services.
"Our vision for Cedar Sinai Park is to be the number one resource for both information and services in all things senior," said Liz.
"Whether you are just beginning to think about elder care and want to speak with a social worker or have broken your hip and need a place to heal right now, we want a call to CSP to be the best way to move forward."
"We believe we are uniquely suited to the task," she said pointing to "the Jewish values that drive us enable us to practice our faith as we want to … and treat all people with equal love, honor and respect."
"Refining, consolidating and, in some cases, expanding our services is essential, and we have begun that work," she said. "Building partnerships with high quality organizations outside CSP will enable us to refer back and forth with confidence when someone needs a service we don't provide, and we have begun that work. Growing our financial resources so that we can support our elders who need care, regardless of their ability to pay is our responsibility, and we are hard at that work, too."
The meeting also included the election and installation of new board members and officers.
Officers for the coming year are: Liz Rabiner Lippoff, president; Michel Millender, president elect; Susie Marcus, secretary; Les Soltesz, treasurer; and Elise Brickner-Schultz, Michael Feves and Ivan Gold, vice presidents. New board members are Rabbi Michael Z. Cahana, Dr. MArvin Kaiser, Michelle Eastern Gradow and Michael Smira. Outgoing board members are Bernice Karsh and Lance Steinberg.