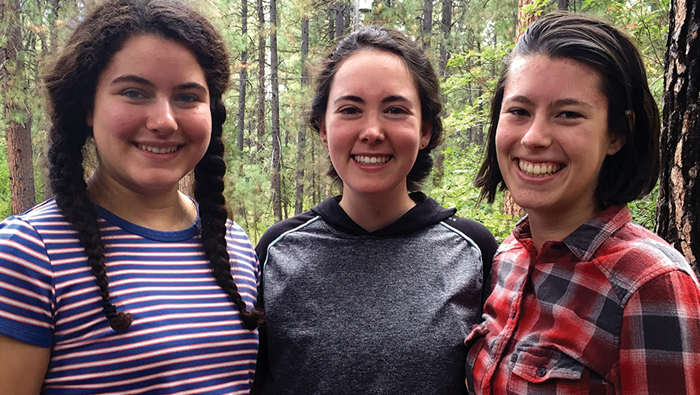 Anna Steckel thinks serving as house president of an extremely diverse household of 85 students at Smith College last year is excellent preparation for her new role as Tivnu residential advisor and madrikah (guide).
Seven young adults arrived in Portland Aug. 31 for the Tivnu: Building Justice Gap Year of hands-on, Jewish social justice engagement. Participants live together as they explore connections between Jewish life and social justice. Options include the building track or the new direct service and advocacy track.
"The biggest challenge of getting people to live together is making sure they know it will be hard," says Anna, noting this will be the first time most of the residents have lived outside their parents' homes. "Some will come in and expect it to be fun. It's not always easy. I want them to balance being realistic and optimistic."
Tivnu founder Steve Eisenbach-Budner thinks Anna has the right blend of sensitivity to help residents feel comfortable talking about issues with her, authority to make sure residents develop group living skills and organizational skills to help the Tivnu run efficiently.
"RA is a very difficult job," Steve says. "You have to be supportive … yet authoritative enough to make sure the brass tacks of house operations and growing up work."
A graduate of Portland Jewish Academy and Riverdale High School, Anna wanted to attend a smaller college where people knew each other. She hadn't considered an all-girls school, but she visited Smith College in Northampton, MA, because the other small colleges she had visited were in isolated Midwest communities. She says she fell in love with the Smith community and its housing concept of students staying in the same house of 12 to 110 students for all four years.
"It was a wonderful eye into intentional communities," says Anna. "It allows anyone in the house to hold leadership positions. My senior year I was house president; I learned how to run meetings – how to engage students with the community of the house and not just see it as housing. It was ideal training for Tivnu."
The key skill that she learned about living away from home is the need for self-advocacy, a skill she hopes to share with her Tivnu household. "It is important to be able to say, 'I need help, support, space…' Being able to articulate my needs was one of the best things I learned moving away from home. Parents know our moods and know when to give space or support. I can't read their (gap year residents) minds, so they need to learn open communication and honesty."
Since conflicts inevitably arise when unfamiliar people live in close quarters, Anna says she will emphasize "Let's work together to make this work."
Coming from a household that had 85 people from all over the globe, raised in virtually every major religion, and all shapes and colors, Anna is accustomed to diversity.
Her double major in psychology and Jewish studies will also be useful at Tivnu, as will her own diverse Jewish experiences. She grew up and became a bat mitzvah at Congregation Shaarie Torah. During high school she was active in NCSY and attended Congregation Kesser Israel, which her parents, Adam and Ruth, and sister, Lily, continue to attend.
During her senior year, Anna also served as co-president of the Smith College Jewish Community. In her first two years she generally joined a friend's family at an Amherst synagogue for services since she did not find the campus group's core membership of six or seven to be very welcoming. Last year she and her co-president worked to make the community open to anyone curious about Judaism; the Passover seder drew about 80 people.
Anna also plans to rely on the leadership skills she has gained at the Summer Enrichment Program at the University of Oregon. During high school, she spent summer at SEP and then served on the staff during college. For the past two summers she served as counselor supervisor.
"I'm really excited to take all the leadership experience I have had and apply it to this job," says Anna. "Being back in Portland is also exciting. And finding myself a part of the Jewish community again is really great."
She looks forward to sharing her love of the Pacific Northwest with the Tivnu residents. Part of her job will be to take them on day or weekend trips around the region. She anticipates introducing the group, who come from across the country, to Lost Lake near Mount Hood so they can experience the hiking, swimming, camping and fishing she knows so well.
The one area where Anna does not have direct experience is as a gap year participant. With her involvement in NCSY, most of her friends who went on a gap year program went to Israel to take classes at a university there.
"I realized going to school in Israel was not really the break from school I was looking for," says Anna. "I would have loved a gap year in a program like Tivnu, which wasn't available then. I work there (Tivnu) for a reason. They give the opportunity to kids who wouldn't normally have it."