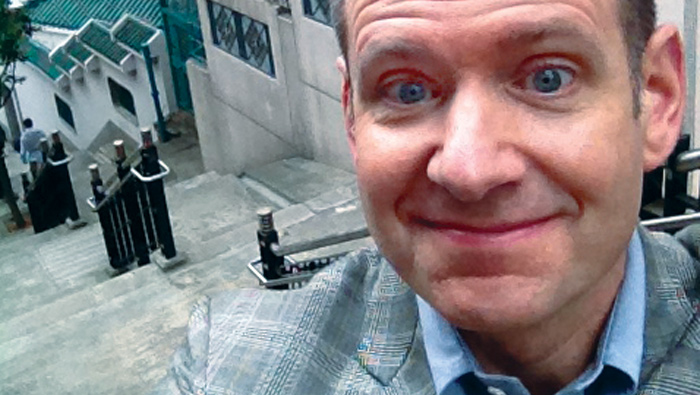 By Ted Nelson
It's never been a good time for me to visit Israel, and it still isn't. First, my husband and I were immersed in our lives as parents raising two children and then as caretakers for my dying father. Now my job requires monthly travel to Sweden and China, our daughter and grandson are living with us, and we are moving into a new house in May.
Yet, despite the activity and distractions around work and family, it turns out that May is the perfect time for me to go on my first trip to Israel – and I couldn't be more excited about it. I'm thrilled to be on the leadership team at the Jewish Federation of Greater Portland for the Jewish Federation of North America's May 26-June 2 "See Israel With Pride" mission, which is expected to be the largest-ever LGBTQ mission to Israel.
To visit Israel as part of a large, openly LGBTQ group will make a powerful statement, showing that Jewish federations and, by extension, the North American Jewish community strongly support us. That's particularly true here in Portland, where the LGBTQ community is well integrated into the community. The JFGP enthusiastically supports this trip and is making a meaningful contribution with time and financial support to ensure that any interested person from our community can attend. This includes generously subsidizing this trip.
We strive and hope for perfection from the countries we love, and we find that no country can be perfect. This mission comes as an increasing number of Americans, particularly in the LGBTQ community, don't understand the complexities of Israeli society, culture, religion and politics, nor do they recognize that gay people in Israel have it so much better than anywhere else in the Middle East. Israel does provide hope and haven for the LGBTQ community in the Middle East. Our Portland federation invests deeply in this issue as evidenced by its support of innovative LGBTQ programs in Israel such as the Israel Gay Youth program. IGY aims for LGBTQ teenagers and young adults to lead the gay community in social change by creating a more tolerant society of the "other" and the "different."
As part of this mission, we'll meet with people who are wrestling with those imperfections, just as the LGBTQ community is here at home. As mission participants – many of us visiting Israel for the first time – we will be strengthening our own understanding of Israel and LGBTQ life there, giving us connections and inspiring us to be better advocates for the Jewish state.
I'm looking forward to so much about the mission, from hearing from President Reuven Rivlin at our welcome dinner and experiencing kabbalat Shabbat in Jerusalem with prayers at the Kotel to visiting Masada and the Dead Sea. We'll have security briefings, tours of the security barrier and meetings with Israel Defense Forces soldiers and officers. Our local delegation also will have the opportunity to interact with some of the recipients of financial support from the Portland federation.
We'll have a chance to meet with representatives of Shorashim, a nongovernmental organization active in promoting Jewish-Arab co-existence, and with beneficiaries of Rihadiya, an Arab Women's Employment Program in Turan.
For the specific LGBTQ agenda, we'll visit Yad Vashem, where we will learn about the motives and circumstances behind the persecution of homosexuals under the Third Reich. Then we'll meet with LGBTQ leaders from Israel's leading LGBTQ organizations, including The Aguda and Jerusalem Open House, as well as from political parties across the spectrum. We'll explore the impact LGBTQ Israelis are having on arts, culture and media, and how their work and visibility is changing the society. Even within the Orthodox community, the past decade has seen growth in LGBTQ visibility and activism, and I'm looking forward to meeting with key activists in that community, as well.
I recognize that both Israel and the United States still have far to go when it comes to full acceptance and civil rights for the LGBTQ community. But I'm also thrilled by the strides that have been made in both countries and look forward to learning more about gay life in Israel.
I hope that I and my fellow participants from Portland and around the country will return home strengthened by our bonds to one another, more knowledgeable about and connected to Israel, and better able to serve as bridges between Israel and the LGBTQ community at home.
Ted Nelson serves as chair of the Portland Organizing Committee for the JFNA "See Israel with Pride" mission.  He is the VP/president-elect of Congregation Beth Israel of Portland. To learn more about traveling to Israel this spring along with Ted and others, visit jewishportland.org/LGBTQmission.