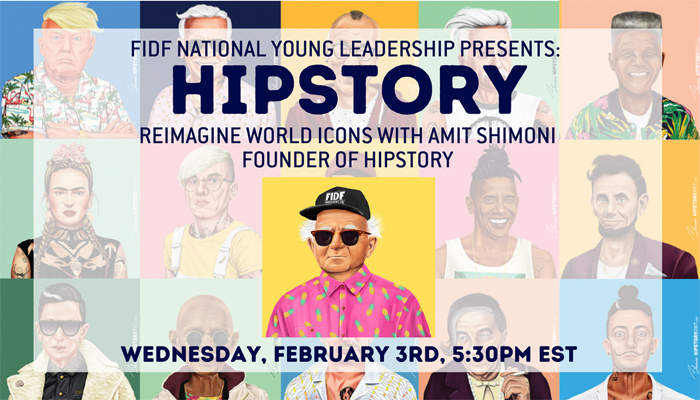 Friends of the Israel Defense Forces (FIDF) National Young Leadership (YL) division will host Israeli artist Amit Shimoni for "HIPSTORY: Reimagining Historical Icons," on Wednesday, February 3, 5:30 PM EST.
HIPSTORY is an art concept in which Shimoni, an Israel Defense Forces (IDF) Intelligence Corps veteran, reimagines historical icons as celebrated influencers. Shimoni's collaborations range from illustrating the Prime Minister of Norway for her 2017 election campaign; the #GoVote campaign in Mexico; and illustrating Hillary Clinton for the New York Times; etc.
The FIDF YL event will consist of an exclusive interview with Shimoni about his journey from the army to the art world. Raffle tickets will be sold for $10 each to win a one-of-a-kind t-shirt design. Shimoni will provide a code through which people may buy his art online and 20% of proceeds will be donated to FIDF.
You can register for the event here.