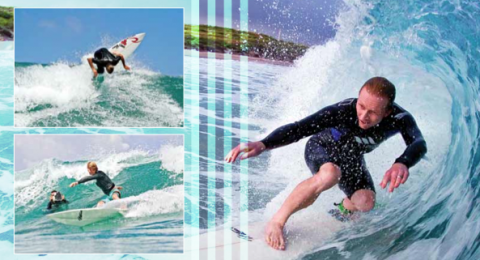 The most common response I get when talking about surf in Israel is, "Wait – there's surf in Israel?" Not only does Israel boast some amazing surf breaks along the coast from Gaza to Lebanon, but it also has a homegrown surf culture that has produced world-class board builders and competitive surfers alike. The estimated 20,000 surfers in Israel have developed their own vibrant community and bright, unique style.
While on a series of Christian service missions to Israel, California surfer Todd Morehead discovered an underground Israeli board builder named Hani Ovadia, and the two quickly became good friends. They have visited and surfed with each other in both Israel and California over the last several years.
Over the course of these visits, Morehead developed a stronger and stronger passion for Israel. After cultivating close relationships with Ovadia and others, he sought to produce a film that would expose Israel in a positive light to a global audience of Christian surfers. What better way to do this than explore Israel through the eyes of surfers themselves?
Having grown up surfing competitively in Orange County, CA, Morehead is well networked with the world's most elite professional surfers. He generated interest among them about Israel, and ultimately received a commitment from legendary three-time world champion surfer Tom Curren to travel there and participate in Morehead's feature-length documentary.
The three-and-a-half-year production of "Promised Land" was directed and co-produced by Morehead and filmed, photographed and edited by Russell Brownley, Bryce Johnson and Jesse Schluntz, some of the strongest up-and-coming lens artists in the surf community. The result is a visually stunning journey through the golden sands and turquoise waters of Israel's coast, where Tom Curren and others gracefully carve some of the best waves to hit the country in years. During its premier tour, the film attracted more than 10,000 viewers at 40 screenings around the world. Having been fortunate to participate in the initial screenings in both Tel Aviv and San Juan Capistrano, CA, I was blown away by the overwhelming turnout and the positive reaction by the audience.
Many people were drawn in by the promise of watching one of the most famous surfers of all time ride waves in one of the most mysterious countries in the world. If that's what they came for, they were certainly satisfied; but the film delivers far more than a conventional surf flick. "Promised Land" opens with a uick, context-setting journey through the last several thousand years of Israel's history, and then hones in on several intermingled story lines.
We learn about the virtually unknown history of Israel's two most decorated surf competitors, Maya Dauber and Oran Weiss, who dominated a European contest in the 1980s and rubbed shoulders with legendary 11-time world cham pion Kelly Slater. We listen to the perspectives of both Jewish and Muslim surfers who share the breaks of Jaffa and Tel Aviv on a daily basis and ultimately conclude that "in the water, we're all the same." We enjoy interviews with Dorian "Doc" Paskowitz, the 94-year-old, Stanford-ed- ucated doctor who is credited with bringing the first surfboard to Israel in the 1950s and delivering the first surfboards to Gaza in recent years as a peace-engendering exercise.
Morehead does a phenomenal service to Israel by exploring these issues in a fun, positive, visually compelling film that con- tinues to be screened to audiences of all different backgrounds, with all different views, all over the world.
David Shlachter and his wife, Orlee rabin, lived in israel 2010-2012 where David worked on an electric car infrastructure project by day and shaped surfboards by night. David grew up in Portland, had his bar mitz- vah at Havurah Shalom ('94), participated on the Portland Delegation of the Maccabi games ('95-'98) and is a graduate of the Catlin Gabel School ('99), Claremont McKenna ('03), and Harvard ('09). He is the son of Rob and Mara Shlachter of Portland. He and his wife reside in Mill Valley, CA.