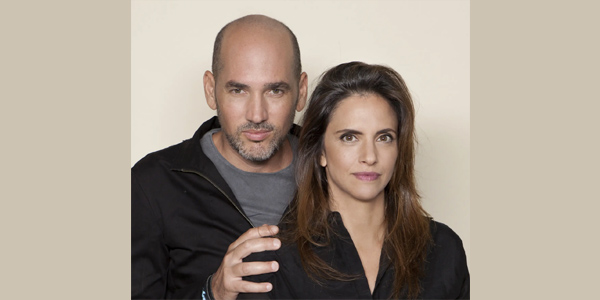 Photo: Adi Barash and Ruthis Shatz, directors of the Netflix docuseries Lenox Hill.
American Friends of the Israel Philharmonic Orchestra (AFIPO) has announced a pre-Thanksgiving event in appreciation of frontline healthcare workers featuring a behind-the-scenes interview with Ruthie Shatz and Adi Barash, the directors of the Netflix docuseries Lenox Hill. The virtual event, which will debut on November 24 at 8:30 PM EST / 5:30 PM PST, will delve into the deeply personal moments between doctor and patient, as well as the filmmakers' own experience documenting the heroic medical staff at New York's Lenox Hill hospital.
Shatz and Barash will be joined by entertainment executive and AFIPO Board Member Matti Leshem, founder of New Mandate Films and co-founder of Weimaraner Republic Pictures. The production highlights AFIPO's commitment to supporting those affected by the COVID-19 pandemic around the world through uplifting and inspirational digital content.
"We are honoring those frontline workers in this program," said Leshem. "This is the American Friends of the Israel Philharmonic's way of talking to people about this moment in time. These doctors are, of course, heroes every day. But they were even more heroic – if one can imagine – in the face of COVID-19."
Although the filmmakers had already finished filming the series before the pandemic hit, they were able to re-enter the hospital in mid-March as COVID-19 cases peaked in New York – one of the hardest-hit areas of the world. The critically acclaimed ninth episode, "Pandemic," captures this complicated moment in time and provides a poignant inside look into the heartbreak and heroism that occurred inside the storied Manhattan hospital.
"At AFIPO, we don't only celebrate Israeli art and culture – we highlight the Israeli artists behind the work. Ruthie, Adi, and their latest groundbreaking documentary are testaments to the incredible cultural exports Israel has to offer, and we are delighted to offer our audience this exclusive opportunity to get to know more about these incredible Israeli filmmakers," said CEO of the American Friends of the Israel Philharmonic, Danielle Ames Spivak.
Kfir Gavrieli, founder and CEO of women's fashion brand Tieks, will also share a message about hope and unity during this difficult time as well as some words about his own philanthropic response to the COVID-19 pandemic.
The virtual event comes in a line of inspirational programming offered by AFIPO and the Israel Philharmonic and will debut two weeks before their much-anticipated Pre-Hanukkah Celebration featuring Hans Zimmer and other celebrity guests. This program is free and open to the public, but registration is required, and capacity is limited. For more information about these virtual offerings, visit https://www.afipo.org/.