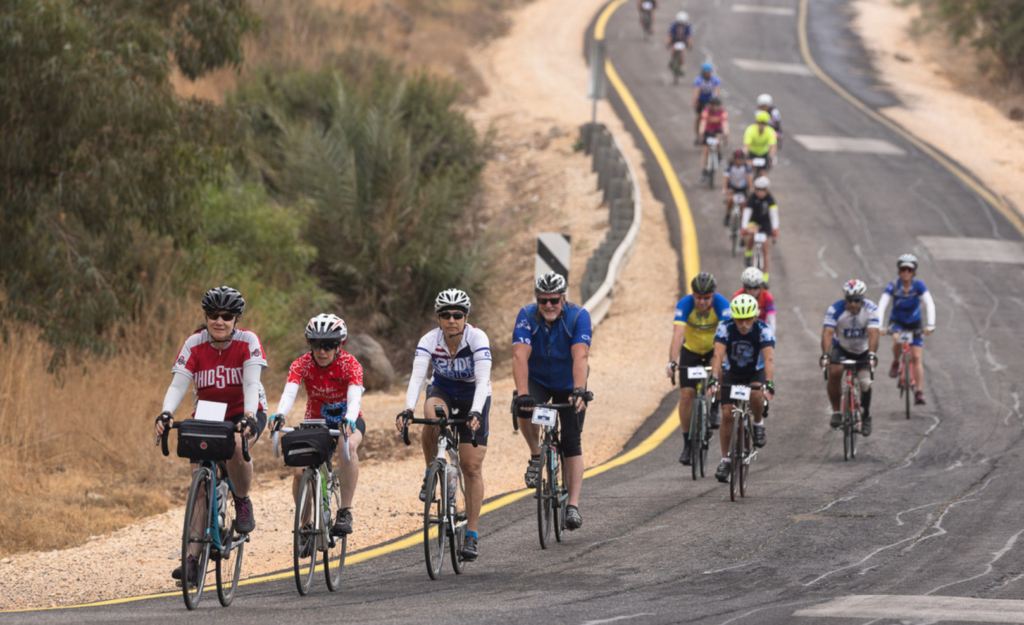 Photo Credit Gilad Kavalerchik, Courtesy of FIDF. 
More than 40 Friends of the Israel Defense Forces (FIDF) supporters from across the U.S. participated in the "6th Annual FIDF Ride" – a challenging and exhilarating six-day bicycle adventure through Israel.
The ride encourages solidarity and support for the soldiers of the Israel Defense Forces (IDF) while allowing riders to experience Israel from the seats of their bikes. Participants gain an exclusive perspective of IDF Bases, including a visit to Mount Hermon Army Base with soldiers from the Armored 46 Battalion, as well as the 91 Gallil Division, which serves on the border with Lebanon.
Joining the American FIDF supporters for this cross-county ride were Israeli professional cyclists. Among them was Omer Goldstein, Israel cycling champion who rides for the UCI WorldTeam Israel Start-Up Nation and also competes in Tour de France; and his brother Roy Goldstein, two-time Israel Cycling Champion and former Israel Cycling Academy Member, who also designed this year's cycling routes. FIDF National Director, Major General (Res.) Nadav Padan, also joined the Mission.
Also participating in the ride was a group of wounded Israeli combat veterans who have benefited from FIDF rehabilitative programs and prosthetic devices. Among them was Shlomo Nimrodi, a former platoon commander in the elite Shaldag Unit in 1978, who lost his leg following an IED explosion. Another participant was Itzhik Gabbay, an esteemed IDF wounded veteran who served in the IDF for 25 years. Itzhik was the former commander of a combat unit who lost his leg following a combat-related injury. Both Shlomo and Itzhik received their sports prosthetic thanks to FIDF's Wounded Soldiers Program.
FIDF helps disabled and newly injured Israeli combat soldiers reclaim their lives following a severe combat-related wound, injury, or trauma. The program includes soldier-to soldier mentoring and emboldens wounded soldiers with a sense of community and personal empowerment.
"The ride was an unforgettable journey, going from the Galilee and the Golan Heights all the way to Jerusalem," said Gilbert Chalem of Miami who participated in his second mission ride. "We enjoyed 6 days of awesome cycling, great friendships, and good moments to share, all for an important cause: supporting our soldiers and the future of Israel."
The U.S. and Israeli cyclists rode through around 300 miles and a total vertical climb of over 26,000 feet. Starting in the Jordan Valley, the group cycled on the side of the Afula Valley with a view of the Golan mountains and continued to ride along the border through the village of Ajar, which separates Israel and Lebanon and through Metula. The bike journey also took them to Masada where they continued to Hermonit – a former IDF military post, through Mount Bentel and along the Syrian border in Israel, as well as parts of the Golan Heights and Sea of Galilee.
"We are extremely excited to be hosting our "6th Annual FIDF Ride" in Israel, which provided an incredible opportunity for FIDF supporters to spend time with Israeli soldiers, experience the land and explore Israel in a fun and challenging way," said FIDF Vice President, Central Region, Tamir Oppenheim. "Biking across Israel with wounded veterans also helps participants to really understand the impact FIDF has on the lives of the brave men and women who benefit from our programs."