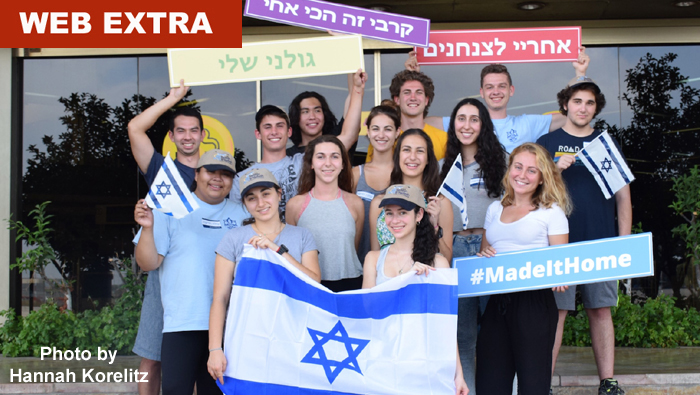 Fifty-one new immigrants from the North America, including 15 soon-to-be IDF lone soldiers, landed in Israel June 29 on a Nefesh B'Nefesh group aliyah flight.
"This flight is the kickoff of our summer aliyah season during which we are expecting close to 2,000 olim to arrive from North America," said Nefesh B'Nefesh Executive VP Zev Gershinsky. "The summer season is our busiest time of year as we work day and night to assist olim throughout their aliyah process as well as with their acclimation into Israeli society. We are especially proud to have the privilege of helping the brave young men and women who make Aliyah and later on volunteer to serve in the IDF."
The flight included olim ranging in age from 3 months to 91. It was organized in cooperation with Israel's Ministry of Aliyah & Immigrant Absorption, the Jewish Agency, Keren Kayemeth Le'Israel, JNF-USA, Friends of the IDF and Tzofim-Garin Tzabar. Founded in 2002, Nefesh B'Nefesh in cooperation with the Israeli government and The Jewish Agency for Israel, is dedicated to revitalizing aliyah from North America and the UK by removing or minimizing the financial, professional, logistical and social obstacles of aliyah. The support and comprehensive social services provided by Nefesh B'Nefesh to its over 45,000 newcomers has ensured that over 90% of its olim have remained in Israel.
The 15 future lone soldiers went directly to a special ulpan to learn Hebrew before joining the IDF. Some of the future soldiers shared why they chose to make aliyah.
Ben Kravis, 22, plans to serve in the IDF as a combat paramedic in one of Israel's elite units. "When I visited Poland during high school and toured the concentration camps, I completely understood and appreciated why the State of Israel is so important and necessary for the Jewish people," said Kravis. "I wanted to be a part of protecting it. It's awesome to support Israel from my community at home but I really wanted to be here and do the work myself."
Rina Mischel, 17, wants to serve in the IDF's canine unit, Oketz. "I come from a long line of soldiers – my grandfather fought in the Etzel, my brother served in the paratroopers during Operation Protective Edge and my uncle served in the IDF as well," said Mischel. "On May 1, hundreds of high school seniors across the country woke up and put on shirts that said Rutgers, UCLA, Penn and Yale. Each proudly displaying their home for the next 4+ years of their life. That day, I proudly walked into school wearing an olive green T-shirt with yellow olive branches and the word Tzahal on it."