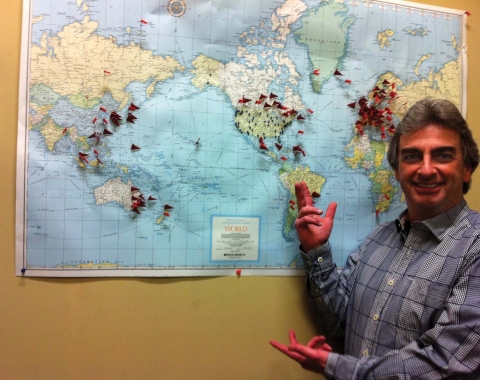 Celebrating 55 years in business, Rob Solomon asked the Portland Development Commission if he could recreate a bit of old downtown Portland by lighting up his U.S. Outdoor Store with a neon sign. The commission gave him the go-ahead.
It all started in the 1940s when his great-grandfather Jacob Solomon decided to sell men's clothing. After World War II, Rob's grandfather Sam joined Jacob and opened U.S. Army Goods Store, selling surplus clothes and equipment. With access to White Stag and Hirsch Weiss, they moved into ski equipment and outdoor clothing. The store moved to Broadway and Burnside in 1957 when Sam's son Merv joined the business and the name became U.S. Outdoor Store.
After graduating from the University of Oregon, Rob joined the family business. With rapid growth in the industry, they moved to the first floor of the D.C. Wax building, later purchasing the whole building. Above Rob's desk is a world map with hundreds of stickpins marking his worldwide sales area.
Still, he calls downtown his neighborhood. How would you describe the sports climate in the Northwest?
Rob: There is an old cliché. We're like farmers. If the weather cooperates, it's a good climate. When there is snow in the mountains, it is a good year. If the summers have few rainy days, people get out to hike, camp and climb, and it is a good year. Our business is based on the weather.
How have you survived from generation to generation?
Rob: It's the old basics of customer service. People want a human experience.
How has business changed over the decades?
Rob: The equipment has changed because of technology. It allows redesign and brings new products to the market faster.
In the early days, there were not a lot of Jews in the ski business. The majority of ski companies were German- and Austrian-based. In the early days, and my father's era even more so, you felt the anti-Semitism, but it wasn't discussed.
What are you most proud of?
Rob: Mom and Pop stores are still out there, but they keep going away. There are the big chains and large corporations … we are still a single store, owned by a single family. We employ over 70 people in the community and sell and ship worldwide against some very major competition. It is exciting.
Who inspires you?
Rob: Merv and Lucille, my parents. My father established the foundation. When he retired, there were six employees. He was able to keep things going in good times and bad. My mother came from Europe and could barely speak English. She married and had children by 19. I don't know how she did it.
What will the future bring?
Rob: It may move into another generation. (His wife, Sue, handles the accounts payable with their daughter, Lisa, as her full-time assistant. Their son, Rick, is in Colorado working in the industry.) It's not like the old days when you pretty much knew this is where you were going. I want their lives to be good, and if they enjoy this as much as I do and don't feel that they are settling, I would welcome them.
The verdict is still out.
Gloria Hammer is a freelance writer who divides her time between Lake Oswego and Hood River.