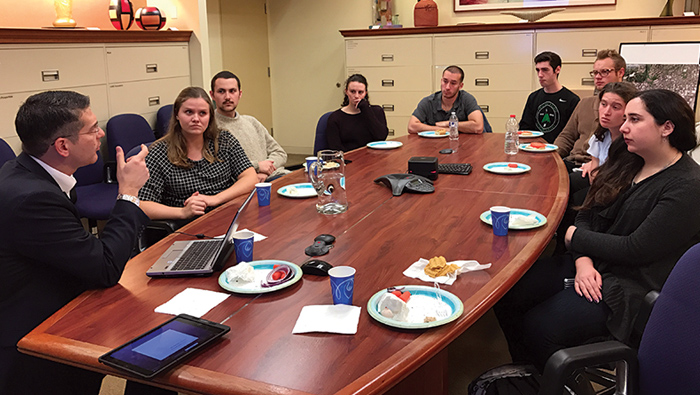 PHOTO: Students from Portland State University and Lewis & Clark College meet with, at left, Andy David, Pacific Northwest consul general to Israel.
By Peter Kranitz
Despite the passage of an anti-Israel Boycott, Divest, Sanction resolution in the Portland State University student senate, the Jewish students remain energized, united and resolute.
Since the Oct. 22 BDS vote, students and community members have been able to breathe a "sigh of relief," according to Brennan Thorpe, a PSU student, StandWithUs Emerson Fellow and president of the PSU Cultural and Historical Association for Israel.
"Everyone as a community took a few weeks to deal with all the emotions, the frustration, the sadness," Brennan says. "Now we're just excited … because we can move on."
Brennan says that CHAI, the Jewish Student Union and Hillel will continue to host Israeli cultural events with a positive and celebratory atmosphere. Now that the vote has happened, they can focus all of their energies on these events.
"We're excited to be planning different Israeli-themed events this year (such as) cultural parties, speakers and movies," Brennan says. He hopes these events will "not just celebrate Israel, but bring Israel to Portland State and to other students."
Greater Portland Hillel Director Rhonda Kruschen also hopes to continue helping students celebrate Israel on their campus despite the BDS resolution.
"We want them to know that just because this resolution passed on their campus, doesn't mean that they have to stop celebrating the rich history and culture and everything they appreciate about Israel," Rhonda says.
She adds that the community as a whole has been essential to helping Jewish students feel supported, and she hopes to see that support continue.
"Many of them showed up to hearings, worked behind the scenes, helped plan the Israel celebration last year during one of the votes that happened, so without the community we wouldn't be able to do the work that we do," Rhonda says. "I hope that with the community support we will be able to continue to build on our Israel programming."
Deliberations over the BDS measure began last November, and PSU students and pro-Israel community members worked for nearly a year to oppose the resolution and educate people about Israeli history and culture.
Craig Berne, a member of the Israel Advocacy Committee of the Jewish Community Relations Council, attended the Oct. 22 hearing to read a statement on behalf of the Jewish community and was impressed by the resolve of the pro-Israel students at PSU.
"I really admire the students because they have tried to do what they can, but they've also tried to be very realistic about what's achievable, and they've also tried to be very positive," Craig says. "They've tried, and I'm sure they will continue to try to have positive engagement with people, education about Israel, celebrations of Israel, in a very positive way."
By Peter Kranitz
Peter Kranitz is an English major at Lewis & Clark College.