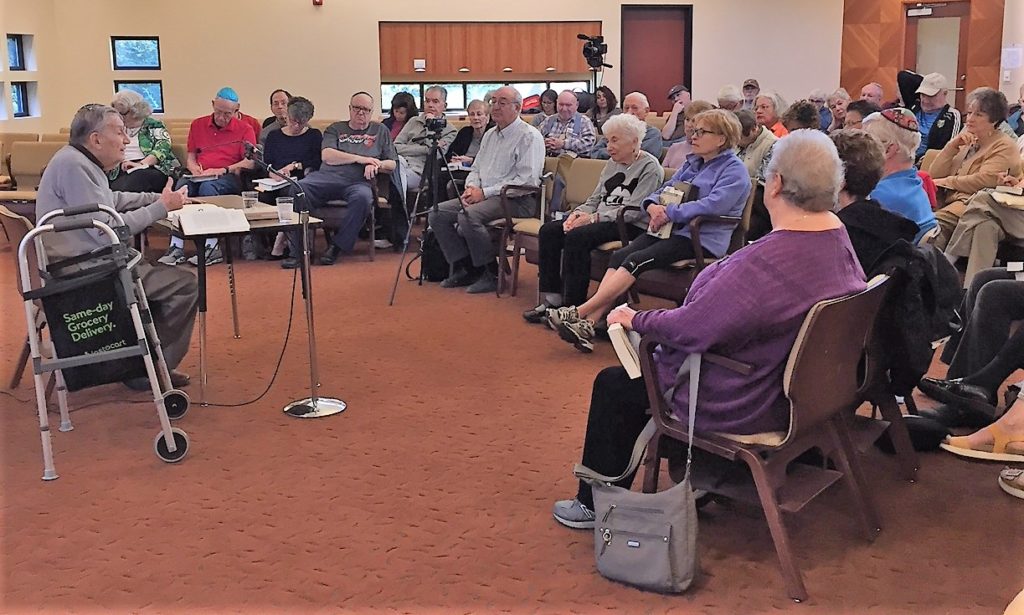 PHOTO: Rabbi Joshua Stampfer's Bible class has drawn a full house for the yearlong course.
Judaic scholar Professor Christine Hayes will be in Portland for two talks in January.
"A world-renowned scholar of the Bible and Talmud and professor at Yale University, she is probably the greatest scholar in Judaica ever to visit Portland," says Rabbi Joshua Stampfer, who invited Hayes to speak to the popular Bible class he is teaching this year. "Christine Hayes is the president of the Association of Judaic Studies," the largest professional organization representing Jewish studies scholars worldwide.
On Jan. 17 she will speak to Rabbi Stampfer's Bible class in the morning and later in the day will speak at a public event at 7 pm at Congregation Neveh Shalom, where Rabbi Stampfer is a rabbi emeritus. Though the class is filled to capacity, it can be viewed online through Neveh Shalom's live-stream service. To view the class live online on Thursdays at 11 am or to watch past classes, visit nevehshalom.org/stampfer-bible-class.
The class, which meets weekly through May 9, is using Hayes' book Introduction to the Bible. Published in 2012, the book examines the 24 books common to all Jewish and Christian Bibles. Hayes guides readers through the complex literature that has served as a foundational pillar of Western civilization.
Her most recent book, What's Divine about Divine Law?: Early Perspectives, has received numerous awards including the 2015 National Jewish Book Award in Scholarship, a 2016 PROSE award for best book in Theology and Religious Studies from the American Publishers Association, and the 2016 Jordan Schnitzer Award from the Association of Jewish Studies.
The commendation for the Schnitzer Book Award notes: "The scope of this study is stunning, ranging from the Hebrew Bible, ancient Greek and Roman sources and Second Temple literature, through the New Testament and rabbinic literature. The author displays genuine expertise in all of these fields, and also makes use of a good deal of theoretical literature from philosophy, both ancient and modern, and from legal studies. … Her thesis also has weighty implications for Jewish thought as a whole, for it shows that both biblical and rabbinic theologies do not equate God's law with perfection."
At Yale University, Hayes serves as the Robert F. and Patricia R. Weis Professor of Religious Studies in Classical Judaica. Before joining the Yale faculty in 1996, she was assistant professor of Hebrew Studies in the Department of Near Eastern Studies at Princeton University for three years. Hayes is active in professional and academic organizations, serving for many years as an editor of the Encyclopedia for the Bible and its Reception and four years as co-editor of the Association of Jewish Studies review.
For more information about the evening program, contact programs@nevehshalom.org or 503-293-8831.