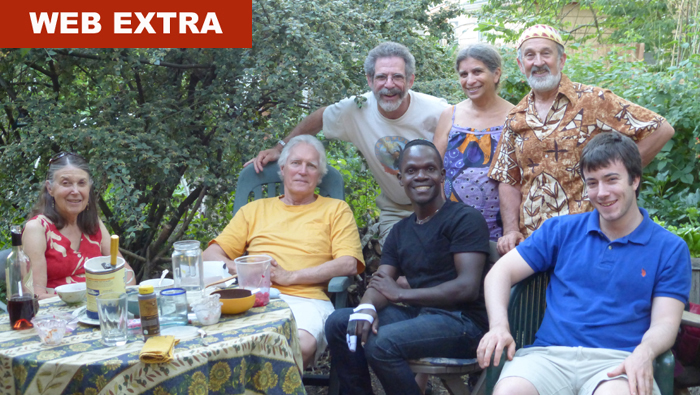 PHOTO: Abayudaya singer/songwriter and youth leader Rachman Nachman, of Uganda, chats with P'nai Or of Portland members Hilda and Bill Welch, Baruch Morris, Joanie Levine, YehudahWinter and Jacob Elder, who spent several months in Uganda studying indigenous healing arts and visited with the Abayudaya community for Rosh Hashanah 2014.
Abayudaya Afro-rap artist and youth leader Rachman Nachman, 28, visited P'nai Or of Portland members Joanie Levine and Yehudah Winter June 8-11. This is Rachman's first time on airplanes and visiting the United States. He came to the states to attend the Brandeis Collegiate Institute in Los Angeles for 3½ weeks of Jewish study. Before coming to Portland, Rachman stopped in Chicago, New York City, Boston and Pittsburgh. His trip is sponsored by Kulanu (Kulanu.org).
The Abayudaya will celebrate 100 years of being Jewish in 2019. (The Abayudaya community, in eastern Uganda, was founded in 1919 when their chief, Semei Kankungulu, converted to Judaism after reading the Old Testament. There are now seven communities with a total of about 2,000 adherents.)
Joanie and Yehudah met Rachman when they stayed with the Abayudaya for three weeks in January 2014 to teach Compassionate Listening to all sectors of the village.
Rachman arranged for them to teach a group of 100 youth gathered for the first weekend of their stay. Joanie and Rachman became Facebook friends in 2013 and Rachman helped them secure a homestay with a family, who have remained good friends since. Joanie is very involved with the community, helping to secure ongoing donors for youth from preschool to university who otherwise would not be able to attend school, conducting an educational census and advising Kulanu on micro-loans. Many of the donors are members of P'nai Or, which became a "sister synagogue" with the Abayudaya synagogues in 2014.
Both the headmaster of the primary school, Aaron Kintu Moses, and Shoshanna Nambi, a contemporary of Rachman, both have visited P'nai Or through Kulanu sponsorship. They each helped lead Abayudaya-style Shabbat services and gave talks to the greater Portland community, including Congregation Neveh Shalom and the Harold Schnitzer Family Program in Judaic Studies at Portland State University.
On his first day in Portland, Yehudah and Joanie took Rachman hiking from Wahkeena to Multnomah Falls and treated him to a Mexican meal. In the evening, P'nai Or members Tikkun Olam Chair Hilda Welch (a Song of Miriam Honoree) and her husband Bill, Hazzan Baruch Morris and Jacob Elder, a recent Brandeis graduate who visited with the Abayudaya for Rosh Hashanah 2014 visited for an informal evening of conversation.
The next morning Rachman attended Joanie's Creative Dance, Portland class, taught by Yael Schweitzer. This was his first experience with dance improvisation. Wednesday evening Rachman was a special guest performer at the P'nai Or of Portland's Tikkun Olam Committee's Second Annual "Lefty Sing-a-long" focused on the music of Peter, Paul and Mary as a benefit for Hand in Hand: Center for Jewish-Arab Education in Israel. Rachman led two of his peace songs, including the lyrics, "Oh what a joy when two Jews meet. Oh what a joy when a Muslim joins…"
Special guest Joe Hickerson was also featured at the sing-along. Rachman met P'nai Or musicians Dan Anolik, Baruch Morris, Les Milfred, Joan Glebow, Lisa and Jordan Lieberman, Dov and Elisha Hirschfield and the organizer and manager of the event, Joel Glick. Rachman's deep, energetic beat and message captivated the audience and got lots of folks up dancing and singing a few words in Lugandan.
For Rachman's final day in Portland, Joanie and Yehudah took him on a "Jewish Portland" tour, visiting many synagogues and the local Jewish museum. The Abayudaya on Nabugoye Hill in Mbale, Uganda, are building a new synagogue, so it was interesting for Rachman to see the variety of buildings in Portland, from the small to the majestic. Seeing the amazing Temple Beth Israel sanctuary through his eyes was an amazing experience for his local hosts. He also got to experience eating at a Portland cart.
Rachman works as manager of The Little Light Children's Center (littlelight.co.ug) in Kampala, the Ugandan capitol. Founded by a group of Israelis, the center serves an orphan population. He teaches Hebrew, leads services for the Abayudaya community in Kampala, and manages the Abayudaya Hope Cultural Troupe that does traditional dancing. He worked for several years as an assistant to the Abayudaya Rabbi Gershom Sizomu. Rachman typifies the amazing energy, intelligence and verve of the next generation of Abayudaya youth who have college and university educations (the first in their families of subsistence farmers). Some have been given opportunities to visit the United States (three other Abayudaya are counsellors in Jewish camps this summer, two have begun online coursework in Jewish studies – one with ALEPH and one with a Jewish educators program). P'nai Or member Beth Hirschfield, envisions Rachman bringing his music to Jewish camps around the United States and sharing the beautiful strength of Abayudaya Judaism with U.S. children.
You can download Rachman's music from www.reverbnation.com/rachmannachman.  Abayudaya kippot are available at the gift shops of the Oregon Jewish Museum and Center for Holocaust Education and Congregation Shaarie Torah.
You can connect via https://www.facebook.com/rachman.nachman?fref=ts.
Submitted by Joanie Levine