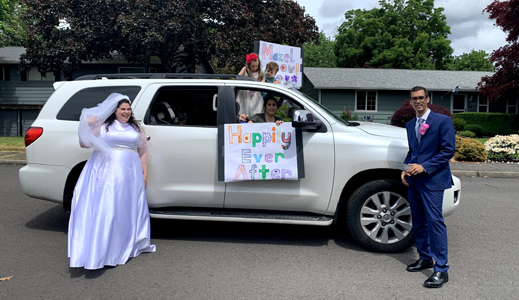 Mazel Tov to Melissa Bloom (Aloha, Oregon) and Oren Abu (Kiyrat Malakhi, Israel) on their wedding on May 12, Lag B'Omer. Guests were able to join in virtually from all over the world to their backyard for this day of celebration.
Melissa owns Yo Zone frozen yogurt in Beaverton, Oregon and Oren hopes to go back to work as a mechanical technician for Intel. The chuppah ceremony was officiated by Rabbi Menachem Rivkin of Chabad of Hillsboro and Rabbi Chayim Mishulovin from Everything Jewish. Both dear friends. Rabbi Motti Wilhelm of Chabad of SW Portland, Rabbi Shneur Wilhelm of Maimonides Jewish Day School also participated and made the chuppah ceremony so special.
Melissa and Oren had planned to have their chuppah in Israel. When the pandemic broke out they realized "we do not know what tomorrow brings and we want to bring joy to our friends and family."
The decision was made during the last few days of Passover that on Lag B'Omer (the earliest date one can have a Jewish wedding) they would join as one soul.  Within three weeks they turned their backyard into a beautiful site for the wedding.
Their sukkah was painted white to match the chuppah, table and chairs from the closed Yo Zone was moved to have seating six feet away from each other for quests, and thankfully with Melissa's extensive event planning decor, everything was set.
There were a few things bought online, included Oren's suit and Melissa's wedding dress – than goodness for online shopping.
Following the Zoom wedding (with more than 200 people) Melissa and Oren went to the driveway where over 20 cars came by for the next hour to shower them with Mazel Tov and love.
After the newlyweds had a quick bite to eat, they jumped in the car to join the Lag B'Omer car parade that Chabad of Oregon did through the southwest neighborhoods.
"It was everything and more that we could have dreamed and hoped for being a Zoom wedding. We really felt that our family in Israel was here in our backyard.  The love from friends and family was so strong. We have no regrets and loved that we brought joy to so many that day and will have an amazing story to tell our children one day!" says the couple.
Mazel tov to Melissa's parents Michael & Jaimee Bloom, siblings Liza & Beth Milliner, Scott & Amy Bloom, Jeramie Bloom & Andrew Thorry (Portland, Oregon).  To Oren's family Zmira & Mier Abu, siblings Oriana & Angelo, Shay & Eniav, Alon, Shira & Sharon, Shlomit & Esaf, Tzil (Jerusalem, Petah Tiqva, Kiyrat Malakhi, Israel) as well as their 14 nieces and nephews.