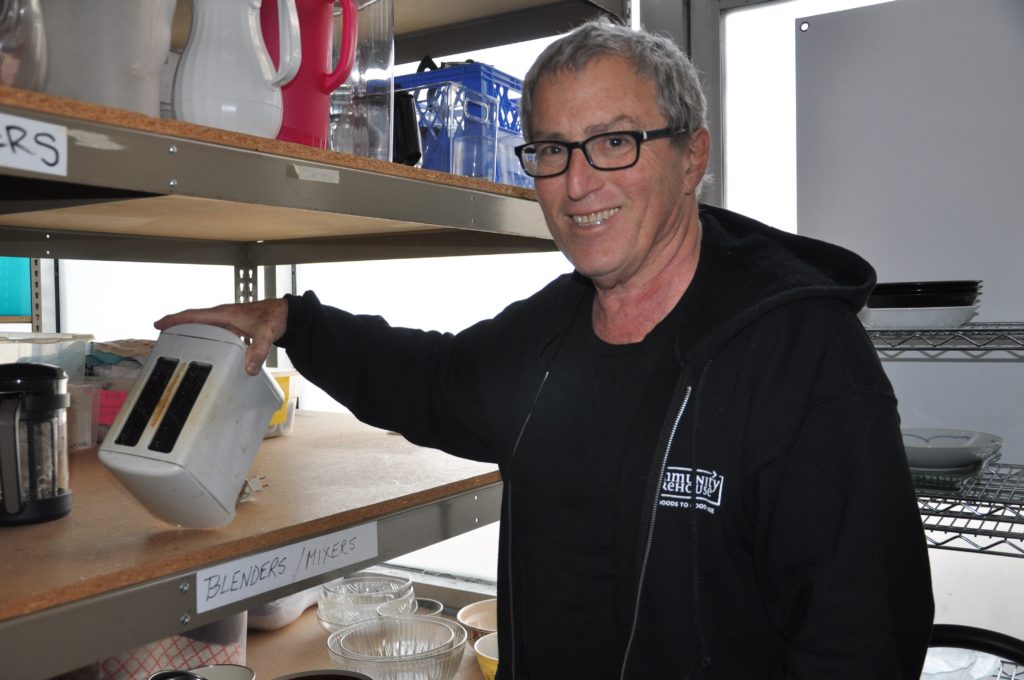 PHOTO: As a Community Warehouse volunteer, Jack helps clients get the cooking equipment and dishes they need to make the kind of food they want to prepare in their own apartments.
"I'm so lucky," says Jack Heims, 69. An odd statement from a man diagnosed with a rare cancer with a five-year survival rate of only 24%.
Yet just over a year after he was diagnosed with Acute Myloid Leukemia, Jack has returned to his active life of cooking, entertaining, cycling, weightlifting, tennis, golf, yoga, skiing and volunteering at Community Warehouse. He also has met with other AML patients to buoy their spirits and outlook.
"AML is very deadly," says Jack. "For them to see a survivor with normalcy in his life is huge. Because the doctor comes in and says 40% of people (may) die within two weeks of starting heavy chemo. They talk about leukemia cells and chemo. … They keep throwing statistics at you."
Now Jack shares with other recently diagnosed AML patients the themes that got him through what he calls a surreal year.
With tests showing no cancer one year after receiving a stem cell transplant after successful chemo, Jack says his doctors "would be flabbergasted if I didn't make it." So the patients Jack meets with see the possibilities and listen to Jack's optimistic themes. "I tell them you can get through this."
"It's not my time … and statistics don't matter," says Jack of his two mantras. "It's me I'm talking about. If you don't separate yourself from the masses, you can get overwhelmed. … You always want hope when you are in the hospital that long."
Jack says he has connected with four people with AML. Three of the patients received transplants and are doing OK. The fourth, a Samoan woman for whom a match could not be found, has died.
So Jack encourages everyone ages 18-44 to join the bone marrow donor registry. The test, a simple cheek swab, is free; being a donor is also free. You can find a local drive or join the registry online at bethematch.org. About 1 of 430 people who join the registry match a patient in need and become donors. Bethematch.org notes: "Adding more members who increase the ethnic diversity of the registry increases the variety of tissue types available, helping more patients find the match they need."
Since many Jews have joined the registry, being 100% Ashkenazi made it easier for him to find a match, says Jack.
Jack's surreal year began in September 2017 when he felt like he had the flu. A week later he was admitted to a hospital intensive care unit, where he spent 12 days. He recovered rapidly and went home with no diagnosis. Two weeks later when he felt "subdued," a blood test showed AML. He spent a month in the hospital getting chemo to kill all the leukemia cells. After another month waiting, a match was found in the international donor registry. In January 2018 he says doctors "blow-torched my bone marrow, killing my immune system and my blood-making machine (bone marrow) with chemo. They immediately gave me an IV with stem cells from my donor."
Initially, Jack did not know who his donor was, so he called her Miriam "because Miriam saved Moses, brought water to the desert, brought life as a midwife, and is the name both of a friend who has recovered from cancer and my great-grandmother."
On Jan. 29, 2019, Jack learned his donor's name. Liza is 25 and grew up in the Las Vegas Jewish community. Now she is a student  in Houston and works for Hillel.
In an emotional hour-long phone conversation, "She was very poised, bright and articulate. I was more emotional," says Jack.  "I have called many aspects of this process surreal. Talking to the person who gave you another chance at life is no exception."
Liza and her fiancé will visit Portland later this month. Jack has planned a reception at the Community Warehouse in Tualatin so his family, friends and Community Warehouse colleagues can meet and thank Liza. Jack spends most of his volunteer hours at the main location of Community Warehouse on Martin Luther King Boulevard in North Portland, but since Tualatin has more parking, he's holding the party there.
Even before he retired from his job as a hospital administrator, Jack volunteered at Community Warehouse. He grew up at Congregation Beth Israel along with Roz Babener, who founded the furniture bank to collect donations to furnish apartments for Jews arriving from the former Soviet Union in the 1990s' Operation Exodus. Even as refugee arrivals diminished, donations of household furnishings kept pouring in. In 2001 Roz and other volunteers created a nonprofit that now serves more than 7,600 individuals from more than 200 partner agencies each year.
"I was working at the VA and was aware of the work they (Community Warehouse) were doing with homeless vets," says Jack. "So I started volunteering eight years ago."
The first person Jack helped at the warehouse was a client of the West Women's Shelter, where he had served on the board for 30 years. In fact the shelter has named a forest in Jack's honor.
"My first client here was from the shelter," says Jack. "They come into an emergency shelter and then into tiny apartments upstairs. When they feel secure, they move to their own apartments. They use this (the warehouse) to furnish their homes. That reaffirmed this is the place for me to be."
bethematch.org | communitywarehouse.org