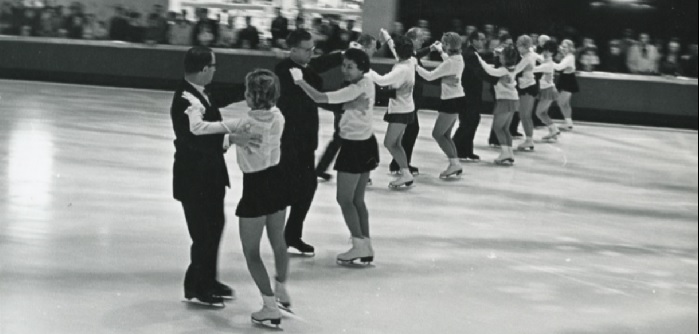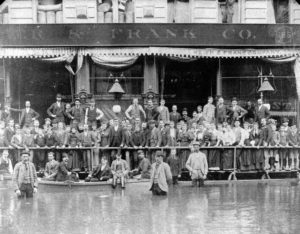 HISTORIC IMAGES, ABOVE: Alan Zell performing with a skating club at the Lloyd Center in 1965. (OJM5905)
AT RIGHT: 1894 Flood at Meier & Frank Building (OJM3270)
BOTTOM: Uniformed Neighborhood House dancers performing in gym with onlookers seated around and above on balcony, c 1927. OJM124
Visit the Oregon Jewish Museum and Center for Holocaust Education on First Thursday, Feb. 7, to view The Last Journey of the Jews of Lodz before it closes AND see our Winter Light Festival installation—Illuminating the Oregon Jewish Experience.
Each evening Feb. 7-9 from 6 to 9 pm, a slide show of images from museum archives showing the history of Jews in Oregon will be projected on our front window, viewable on the sidewalk.  Thanks to MeyerPro for generously providing the equipment for the OJMCHE light show.
The light show is part of the 4th annual Portland Winter Light Festival, a city-wide event showcasing illuminated art installations, vibrant performances, and stunning kinetic fire sculptures throughout our city. In 2018 the festival presented more than 100 artists and organizations from all across the Cascadian region and plan to expand even more for 2019.
Find out about this free, city-wide, all ages
Winter Light Festival
. The Portland Winter Light Festival is
family-friendly, free to attend, and open to everyone.
So bundle up and celebrate the power of light and community with us!