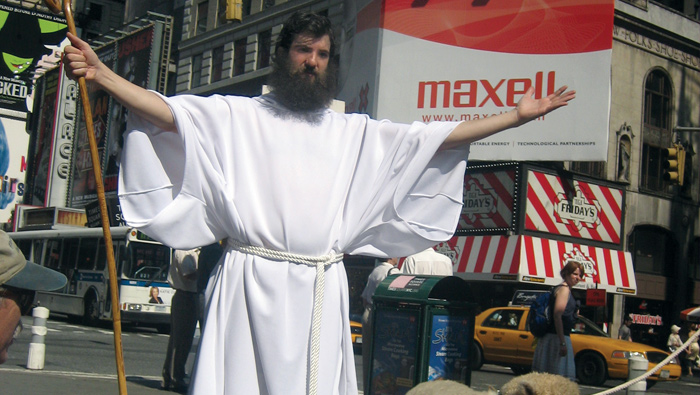 Bestselling author A.J. Jacobs has spent a year each experiencing the best the world has to offer the mind, body and spirit, taking away something lasting from each exploration. He'll be sharing some of his journeys with Portlanders at the Feb. 21 Friends of the Center Brunch (see page 37).
His first book, The Know-it-All: One Man's Humble Quest to Become the Smartest Person in the World, rocketed him to fame, spending two months on the New York Times bestseller list. He still uses the treadmill desk he used to write Drop Dead Healthy: One Man's Humble Quest for Bodily Perfection. But his most precious carryover is undoubtedly from The Year of Living Biblically: One Man's Humble Quest to Follow the Bible as Literally as Possible. Attempting to follow all of the commandments of the Torah that are possible in the modern world, he and his wife, Julie, succeeded in "being fruitful and multiplying" with twins, Lucas and Zane, born near the end of the year to join older brother, Jasper. But from that book he also discovered a sense of belonging and community that had been missing from his own Jewish upbringing.
"It (Living Biblically) did have a profound effect on my life," said A.J. in a phone interview. "We joined a temple, Rodeph Shalom, in New York. I like giving my kids the basics of our heritage. … I grew up with no Jewish celebrations, no services."
A.J. says that sense of belonging has also inspired his next book, an attempt to create the largest family tree ever – one that encompasses the entire human race.
He invites everyone to visit his website ajjacobs.com to join the tree.
"If you are an Ashkenazic Jew it is remarkably easy," he says. "If you are Jewish, it's easy to figure out how you are connected. The site walks people through (the process)."
He notes, "Obviously the Jewish community is incredibly connected. The average Ashkenazi is on average the fifth cousin of any other Jewish person picked at random." But he says his current quest to build a family tree, which he describes as more of an interlocking forest, goes well beyond the Jewish community. He says the global family forest includes "everyone."
"The world is one big family," says A.J., noting that the statement is supported by both the Jewish teachings that we are "all God's children" and by scientific evidence showing all humans trace their roots to common ancestors.
"It's my admittedly quixotic dream that when we realize that we're all related, we'll treat one another with more civility," he wrote in a Jan. 31, 2014, article in the New York Times entitled "Are you my cousin?"
On his website, A.J. describes himself as "author, journalist, lecturer and human guinea pig" and notes he has written "four New York Times bestsellers that combine memoir, science, humor and a dash of self-help." In addition to his mind, body and spirit trilogy, his collection of essays called My Life as an Experiment: One Man's Humble Quest to Improve Himself also made the bestseller list.
His appearance at the Friends' brunch won't be the first time he has visited Portland. At least two of his book tours have brought him to the iconic Powell's bookstore, where he says "the crowd was fabulous."
On his upcoming visit, he is looking forward to connecting with his "cousins" and sharing more of his biblical journey.
Trying to follow all of the commandments as literally as possible was daunting. But he says the biggest challenge was avoiding those sins we are all guilty of to some degree.
"Coveting, gossiping and lying – I'm a journalist in New York City, that's 80% of my day," he says. "I still do it, but I think I got better. I'm proud of that."
The modern world made some of the commandments a challenge.
"Some of the laws were difficult to follow in modern America," he says. "Stoning adulterers is frowned on." Though he says he did manage to cast some small pebbles at one.
Sacrifices were another challenge.
Since animal sacrifice was out, he offered up some grains and vegetables.
Eating offered some interesting experiences, as well. Following the Torah literally required he avoid things such as pork, shellfish, eagles and hawks. But following the pre-rabbinic dietary laws allowed him to eat things that kosher laws forbid.
"You can have a cheeseburger but can't boil a baby goat in its mother's milk," he says.
As part of his exploration of following Torah text from before the rabbinic era that arose after the destruction of the second Temple, he spent time with a community of Karaite Jews in Daily City, CA. Karaites consider the written Torah the ultimate authority of halakha and reject the oral laws of the Talmud.
"I did not convert to Karaite, but I did like hearing their story," he says.
He notes he also read about the Jews of Ethiopia, who had spent millennia practicing Torah Judaism since they were cut off from the mainstream Jewish community before the Talmudic era. Unlike the Karaites, however, the Ethiopian Jews adopted the oral laws after being airlifted to Israel in recent decades.
Like the Ethiopians, A.J. has embraced a Judaism he knew little about before his biblical year.
"I like the rituals," he says. "I find meaning in the Shabbat candles."
He also appreciates the gratitude Judaism encourages. "Gratitude is big in the blessings – there is a lot of saying thanks."
"I realized there are hundreds of things that go right every day that we don't think about," he says. "We tend to think about what goes wrong."
He also found truth in the saying "deed before creed."
"If you act in a certain way, it will change your mind," he says. "This happened to me during my biblical year."
Though he hates entering a hospital, when his son was ill, he went to visit him in the hospital. He says acting compassionately tricks the brain – "I became more compassionate."
He also changed his perceptions when reading the entire Encyclopedia Britannica for Know-it-All. Looking at the "broad sweep of history" made him more optimistic. "There is comparatively less terrible stuff than 1,000 years ago. The good old days were not so good. … We live longer and are less violent as a species."
His quest for a healthier body had more concrete results. In addition to continuing to use his treadmill desk, he has maintained some of the dietary changes from that year. "I try to eat actual food," he says.
He says his wife of 14 years has liked some of the experiences and changes that arose during the writing of each book; others she was not fond of.
Becoming more grateful was a plus of the biblical year, but "she did not like my crazy long beard. I didn't get any kisses for seven months."
He says when he was working on Drop Dead Healthy, Julie "wanted me healthier, but she was not a fan of the juice fast."
"She has been very patient," he says.
A.J is now editor at large at Esquire magazine, a commentator on NPR and a columnist for Mental Floss magazine. In his website bio, he says he uses that column to try "to make readers feel better by describing daily life in past centuries. The good old days were terrible ("mind-bogglingly dirty, painful, fetid, smelly, sickly and boring")." He has appeared on "Oprah," "The Today Show," "Good Morning America," CNN, "The Dr. Oz Show," "Conan" and "The Colbert Report." He has given several TED talks, short powerful talks orchestrated by TED, a nonprofit devoted to spreading ideas that began in 1984 as a conference where Technology, Entertainment and Design converged. One of those talks focused on creating a one-world family.
A.J.'s spirit and sense of purpose are infectious, and one can't help but root for him. If the world is lucky, that latest TED talk and his next book will give a nudge toward the more tolerant society he hopes for.
Friends of the Center Brunch
WHO: Special guest A.J. Jacobs
WHEN: 10 am, Feb. 21
WHERE: Mittleman Jewish Community Center, 6651 SW Capitol Hwy., Portland
TICKETS: Adults, $54; Ages 36 and under, $36; ages 12-18, free
Purchase tickets at oregonjcc.org/brunch