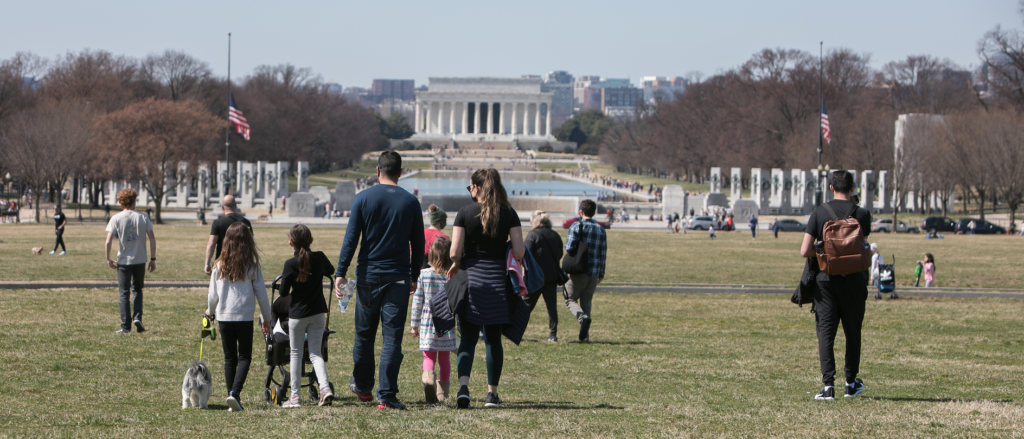 Photo: People walk toward the National Mall and Lincoln Memorial in Washington, D.C., as part of the Israeli-American Council's global #SixMillionSteps campaign. Credit: Inbal More Photography.
In the first effort of its kind, the Israeli-American Council (IAC) is inviting people worldwide to walk or run and share their tallies via a social media campaign with the hashtag "#6MillionSteps" to memorialize victims of the Holocaust and highlight resurgent antisemitism.
The innovative campaign ahead of Israel's Holocaust Remembrance Day on April 8 has already generated overwhelming interest, with socially distanced gatherings on the National Mall in Washington DC and at a northern New Jersey JCC over the weekend tallying more than 6 million steps already, ahead of today's official launch.
With such early success, #6 Million Steps is now challenging people everywhere to walk, run or march to reach six million steps each week from now past Holocaust Remembrance Day through April 11, for 18 million steps total. The new total is a multiple of 18, which symbolizes good luck and the Hebrew letter equivalent "Chai" – or life.
A dedicated #6MilllionSteps website will let participants connect their Fitbit or Garmin fitness tracker, or manually track total steps while walking, running or exercising. Other public group events are scheduled coast to coast across the US, including the "Rocky" steps in front of the Philadelphia Museum of Art; Tulane University in New Orleans; and the Golden Gate Bridge in San Francisco.
People are also invited to add a special #6MilllionSteps frame to their social media profile, as well as post photos and videos while taking part. The #6MillionSteps site features interviews with Holocaust survivors that people can share and provide resources on rising antisemitism and hate crimes worldwide.
"At a time of growing polarization and extremism, #6MillionSteps is gathering people everywhere in solidarity with the six million victims," said IAC Co-founder and CEO Shoham Nicolet. "By taking six million steps together at this perilous time, we can lead the way to fight antisemitism, indifference and ignorance and ensure we never forget the lessons of the Holocaust."
To learn more, visit #6MillionSteps.