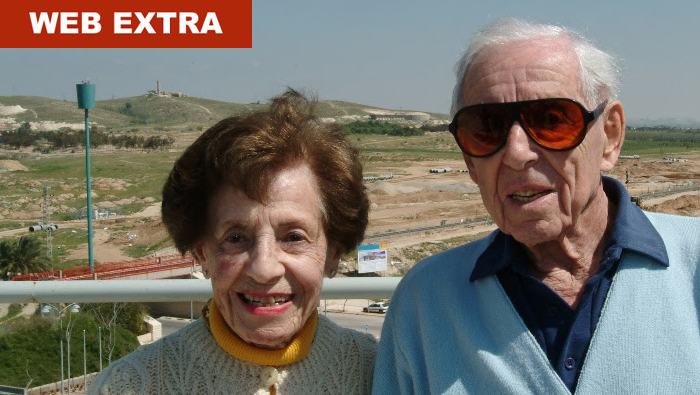 PHOTO: Dr. Howard and Lottie Marcus, z"l
Courtesy of American Associates, Ben-Gurion University of the Negev
A substantial gift of approximately $400 million to Ben-Gurion University of the Negev from the estate of Dr. Howard and Lottie Marcus of San Diego, CA, may be the single largest gift ever donated on behalf of an Israeli institution. Lottie Marcus died this past December at age 99, just two months short of her 100th birthday, while Howard died in 2014 at age 104.
The legacy gift is believed to be the largest bequest on behalf of an Israeli university and may be the largest donation ever made to benefit any institution in the State of Israel. The funds will be used to establish a permanent endowment in support of Ben-Gurion University of the Negev, which will yield endowment assets that more than double the size of the current University endowment. A substantial portion is earmarked for BGU's world-renowned work in water research at the Zuckerberg Institute for Water Research – Israel's leading water institute.
"Both Howard and Lottie lost nearly all members of their German-Jewish families – families that were annihilated by the Nazi Holocaust. Their legacy is a triumph over the forces of evil that very nearly erased them from the face of the earth more than 70 years ago," says AABGU President Lloyd Goldman.
The Marcuses gained their fortune as a result of a relationship with the legendary investor, Benjamin Graham. Lottie worked as the head of the secretarial pool at a major Wall Street firm. She met Graham through the Wall Street Ski Club in the 1930s. They became lifelong friends and, in the early 1960s, Graham told Howard and Lottie about a student of his at Columbia Business School, a young man he thought a prodigy. He invited that student, Warren Buffett, to meet with Howard and Lottie and they put most of their nest egg in Buffett's new partnership, which later became Berkshire Hathaway. With annual compounding that investment grew.
Warren Buffett says, "I met Howard and Lottie more than 50 years ago – through a mutual friend, my lifetime hero Ben Graham. We hit it off and they joined my investment partnership. Knowing them, it comes as no surprise that they elected to use their financial success to enhance the lives of thousands of Israeli young people."
The Marcuses became involved with BGU in 1997 after meeting Philip Gomperts, AABGU's Southwest Regional Director. They became fascinated by the University's work in desalination and desert farming, among other areas. "They believed that peace could come to the Middle East if water scarcity could be addressed," Gomperts explains.
But they were interested in Israel for other reasons as well. "The Marcuses escaped Hitler's Germany and lost their families," says Gomperts. "They came to believe that if Germany – 'the most civilized nation in the world' – could descend to barbarity and to the mass murder of Jews, it could happen anywhere. A strong and secure State of Israel, they concluded, would have saved their families and was essential for the future."
Subsequently, the couple decided to give nearly all of their estate to BGU with a special emphasis on water research at the Zuckerberg Institute. Through their longstanding support of the Institute during their lifetimes, Lottie and Howard endowed student scholarships and provided visionary support for research initiatives that helped generate breakthroughs in water research, and made possible the Marcus Artificial Aquifer Laboratory.
"For the Marcuses, it was always about more than philanthropy; it was about people. They believed in the work of the University because they believed in its presidents, first Avishay Braverman and then Rivka Carmi, and they were devoted to those with whom they became closely linked here in the U.S.," says Doron Krakow, AABGU executive vice president.
"More than anything else, Howard and Lottie were like second parents to me. They were warm, giving, wonderful people and I miss them every single day," says Gomperts.
In 2004, Lottie and Howard were awarded honorary doctoral degrees by BGU in recognition of their pioneering spirit, exceptional philanthropy and unstinting dedication to Israel and to Ben-Gurion University. The Marcus Family Campus in Beer-Sheva, named for them in 2005, reflects their magnanimous commitment to the University and to the fulfillment of David Ben-Gurion's vision to build a world-class institution of education and research in the Negev desert.