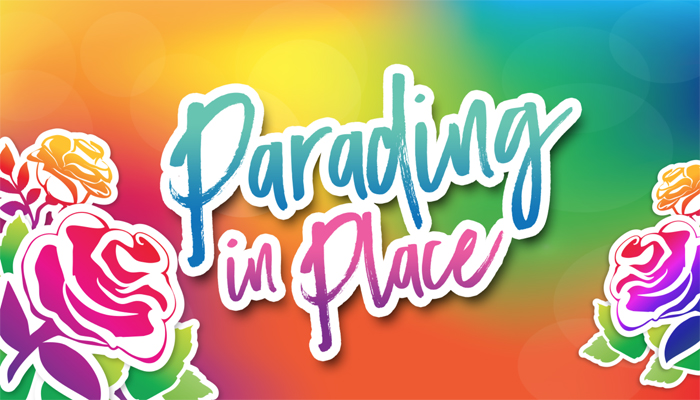 Portland Rose Festival traditions are evolving, to celebrate our community's spirit and resilience, and inspire hope during these challenging times. While current physical distancing makes it impossible to bring people to a parade, the Rose Festival decided to bring parades to the people instead. To keep hope alive, the Festival is launching #ParadingInPlace this week with two stay-at-home parades that anyone can take part in.
The Rose Festival is accepting online entries now for the Porch Parade in May, or the Grand Petite Parade in June – information and entry forms are available at paradinginplace.com.
The Porch Parade: The Festival is asking members of the community to celebrate their Rose Festival spirit by choosing a theme, decorating porches and sharing joy to neighborhoods across the city. The Rose Festival will produce an online map of the registered porches and on Saturday, May 23 and Saturday, May 30 a Rose Festival VIP Procession will visit Porch Parade neighborhoods. Anyone without a porch is encouraged to decorate windows, sidewalks or lawns, or identify their rose garden if it is visible from the street.
The Grand Petite Parade: This parade will premiere on Facebook Live on Saturday, June 6. The virtual parade will feature 'shoebox' floats from community members, a celebration of marching bands, and other Rose Festival parade favorites. Just like the early Rose Festival parades that used Portlanders' own roses from home, participants are invited to use materials on hand to build shoebox parade floats and submit photos to be included in the live stream.
#paradinginplace #RFporchparade #grandpetiteparade
The Portland Rose Festival Foundation is a 501(c)(3) non-profit that serves families and individuals with programs and events that promote the arts, education and volunteerism. We value environmental responsibility, diversity, patriotism and our historic & floral heritage.
For more information RoseFestival.org
Facebook PortlandRoseFestival/
Twitter: @PDXRoseFestival
Instagram: @PDXRoseFestival