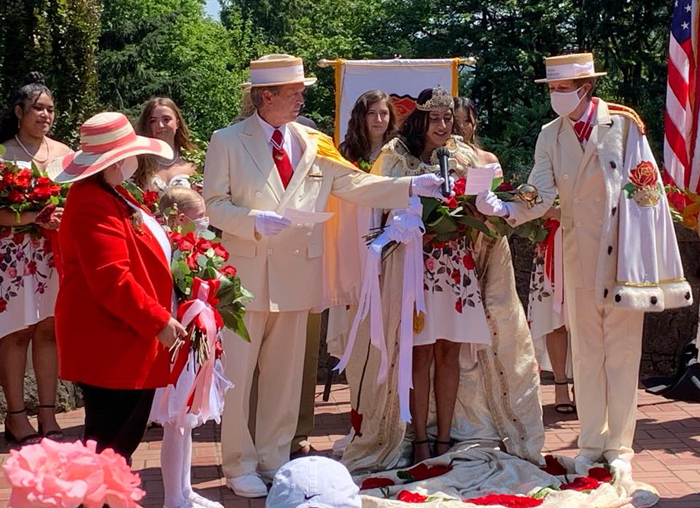 In an unprecedented historical year, Anya Anand was elected 2020 Queen of Rosaria by a vote of her peers. The Lincoln High School senior was crowned today in a special limited Queen's Coronation presented by Unitus Community Credit Union and in partnership with the Royal Rosarians, at the Queens' Walk in the International Rose Test Garden at Washington Park. The new Queen and her court did a short procession around the Garden, and returned to Queens' Walk to lay the traditional Queen's plaque, cementing her place in the long line of Rose Festival queens since 1908's Queen Flora.
Due to the pandemic, the Festival was unable to assemble the standard collection of community volunteers to meet and greet the court in a series of judging opportunities, so the Festival asked those with the best knowledge of the Court – the Princesses themselves – to make the determination. The last time the court selected their own Queen was in 1930, the first year the Rose Festival started selecting Princesses from area high schools.
Anya, who was born in Portland, Oregon, plans to attend the University of California at Davis, and major in Psychology for four years, before moving on to medical school to become a pediatrician. Anya says that one reasons she liked UC Davis —  located near Sacramento, California — was because it was "in driving distance to Portland."
Anya was very active at Lincoln: as a volunteer Co-President of the Associated Student Body and Asian Student Union, as well as Co-Chair of the Multnomah Youth Commission Committee. Anya has been passionate about education from an early age and is president of REAL, (or Rural Education and Literacy), in India. Anya visited a remote village in India to give free education to underprivileged girls. According to Queen Anya "This is to encourage girls to be self-sufficient, independent, and secure a better life for themselves, in an area that predominantly doesn't provide or allow education for girls."
Fans can watch a special telecast of the 2020 Queen's Coronation on KPDX/FOX12 plus+ on Saturday, August 1 at 4 pm and Sunday, August 2, at 4 pm.
The mission of the Rose Festival Court program presented by Unitus Community Credit Union, is to provide scholarships courtesy The Randall Group for higher education, to promote community outreach and volunteerism, and to offer networking and mentoring opportunities to outstanding young women in a program that perpetuates an appreciation for Rose Festival history and tradition.
The Portland Rose Festival Foundation is a 501(c)(3) non-profit that serves families and individuals with programs and events that promote the arts, education and volunteerism. We value environmental responsibility, diversity, patriotism and our historic & floral heritage.