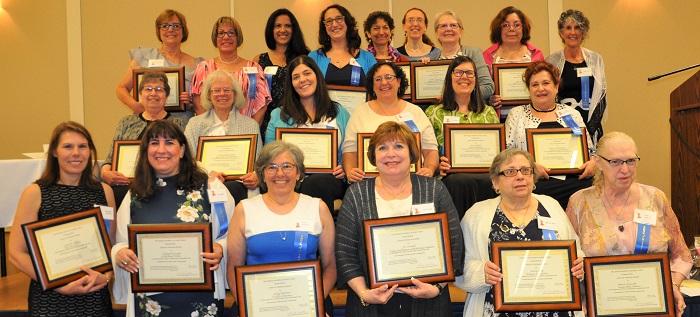 PHOTO: This year the Jewish Women's Round Table honored 21 women for their volunteer contributions. From left, honorees are (front): Gabrielle Williams, Liz Jacobs, Becky Eiseman, Jill Slansky, Rebecca King, Marcia Lancaster; (middle) Paula Krane, Basha Rothstein Brewer, Amy Blauer, Jennifer Coury, Chris Coughlin, Nancy Fruchtengarten; and (back) Ellyce Whalen, Melinda Holtzman, Debra Frank, Stacey  Oller, Harriet Cooke, Miriam Lambert, Jennifer Kalenscher, Lynn Gelber and DeBi Strode.
Twenty-one women volunteers who strengthen Jewish life in Oregon and Southwest Washington were honored at the 26th Annual Song of Miriam Awards Brunch June 3 at the Mittleman Jewish Community Center.
"We wondered if we build it will they come?," said Priscilla Kostiner, founding member of the Jewish Women's Round Table. "They came!"
JWRT is a group of women representing organizations and congregations in Oregon and Southwest Washington that formed to exchange information and ideas about leadership topics. Wanting to recognize the valuable contributions made by Jewish women, they created the Song of Miriam, named for the prophetess, poet, dancer, source of sweet water and leader, who is temporarily disgraced after speaking out against her brother Moses.
"Miriam personified women's liberation," said Priscilla.
Since the first Song of Miriam Awards were presented in 1993, JWRT and its participating organizations have honored more than 400 women for their extraordinary volunteer contributions. This year more than 300 people turned out to celebrate this year's honorees.
Following are brief excerpts from the award citations prepared by the organization that nominated each honoree.
Amy Blauer, Mittleman Jewish Community Center: Amy is a valuable member of the board and development committee of the MJCC and Portland Jewish Academy.  She has a strong passion for the MJCC, ensuring that it is positioned to be the "living room" of Portland's Jewish community.
Basha Rothstein Brewer, Maimonides Jewish Day School: Basha has been a volunteer Morah, or teacher, for two years, sharing her time and talents with staff and, especially, students. She ensures children's success in school, and they respond to her gentleness and patience.
Harriet Cooke, Congregation P'nai Or: For a dozen years, Harriet stepped into various roles including membership chair, tikkun olam committee and rabbi search committee. She is devoted to social and political activism, and her spiritual community.
Chris Coughlin, Havurah Shalom: Chris joined Havurah as community organizer and became an active member after she left her staff position. She is the Tikkun Olam co-chair, served as Executive Secretary and High Holidays Logistics chair, and helped restructure the congregation's governance model.
Jennifer Coury, Congregation Shir Tikvah:  Jen enjoys leading services at Shir Tikvah. She served on the steering committee, chaired the tifillah committee that wrote the new siddur, and was on the branding committee that created a new logo. She helped develop the concept of an East Side Jewish Commons.
Becky Eiseman, Friends of Robison: Upon retiring from nursing, Becky joined the board of Friends of Robison, serving as assistant treasurer, treasurer and committee member. She worked on the library committee that brought a library to each household of the Harold Schnitzer Center for Living.
Debra Frank, Jewish Federation of Greater Portland: Serving on the allocation committee, Debra identified a need to bring together unaffiliated 30- to 40- year old Jewish adults and founded a "meet-up group" in 2014 called PDX-MOTS (Members of the Tribe). She joined the federation board in 2015.
Nancy Fruchtengarten, Congregation Shaarie Torah Sisterhood: Nancy has participated in all Sisterhood activities, including hamantaschen baking and latke frying. On the congregation's property committee, Nancy redesigned and organized the synagogue's interior decoration, including efficient lighting, new flooring and paint, and making improvements to create a useable basement space.
Lynn Gelber, Women of Reform Judaism/Beth Israel Sisterhood:  Lynn has served 12 years in leadership positions and just retired as board president. As the visionary of this past year's Centennial celebration, she envisioned the theme of honoring the past and preparing for the future. Lynn also taught Sunday School for 10 years.
Melinda Holtzman, Congregation Kol Ami: Her dedication to tikkun olam is demonstrated by the numerous community projects she has helped coordinate. She taught at religious school, served on the board of Kol Ami/Women of Reform Judaism, and has instigated many social activities at Kol Ami.
Liz Jacobs, Everything Jewish: Liz coordinates Everything Jewish's volunteers. She phones hospitals, prisons and senior centers to find out who needs a Seder in a Box, a rousing game of dreidel, or a companion to share a slice of Shavuot cheesecake.
Jennifer Kalenscher, Congregation Neveh Shalom: Jennifer has served on and chaired the Membership Committee, overseeing a wide variety of activities and initiating innovative programs. She welcomes new members to the community in a warm and personal way.  She is currently co-president of sisterhood.
Rebecca King, Hadassah Portland: Part of a five-generation Hadassah life-member family, Rebecca served as treasurer of the Central Pacific Coast Region for three years before moving to Portland to take on the same role here. She already has hosted one fundraiser and serves on the board.
Paula Krane, Beit Am: A consummate volunteer, Paula's contributions are far too numerous to list. She has coordinated High Holiday observances, served as religious school principal and led soup kitchen volunteers. Last fall's lovely groundbreaking ceremony for Beit Am's new building was entirely organized by Paula.
Miriam Lambert, Congregation Kesser Israel: Miriam is a regular Kiddush helper on Shabbos mornings, a High Holiday usher and a synagogue-newsletter contributor. She helps pack and deliver food boxes for Jewish holidays, and helps those in need with rides to appointments, buying groceries and helping with moves.
Marcia Lancaster, Temple Beth Sholom:  Marcia has managed the gift shop, served as sisterhood secretary, put on baby showers for congregants, and organized the annual Hanukkah party. She recruits volunteers for the annual hamantaschen sale, which this year raised more than $10,000, due in large part to Marcia's persistence.
Stacy Oller, Portland Jewish Academy: Stacey is a dedicated PJA parent and active volunteer. From the time her children entered PJA, she has devoted herself to being in the classroom, volunteering as a PJA ambassador, and being co-chair of the PJA auction.
Jill Slansky, Oregon Jewish Museum and Center for Holocaust Education: Jill was the president of the Oregon Holocaust Resource Center when the center merged with the Oregon Jewish Museum.
In the years since, Jill has served on the OJMCHE board and as a docent at the Oregon Holocaust Memorial.
DeBi Strode, Kol Shalom: The daughter of one of Kol Shalom's founding couples, DeBi was the newsletter editor for five years and served on the board. She helps organize High Holiday observances and the community seder. DeBi's "hummingbird energy" motivates the community.
Ellyce Whalen, Shalom Bayit/Jewish Community of Central Oregon:  For 23 years, Ellyce has planted flowers and pulled weeds, beautifying the outside of the shul and becoming a "farm laborer" in the creation of the Shalom Bayit Community Garden. She has been co-president of the Central Oregon Jewish Women's Sisterhood for seven years.
Gabrielle Williams, Beit Haverim: Gabrielle has helped with children's religious school classes, been a fixture on Friday nights and helped with other families' celebrations.  Every fundraiser for the religious school has been a success due to Gabrielle's attention to detail. She served as the caring committee chair for several years.