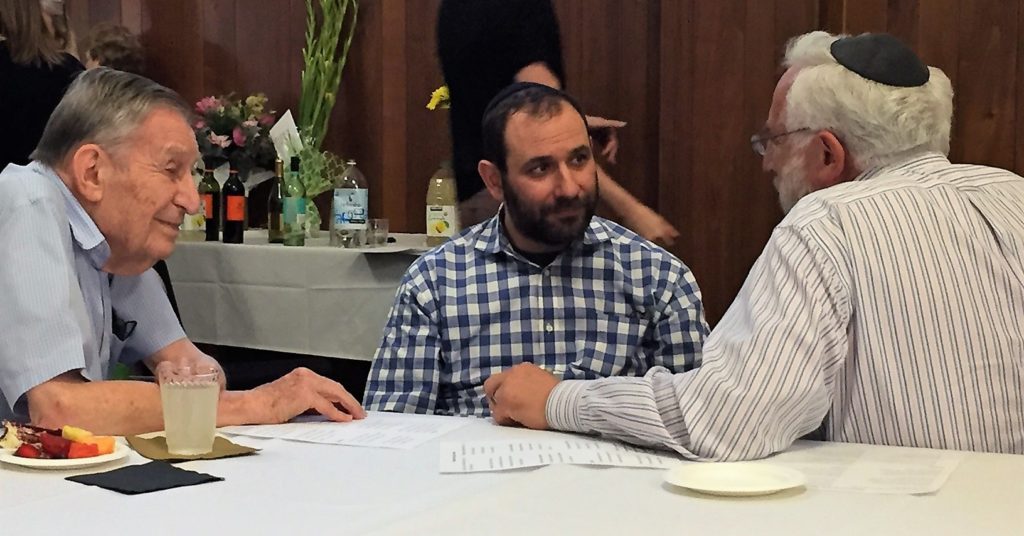 OPENING EVENT RESCHEDULED FROM FEB. 10 TO FEB. 17 due to weather.
PHOTO: From left, Rabbi Emeritus Joshua Stampfer, Senior Rabbi David Kosak and Rabbi Emeritus Daniel Isaak visit during an event at Neveh Shalom, where each has served as senior rabbi. The congregation's clergy also includes Assistant Rabbi Eve Posen and Cantor Eyal Bitton. Photo courtesy of Neveh Shalom
Sesquicentennial anniversary events begin with free celebration Feb. 17
Congregation Neveh Shalom invites the community to join the Conservative congregation as it celebrates 150 years of creating sacred community.
Ahavai Sholom, founded in 1869, and Neveh Zedek, founded in 1892, merged to become Congregation Neveh Shalom in 1961. On March 6, 1965, Neveh Shalom dedicated its new home on Peaceful Lane. The building's soaring Ten Commandments have been a beacon for both Portland's Jewish community and airline pilots flying overhead ever since.
The CNS 150 Program Committee, cochaired by Erika and Rich Meyers, has crafted a slate of signature events including an open house, art exhibit, concert, Shabbat in the Park, a community mitzvah project and a closing gala (see below).
The celebration gets under way Feb. 10 with Frontiers, Old & New: Neveh Shalom Sesquicentennial Celebration. The day begins at 11 am with a presentation by Rabbi Emeritus Joshua Stampfer on "First Rabbi of the West." Rabbi Stampfer came to Portland in 1953 to lead Ahavai Sholom; he guided the merger and continues to serve the congregation today.
A free lunch (RSVP required) and ceremony begins at noon, followed by an open house and exhibits throughout the afternoon. Interactive exhibits will explore Neveh Shalom's past, present and future. An Antique Shul Show will bring CNS history alive through photos, stories and artifacts. Information on other CNS 150 Signature Events will also be available. To RSVP for lunch, visit nevehshalom.org/cns150-kick-off or call 503-246-8831.
Five members of ORA: Northwest Jewish Artists – Laurie Fendel, Esther Liberman, Eddy Shuldman, Diane Fredgant and Wendelin Russell – have each created an art piece based on their study of the words neveh (oasis), zedek (justice), ahavai (from ahavah – love) and shalom (peace, harmony). Silk artist Fredgant's visual representation and modern interpretation of mishkan (Tabernacle, portable sanctuary) will serve as the centerpiece of the exhibit, which will be installed by Feb. 10 and will remain on display in the Isaak Foyer through March.
The Isaak Foyer is named for CNS Rabbi Emeritus Daniel Isaak, who arrived in Portland in 1993 and served as senior rabbi for 22 years until the arrival of Rabbi David Kosak in 2015.
The Oregon Jewish Museum and Center for Holocaust Education is joining the celebration. In addition to providing historic photos for display at Neveh Shalom, the museum is creating its own exhibit that opens March 3 in the Menashe Gallery behind the museum shop in the main entry.
"The exhibit is being written by our fabulous Sara Glasgow Cogan Scholarship intern from PSU, Rachael Walkinshaw," says OJMCHE Curator of Collections Anne LeVant Prahl. "It will be an illustrated timeline beginning with the founding of Ahavai Sholom and Neveh Zedek and working around the gallery walls to the present. Rachael is pulling out of our archives fascinating photos, artifacts and documents that help to illustrate the story."
Exploring and celebrating the past is only part of the coming year's celebration.
"Our yearlong celebration will feature events celebrating our past, embracing our present, and welcoming the future of CNS and the Conservative Jewish movement as a whole," says Lindsay von Colditz, CNS membership and engagement director. "We will explore our history, examine who we are today and envision where the next 150 years will take us."
CNS 150 SIGNATURE EVENTS
Frontiers, Old & New
(Rescheduled)
Feb. 17, 11 am talk, noon lunch, exhibits 1:30 pm
This Is Us: A CNS 150 Concert
Sunday, June 2, 7 pm
A gala concert in celebration of Congregation Neveh Shalom's 150th anniversary featuring musical performances by Cantor Eyal Bitton, Ilene Safyan, Cantor Linda Shivers, Michele Tredger, the Koleinu Choir and the CNS Concert Band, along with video projections and narrations by Rabbi David Kosak and Rabbi Eve Posen.
Shabbat in the Park: A History
Friday, July 26
Celebrate Shabbat in the Park near the site of Neveh Shalom's original locations, with tours highlighting Neveh Shalom's storied history in the Portland community.
Closing Gala Celebration
Sunday, Dec. 15
This will be a time to come together as the community to honor the year's journey.. We will celebrate who we have become and the vision we have shaped together for the generations to come.