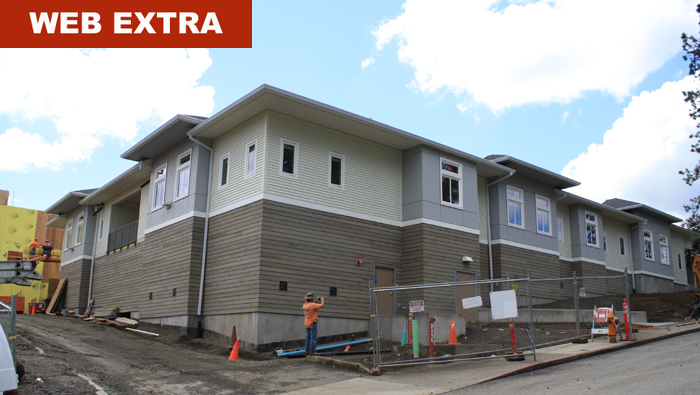 Oregon's first long-term care residence created in partnership with the innovative Green House Project  will open in late July at the campus of Cedar Sinai Park in Southwest Portland. It is the first of four 12-resident households, with the rest to be completed early in 2017. CSP is currently scheduling community tours to take place in mid July. The last tour will be July 21, with residents scheduled to move into their new home July 25.
"The Green House project creates an environment that doesn't just feel like home – it IS their home," says CSP CEO Sandra Simon. "It is built on the premise that each resident should be able to make the decisions that shape how they live each precious day. The Green House is a natural progression of our philosophy at Cedar Sinai Park to treat everybody with love, honor and respect. This is the future of aging services, and we are proud to create the first Green House home in Oregon."
The Green House Project has spent over a decade creating its new vision for the future of elder care and, according to Simon, delivers better outcomes than traditional nursing homes. "Green House homes combine the best of a real home setting with skilled care, giving elders the freedom to live life on their terms rather than conform to the rhythms of the institution."
The model is built on core values that include:
 Meaningful life focused on personal choices,
 Consistent, compassionate, highly trained and empowered staff
 Advanced, research driven medical services in a real home.
The project is part of a $33 million construction project named the Harold Schnitzer Health & Rehabilitation Care Center in recognition of the major support the family of the late philanthropist contributed to the project. It will include the renovation of the Robison Jewish Health Center to create a modern, 44-bed post-acute rehabilitation center with private rooms and state-of-the-art amenities. The new Robison wings will be renovated one-by-one to provide for the comfort of both current residents and new rehabilitation patients during construction.
Tours will be available by appointment only July 11-22. Please contact Teri Patapoff at 503-535-4360 or patapofft@cedarsinaipark.org to make arrangements.